Hey Friends!
Hope the beginning of your New Year 2016 has been great and very busy, succeeding at things you do and making your dreams into reality. My January has been extremely busy with work and study, hence so little posting lately. But I'm planning to change this by making a new habit of posting more regularly to this blog, and I'm inviting you to witness my progress on this 🙂 It's always better to build new habits with the support of like-minded people around you, isn't it?
For the same reason, I'll be organizing a 7 Day Juice Fast this coming week starting on Wednesday! And I'm again inviting you to join me in this detox program, which we probably all need after a little bit of over-indulging during the holidays. Interested? Then read on!
I've done a number of juice fasts over the past few years and the results were always fantastic, including:
feeling light and energetic
releasing couple stubborn pounds
staying lean long after the fast (the released pounds do not come back)
enjoying the elevated mood
feeling vibrant and healthy!
And these are just a few positive results to mention. That is why I really urge you to join me in this *completely free* program. Whether you feel you do need to lose couple pounds, or you're in excellent physical shape but have been feeling tired lately – everyone will benefit from it!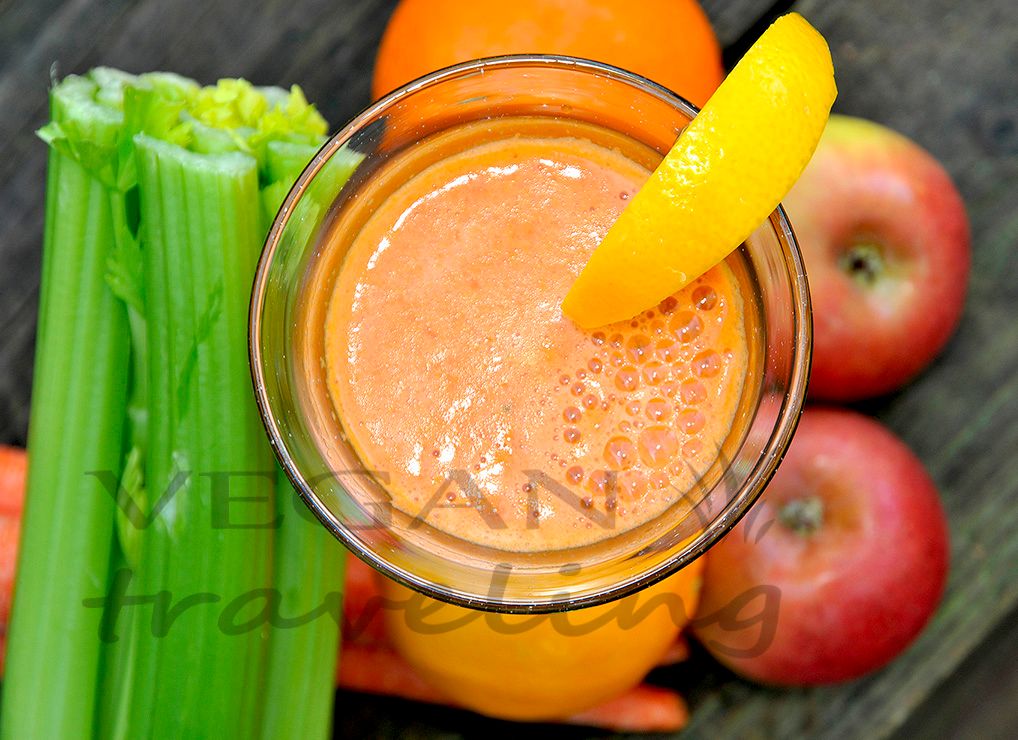 I will follow the same juice fast recommendations, as during my previous fasts, because they proved to be efficient:
Enter the juice fast by actually fasting for 2 days on water or herbal tea (no food should be taken for best results during the whole 'fast')

It is better to only drink water during the first 2 days, however if you feel nauseous or have headaches I suggest you have some herbal tea such as raspberry leaf tea, peppermint, heather flower tea, chamomile.
If you experience a strong headache during the first day of water/tea fast, take a laxative

Start the juice fast itself from day 3 on
Continue juice fast for 7 days
Drink unlimited amounts of water if you feel a need
Apart from water, you should only drink freshly squeezed juices
Any fruits or vegetables can be juiced, the less pulp the better
Drink as much juice as you wish during the day – it is the best way to keep yourself from exiting the fast
Starting from the first day of fast (day 3), you should do at least 30 min of exercise per day – jogging/ dancing/ walking etc (if you're feeling dizzy, be careful and take one day break or until you feel better)
If you're feeling fine but just tired – don't let your body trick you into staying put, but drag yourself out of the house for a bit of a walk – you'll notice that this will magically make you all of a sudden more energetic!
These are the simple 'rules' for this juice fast. Of course, the rules are not rigid, they're just a simple guideline for you guys to refer to for getting the most optimal results. You might start getting weak and unenthusiastic from day 2 up to maybe day 4 or 5, that is why I'm planning the most potentially "tired" days for the weekend. However, if you follow the guidelines and try to force yourself to move-move-move during this fast, you will notice that from day 4 or 5 on your body will become more and more energetic, feeling more and more light and craving more and more exercise!