Happy holidays friends! 🙂 This Christmas and New Year's eve I'm making this amazing raw vegan snack – almond cheese stuffed peppers. The recipe includes two steps – making almond cheese and then stuffing the peppers. Although the preparation for both of these steps is really quick, the soaking of almonds and then cheese fermentation take about a day each, so make sure to plan accordingly.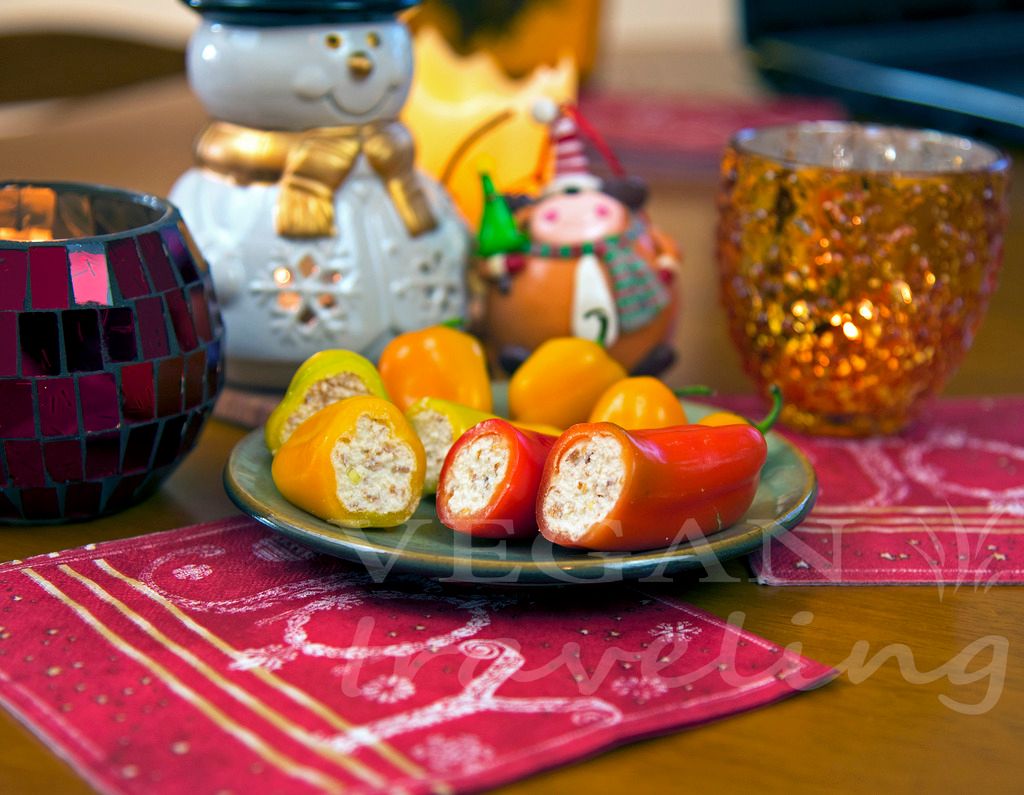 Raw Almond Cheese recipe
Ingredients:
2 cups raw almonds (if not soaking, take 3 cups)
juice of 1 Meyer lemon
1/2 – 1 tsp sea salt
1/2 – 1 cup filtered water
Instructions:
Soak the almonds overnight (this step should ideally be included, but if you're short on time and have a high-speed blender like Vitamix you can omit it). The next day rinse the almonds well and drain the water. At this point you can peel the almonds, which is very easy to do when they're soaked. Or you can leave the peel on which doesn't affect the taste much. Add almonds to your food processor (I usually use Hamilton Beach) along with lemon juice and salt. Start blending, adding water bit by bit – the less water you use, the better will be the result. After the mixture is very well blended into a thick paste, wrap it into a cheesecloth (folded 4 times) and give it a squeeze to remove most of the liquid. You can drink the liquid – it actually resembles ayran and tastes pretty good. As for the cheesecloth wrapped almond mass, place it into a large strainer over a deep dish and leave for 24 hours to ferment. In a day, you'll get your raw almond cheese. If you follow all of these instructions you will get a soft crumbly cheese similar to ricotta.
Raw Almond Cheese Stuffed Peppers recipe
Ingredients:
5 sweet mini peppers
1 tbsp almond cheese
1 medium garlic clove
1 tsp olive oil
Instructions:
Mince garlic and add it to 1 tbsp of almond cheese, along with olive oil. Mash the cheesy mixture with a fork. Remove top of each pepper and then stuff it with the cheesy garlic mixture using a teaspoon. Place the stuffed peppers into a fridge for at least 30 min. Then slice the stuffed peppers and serve.