As farmers markets close for the season and availability of fresh local fruits and veggies diminishes, I always am starting to crawl back onto greens and roots based salads. In fact, the main ingredient in these salads that keeps me staying raw vegan are specifically root vegetables. These kind of veggies – carrots and beets in my case – are extremely satisfying and what's most important about them is that they feed our good gut bacteria and promote its further growth, which in turn provides us with vitamins, protects us from pathogens and keeps us active and healthy. That is why if you're feeling hungry, depressed and unsatisfied during the Fall months, after the abundance of Summer is over, make sure to eat plenty of root vegetables. Carrots, beets, turnip are all very delicious by themselves, in salads, in juices and are also very inexpensive and largely available throughout the year. This time I made a rainbow salad with greens, roots and berries.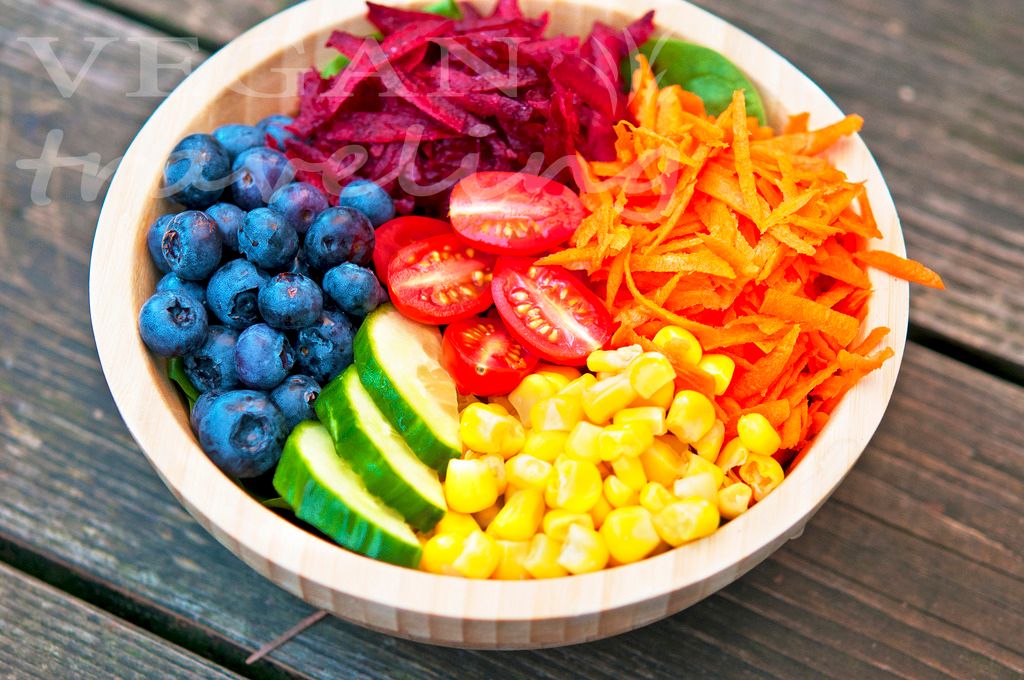 Rainbow Salad recipe
Ingredients:
1 cup baby spinach
1/2 medium beetroot
1 medium carrot
handful blueberries
handful cherry tomatoes
1 inch English cucumber
2 tbsp frozen organic corn
1/4 Meyer lemon
Instructions:
Wash and peel beet and carrot, then shred them. Slice cucumbers and tomatoes, defrost corn in warm water. Place baby spinach leaves on the bottom of a bowl and then arrange rest of the veggies on top. Dress with freshly squeezed Meyer lemon juice.