Smoothie galore continues! This time I used frozen local peaches with fresh blackberries – amazing combo you'll fall in love with. This smoothie is so fresh and invigorating while being super delicious at the same time. Works great as a satisfying breakfast after a morning jog. Did you know about these important health benefits of blackberries and peaches:
Blackberries are high in bioflavanoids and Vitamin C
The dark blue color of blackberries indicates that this berry contains one of the highest levels of anti-oxidants of all fruits!
Peaches are high in Vitamins C and A which together work as a great natural moisturizer – perfect for drying cold winter outside
Peaches also work to reduce hair loss and fight anxiety (peaches are often referred to as "fruit of calmness" in Hungary)
Enjoy your Wednesday and don't forget to fill up on delicious fruits and veggies in abundance!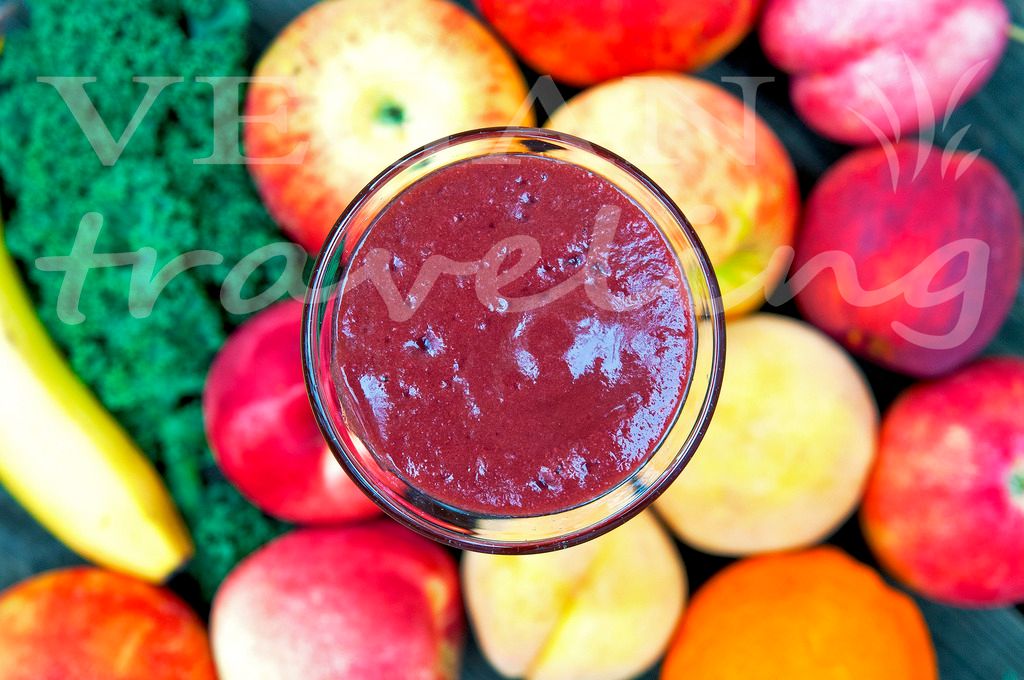 Vibrant Antioxidant Smoothie recipe
Ingredients:
1 kale leaf
1 cup frozen peach
1/2 cup blackberries
1/2 apple
1 orange
3 tbsp water or more
Instructions:
Wash all ingredients. Peel the orange, remove core from apple. Cube larger ingredients and add everything into a high speed blender like Vitamix. Mix on high speed until all ingredients are well blended. Pour into tall glasses and enjoy every sip!