I'm craving raw tacos with salsa today. Having a whole batch of fresh mangoes in my fridge, it's the best time for making the delicious raw vegan juicy tangy mango salsa! Best sunny food to have on a warm sunny day. And look at this yumminess! So summery, fresh and colorful! Love love love raw food – it's so easy, satisfying, gratifying and yet light and nutritious at the same time. Who said raw vegan lifestyle is hard – my response is you haven't tried my recipes yet! 😉 😛 On a serious note, this mango salsa is truly amazing. I've been munching on it for days by wrapping it in different large collar and lettuce leaves with guacamole and by just putting some of it on cucumber slices. It's super fun and YUM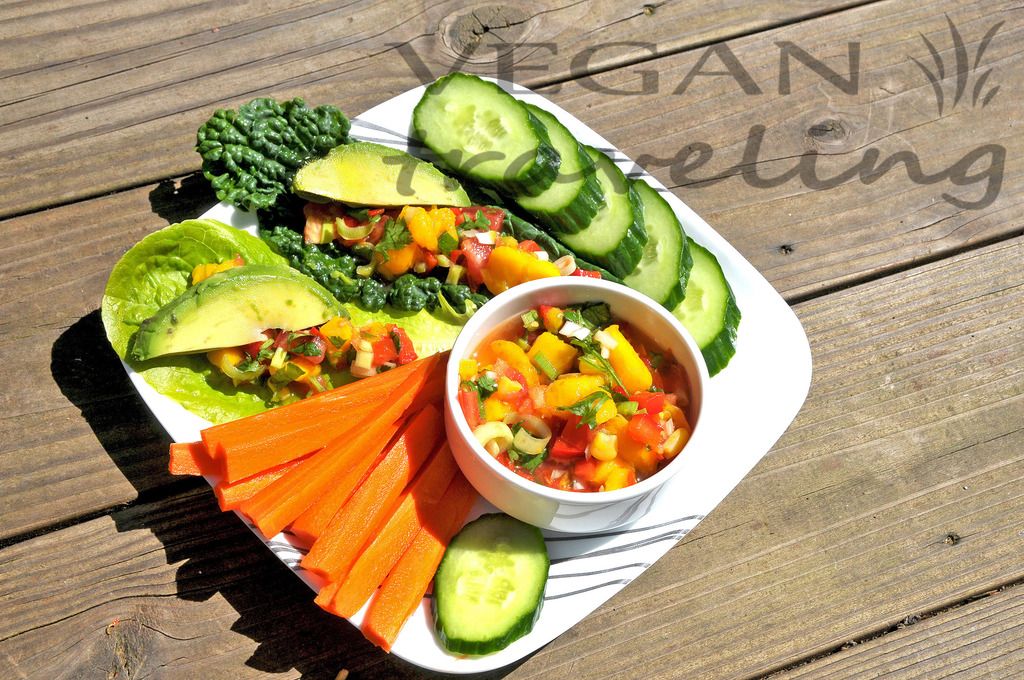 Ingredients:
1 fresh mango (any kind)
1 large tomato (or 3 small ones)
1/2 cup cilantro or less
2 tbsp chopped leek
3 tbsp lime juice
salt to taste
1/2 cup defrosted corn
Instructions:
Dice mango and tomato, them mix with all other ingredients. Place in the fridge for 2-3 hours. Serve with guacamole or just slices of avocado on lettuce leaves/cucumber slices. I made a large container of salsa and had enough of it for the next couple days – it gets better the longer it stays in the fridge and the salt and lime juice preserve it. Originally salsa asks for red onion, but I used leek which is much milder and I loved this substitution.