Back to the topic about 'amazingly healthy herbs growing right under our feet'. It's almost Summer here in PNW, and it's of course the perfect time to collect medicinal herbs and instead of throwing them away with every mowing, put them to a good use. I was harvesting roses and herbs today – amazing beautiful medicinal herbs around my garden and front-yard such as dandelions, plantains and wheatgrass. All three combined with citrus juices make a wonderful spring tonic.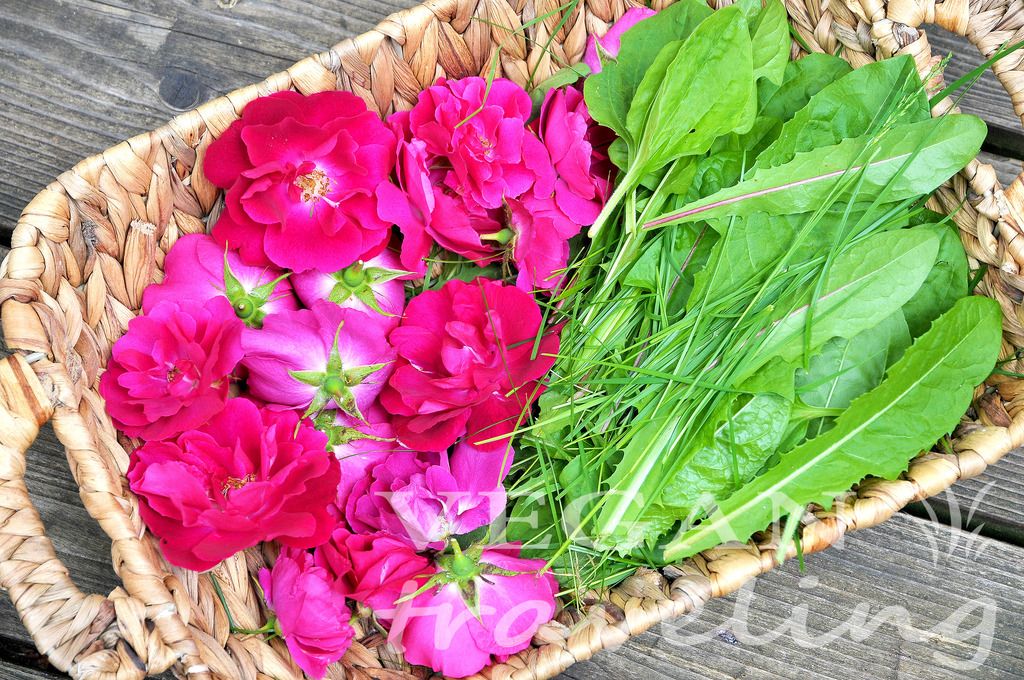 Dandelions should be collected when the leaves are young and small, this way they're much less bitter and more nutritious. This largely undervalued plant works as an antioxidant, natural diuretic, improves digestion, strengthens immune system, improves kidneys' health.
Plantains (the wide leaves seen in the picture) are high in tannin and allantoin – substances which together work as anti-inflammatory agents. The leaves also reduce blood pressure as well as normalizes blood cholesterol levels.
Along with these herbs I'm starting to collect ingredients for my teas – this time it was roses. I collect whatever roses I can get access to 😉 , dry them and include them as one of the components to my herbal teas. And roses make a wonderful delectable addition to any of those teas. Currently I'm making a mix of dried roses, peppermint and linden flowers to enjoy them in a wonderful tea during long winter nights!