I've always loved raisins and anything with raisins. So when many years ago I tried cinnamon rolls, I got immediately addicted to this raisins-cinnamon-vanilla blend. Except for after eating those rolls my face would always get pimply and I would feel heavy. Well, remembering my addiction to those rolls I decided why not try the same flavorful combination with chia pudding and make the raw version? Of course, this would not be rolls per se, but what if the tastes would at least combine into something similar?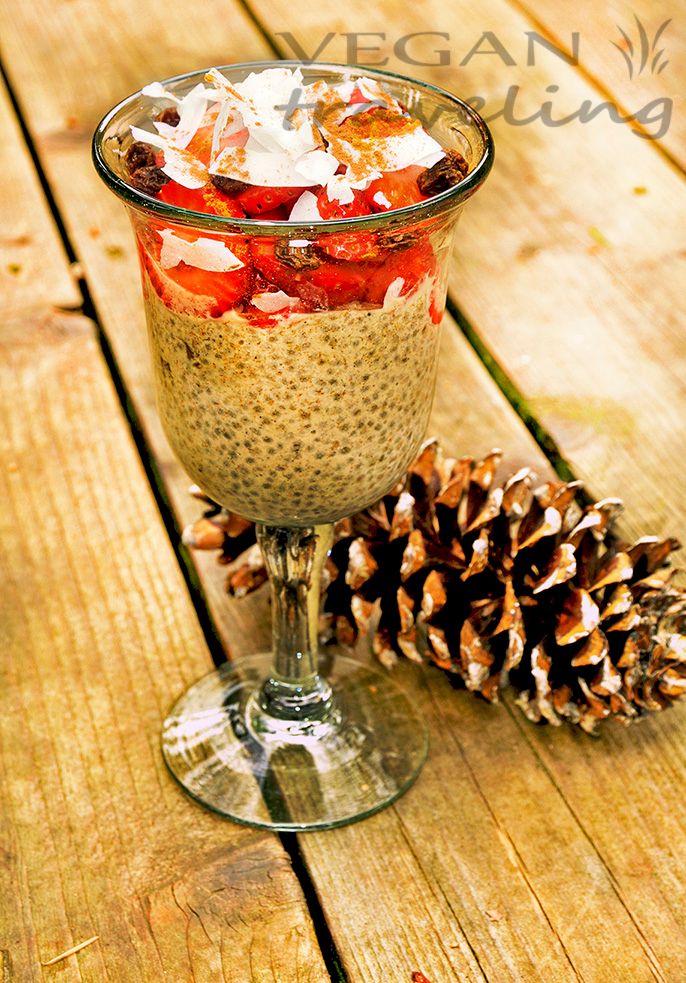 So I made the regular chia pudding and added some raisins and cinnamon this time. In an hour it was all ready and OMG! So goooood. No, really, you guys have to try it for yourself. Plus chia pudding is super easy to make, it's a true blessing for raw vegans who want some texture to their food or just a healthy replacement for classic breakfasts (or cinnamon rolls replacent 😉 ). So you gotta do it! 🙂 See my recipe below.
Cinnamon Chia Pudding recipe
Ingredients:
3 cups almond mylk

Or if making it yourself use 2.5 cups water+3 tbsp almonds+1/2 tsp vanilla powder

6 tbsp chia seeds
1.5-2 tsp ground cinnamon
1/2 cup organic maple syrup
1-2 tbsp organic raisins
Toppings:

several fresh strawberries or any other berries
1 tbsp soaked organic raisins
1 tbsp coconut shaves
cinnamon
Preparation:
I used all various combinations of almond mylk to chia seeds, and figured that if you use 3 tbsp chia / 1 cup almond mylk, you would get a very thick almost solid pudding. So if you'd like it to be more liquid, like I do, then use 1.5-2 tbsp chia / 1 cup almond mylk.
To make the mylk, I use Vitamix. As always, if you don't have a Vitamix, then definitely soak almonds overnight to soften them, and then use any blender to mix everything up.