I was always fascinated with the idea of going strictly on freshly squeezed juices for a week or two, but never had enough motivation, and even when I accumulated enough courage to go on juices I would always get so hungry that I would eventually get off the fast by end of the day. This time after the holidays I've noticed that I packed on some very much undesirable pounds and was feeling too heavy and lazy. So I had decided to try juice fasting once again, but to make sure I do things right this time – I decided to fast on herbal tea for the first two days as an intro to the juice fast. And the results were fantastic:
lost 8 lbs weight and got back to my light and energetic self
the weight release happened slowly which allowed my body to adjust to its new state
most of the 9 days of juice & water fasts combined the energy levels were normal and even increased from the 6th day on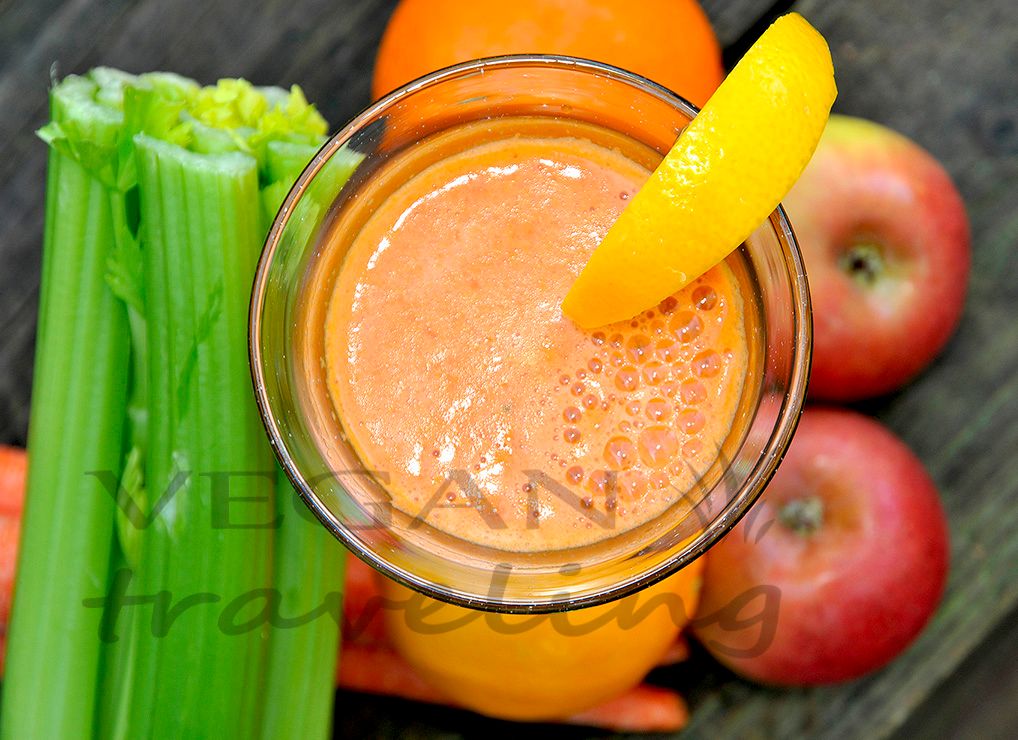 Fasting on herbal tea or water is always a great thing when you need to reset your body's cravings for bad foods or when you feel that you're suddenly putting on weight. The reason I say it 'resets' your body is because I feel that while I'm fasting my body returns to its healthier and smarter self and gets rid of any addictions like overeating, late night high fat snacking etc. And that is also why after two days on herbal tea I could successfully juice fast for a week! The first two days on tea were pretty easy, but I was happy to come out of it on the third day. Everyone who has done water fasts for more than three days, knows that although weight is lost, some of it does come back in the next couple weeks once you get back to your regular eating habits. And what makes the juice fast so incredible is that after water fast it not only helps you lose weight while nourishing your body with all the  nutrients and vitamins, but it also helps your body 'secure' the weight it reached after water fast. In other words, after juice fast the weight doesn't come back as fast as after water fast.
The juice fast part was amazing. The first couple days I still felt pretty weak and dizzy, but on the 4th day I was already strong and energetic enough to go to a zumba class. And the most amazing thing is that after the class I felt energetic enough to do another class, which before the fast would make me extremely tired. The next couple days were even more inspiring – I would keep going to the classes and then come back home and jog for 20 min.
As a summary, here's a bunch of tips for you guys on doing a juice fast:
timing: always do your extended water fasts/first days of juice fast on a weekend (in case you start feeling weak or dizzy)
preparation: make sure you prepare well before the fast – get your fridge stocked up with all your juicing material
the juice: go simple with the ingredients – 2-3 ingredients is best, or at least choose compatible fruits and veggies
the juicer: you can definitely use a centrifuge juicer, but I personally recommend masticating juicers
distractions: if it's possible stay away from any cooked foods recipes/pictures/smells and better start drawing your attention to raw healthy fruits and veggies
ending fast: if you do a week long juice fast, make sure the first 3-4 days after the fast your food would be very simple and consist mostly of raw veggies and some fruits
most importantly: keep drinking well filtered water!
So here was my experience with a juice fast, hope you guys find it interesting. If you have any questions or comments, please go ahead and post them below! 🙂