One of the things I learnt for myself on raw foodism is this little trick: every time some images of cooked food from the past emerges in your head and you're almost about to jump off the raw food vagon – STOP! There's a solution and it's called the 'rule of replacement'. Yep, you got it, you just have to think about what used to attract you so much in that unhealthy food you're dreaming of, and then put all your wits together to replace its unhealthy version with a new raw vegan one! Yay. Sounds like a good plan.
Driven by one of such impressions of vegan cherry ice-cream, I decided to make my own raw vegan twist on it: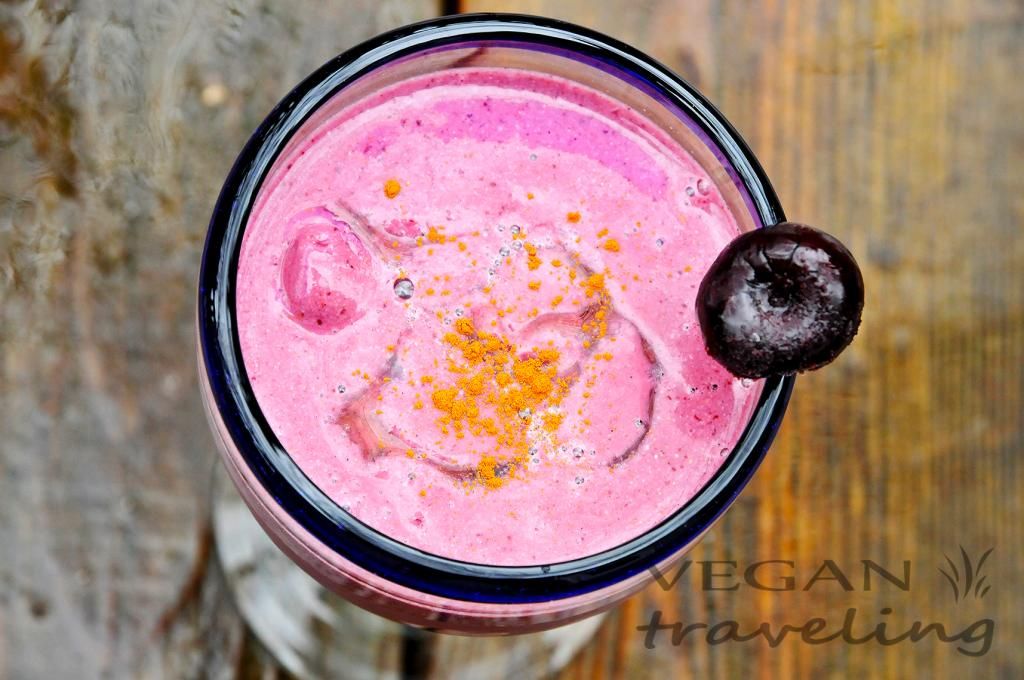 The recipe is super simple, as long as you have a Vitamix blender in your arsenal of kitchen tools. But even if you don't have such a powerful blender, you can still make this ice-cream by soaking almonds overnight with plenty of water. This will soften the almonds and put much less pressure on a weaker blender, yet still yield a great smooth deliciousness.
Cherry Almond Smoothie recipe
Ingredients:
1 tbsp almonds
1 cup filtered water
pinch of ground vanilla
1/2 cup frozen cherries
1 frozen banana
Instructions:
Blend all the ingredients on high speed in Vitamix. Once ready and poured into your glass, drizzle with some honey or maple syrup and sprinkle with cinnamon. Yumm.