So here it is. We've been staying in Seattle area for a whole first week. And honestly, this first week was not easy. Largely probably due to the constant heavy rain that was going literally non-stop for the whole two weeks! During this time I kept remembering my friends who said they could not live in Vancouver because of it's crazy rainy winters. Uh oh. Now I'm starting to understand those guys. I always though I like rain, but this… Gloomy mornings, days, nights, all soaked in permanent wetness. Hmm. But, after a week of it all, the local Nature probably decided it's enough for now, and the next day was sunny! And not just sunny, but with a clear sky that opened up unbelievable views of Mt. Rainier!!! Wow. All our melancholy disappeared along with those clouds as soon as we saw what beauty was hiding behind them. So now when it rains, we know there's gonna be another sunny day soon and the views, which are made even more special by the rainy days. I think we got the point! 🙂 And our life here all of a sudden started to look much more on the bright side.
As for the food – while hanging out for a couple days in La Quinta Suites, we found a nice breakfast place – Brown Bag Cafe in Kirkland. While most of their food is very traditional breakfast'y, they also have fruit bowls and fantastic tea – I've never had any restaurant bring me hot water in both the mug and the teapot, as well as 2 tea sachets and a slice of lemon with honey! Mmm…already love Seattle's restaurants. As much as I love Toronto and its restaurants, they just never serve tea in such handsome way.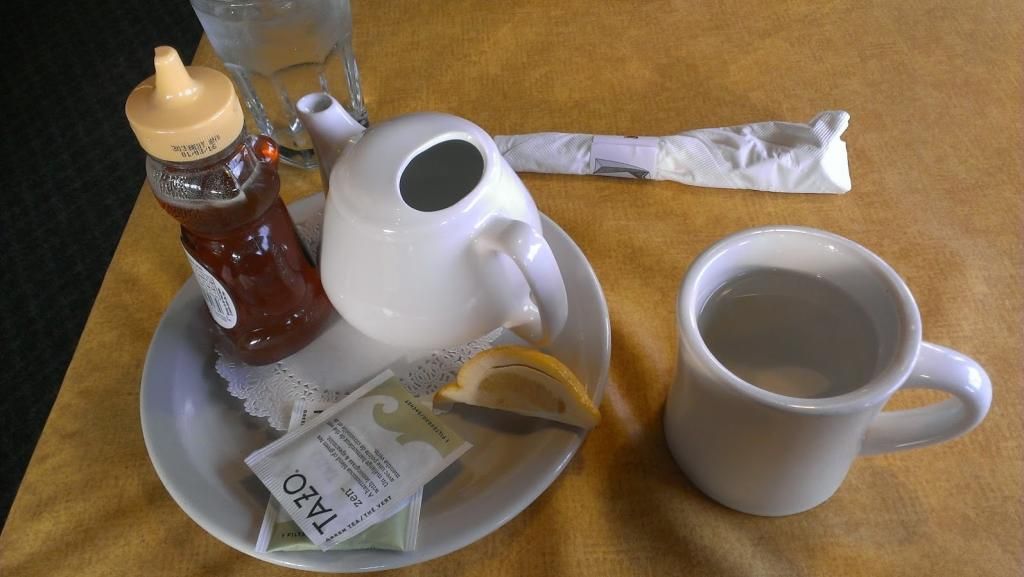 After staying for three days at La Quinta, with a tiny room and no kitchen, we were very lucky to find corporate Catalina Apartments Community in Bellevue and move there. For those relocating to Seattle (cont'd)
I highly recommend this place, as its location is fantastic – close to both i-90 and 405 – but hidden behind a hill so there's no highway noise, it is all updated and feels nice, the walls are thick, so you barely hear your neighbors, it has great amenities and ample parking, and above it all – it has fantastic prices – for just $1550/month you get a fully furnished clean bachelor. For the local prices and as a short term solution – this place is a gem.