So yay. We've moved to Seattle. And in addition to that… we drove across America!!!!!!
But… because we (as usual) started to get ready a bit late and were running late for the scheduled start of work, we had to drive from Toronto to Seattle in 4 days and in the middle of crazy cold February. So no stopping, exploring, taking pictures and fun stuff like that. Just plain driving-driving-driving. But now the dream came true, so can be checked off the list. Here's the map of our trip: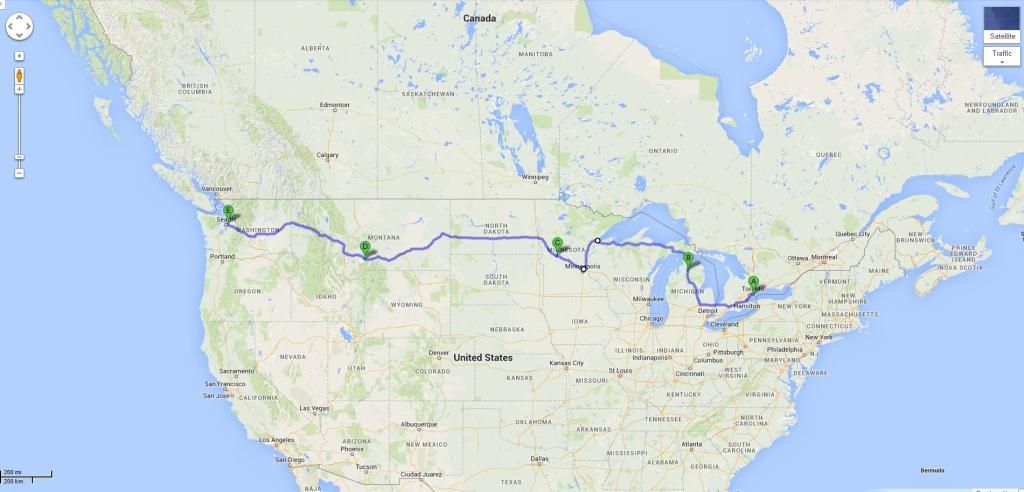 Everyone always says how boring is the prairies part of the trip and that it only gets interesting from around Montana, where the mountains start. I personally found it all really cool, the only thing sux is everything was covered in snow and I bet summer drive would've been much better. Otherwise, it was really great to drive through all these states for the first time.
We initially wanted to go through Chicago and stop there for a day, but eventually when only 4 days were left and there was no time for stops anyway, we decided to just go via Mackinaw City and along Lake Superior. Oh, the wintery Northern Michigan! Beautiful granite hills, huge pines, all that in snow and no people around. Fantastic! There's something magical about cottage country in off-season months. Here's an awesome huge sculpture of grizzly bear with baby we found in Mackinaw City: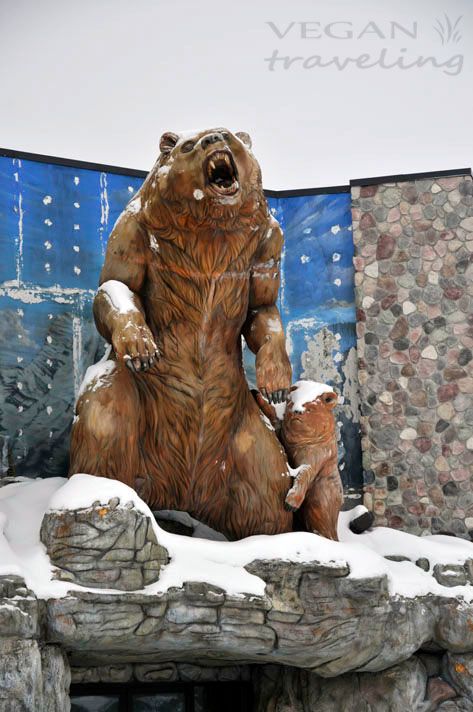 "Twelve hours out of Mackinaw City, stopped in a bar to have a brew". Finally we are here. But in the middle of winter everything was obviously closed. We drove around a bit, found a single bank that was open to get some cash for the toll bridge across Mackinac Straight to St. Ignace and we "rolled, rolled ourselves away". Both the Huron and Michigan lakes were absolutely frozen with trucks and tents here and there, ice-fishing. Only right in the middle of the Straight there was a thin opening cut through the ice, probably for some small boats. On the north shore of lake Michigan, we stopped for breakfast at a tiny place in Trout Lake – food for two cost us $5.75!! I love small towns.
Further, we followed highway 28 all the way to Duluth, with a couple small stops along Lake Superior shore.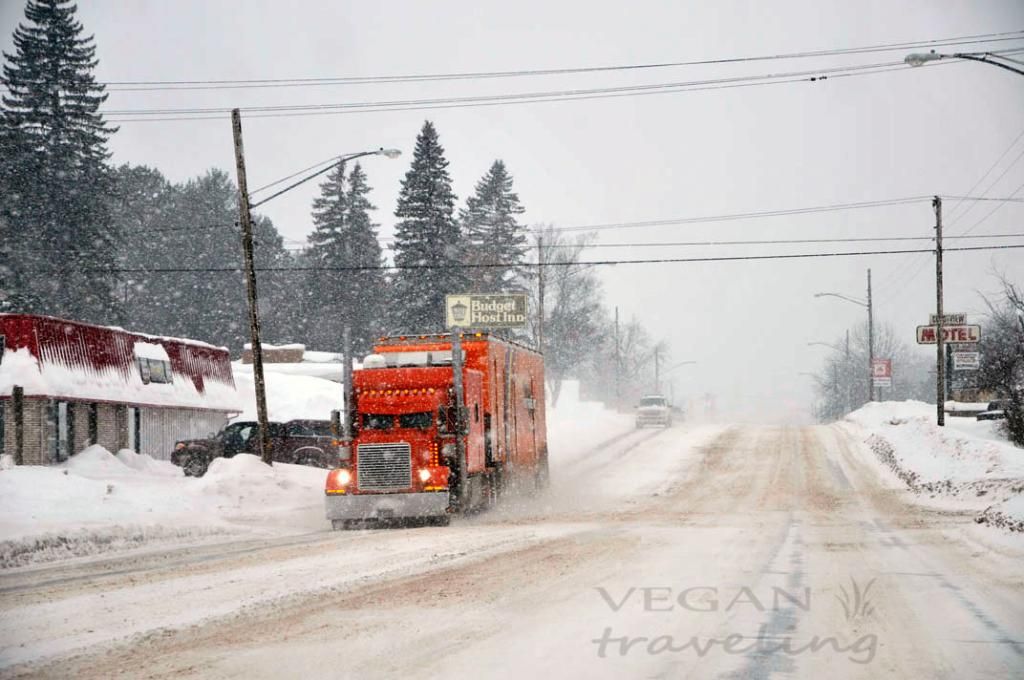 First stop was at Wetmore, here we finally (and me – for the first time) saw Lake Superior in all its winter grandness. The road, the shores, the lake, the skies were all in snow and it seemed like there's no limit to this all the way to the North Pole. The vastness of this place is indescribable.

We entered Wisconsin in Ironwood, and were driving through it until Duluth, Minnesota.
They say cheese brine is used instead of salt on winter roads in Wisconsin. We haven't tasted it so not quite sure! But the roads looked considerably more yellow there. Duluth we saw already in the dark, it looked huge and really cool with its St. Louis river entering lake Superior, huge bridges, huge boats. I wish we could see the town, but we had to keep going towards Minneapolis. Following highway 35, we could soon feel that we're approaching a large city – the highways got large and well lit, the cars got expensive etc etc. But, Minneapolis was skipped as well and we kept driving up to Alexandria, where we stayed for the night. In the morning we saw that everything around us is now flat with farm buildings and trees here and there, but mostly fields and trucks.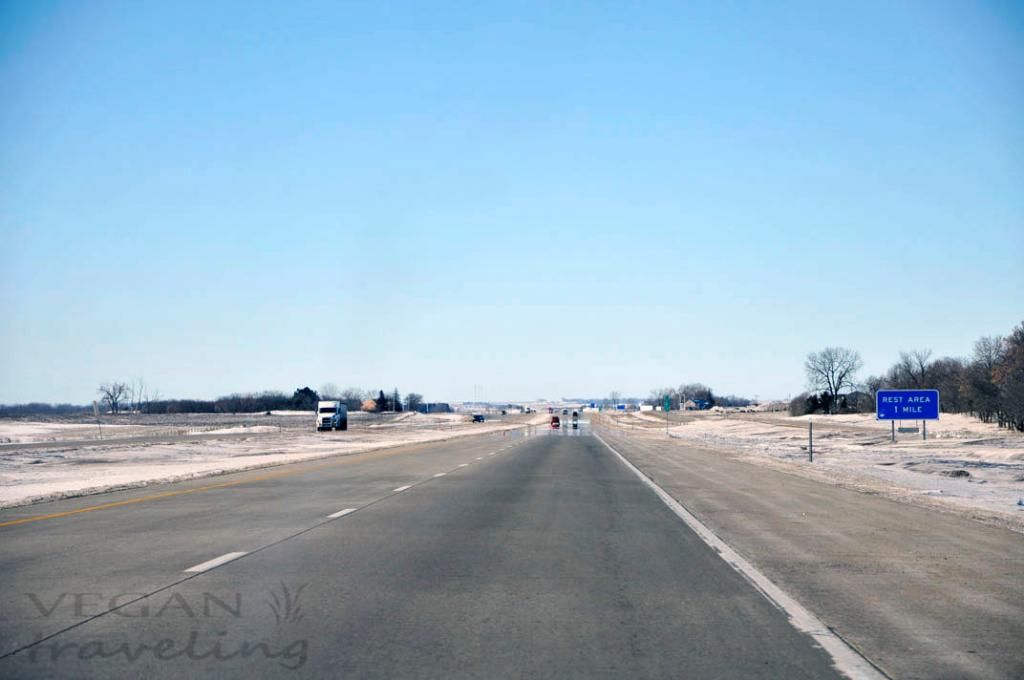 >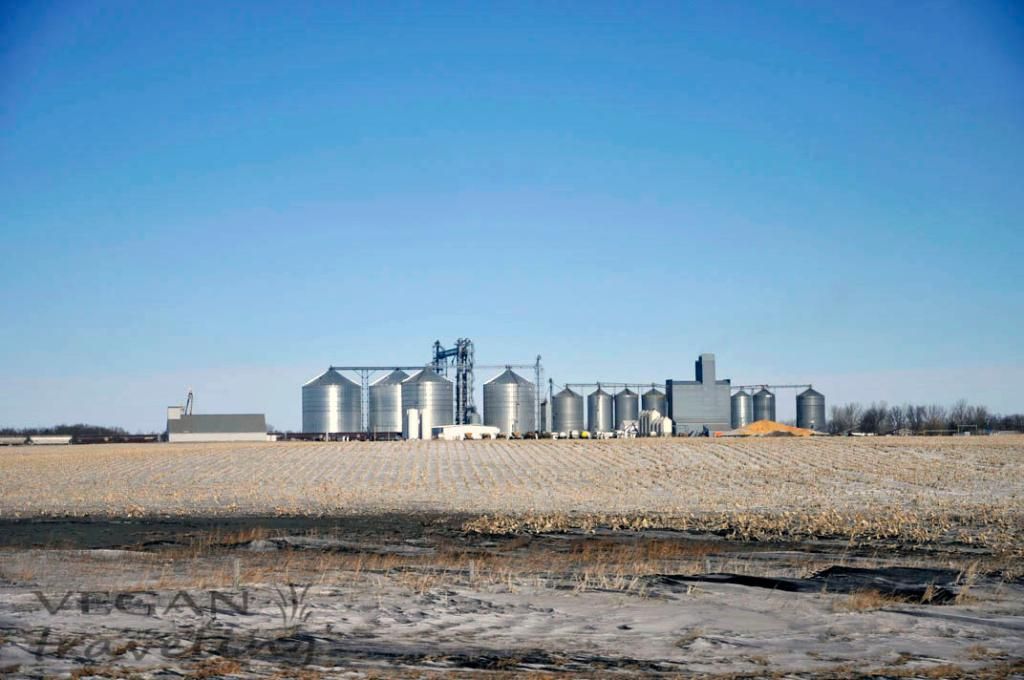 We kept following highway 94, and entered North Dakota in Fargo. Yeah, that same Fargo, as in Coen brothers movie. So of course we had to cruise it a bit, but didn't find any super creepy people and kept going on 94 surrounded by more fields, farms and occasional trees. The cool thing there is in North Dakota are huge statues of animals – there's a huge bison figure near Jamestown, and further there was a giant cow figure. I've researched and it looks like there's many more statues like that in that state. Further West, around Dickinson, the landscape started to get more interesting – with hills, and when we entered Theodore Roosevelt National Park, we saw that the hills looked very similar to Painted Desert in Arizona, and ahead was a canyon. The park was closed for the season, but we stopped and squeezed in. All around the entrance were signs "do not feed wildlife" with a bison picture, so we assumed these guys roam free in that area.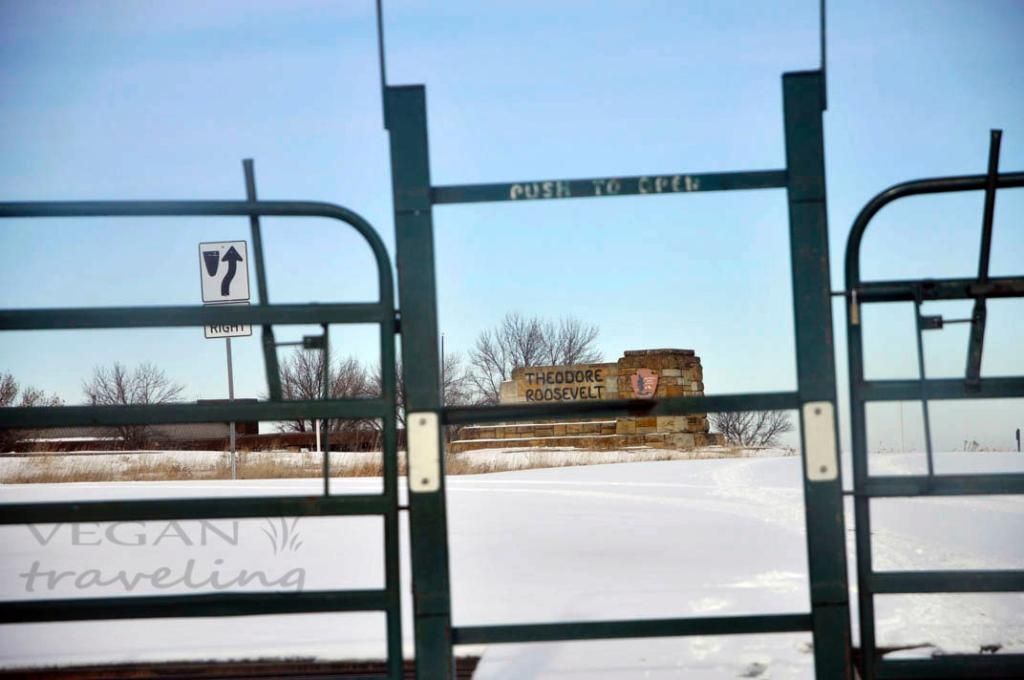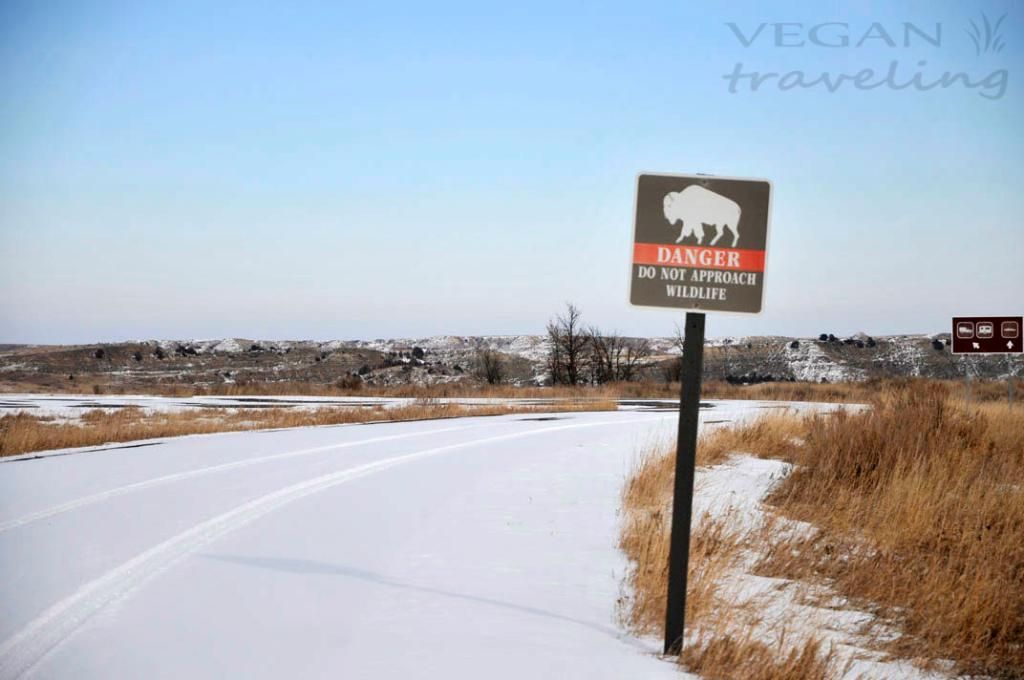 And here's a panorama of the canyon (actually called Painted Canyon):
This place was really cool – so vast and magnificent. Glad we stopped there, and now I can definitely say that I disagree with those saying drive through the prairies is boring. To me, everything was new and unique about those places and hence interesting. Unless of course one has to do that same drive over and over again, then maybe.
From there on we kept following I-94 and very soon entered Montana.
Near Terry, MT we saw an indicator to historic town and drove in to it. Didn't find anything particularly interesting, but just out of curiosity continued driving on old highway 10, instead of the major highway. And voila, in about 10 minutes we saw some fence and some posters next to it. Behind the fence were graves of several cowboys who lived on the Frontier in 18th century, and the posters were telling their stories.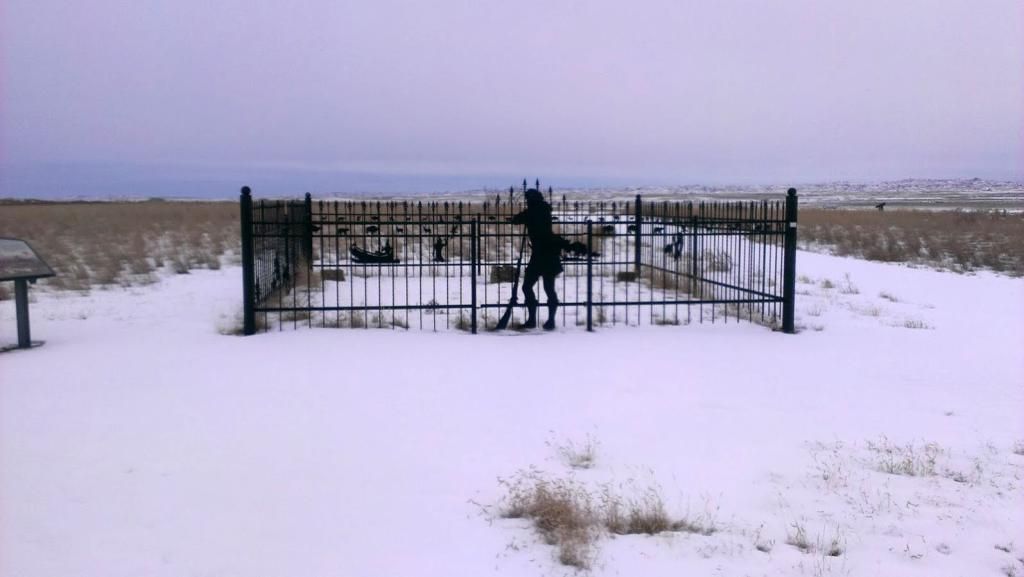 That place among beautiful hills, with no people around, for some reason seemed very special, as if it still had the sense of the Frontier in it. That reminded us about Dances with Wolves, which was actually filmed in north-western South Dakota, very close to that area.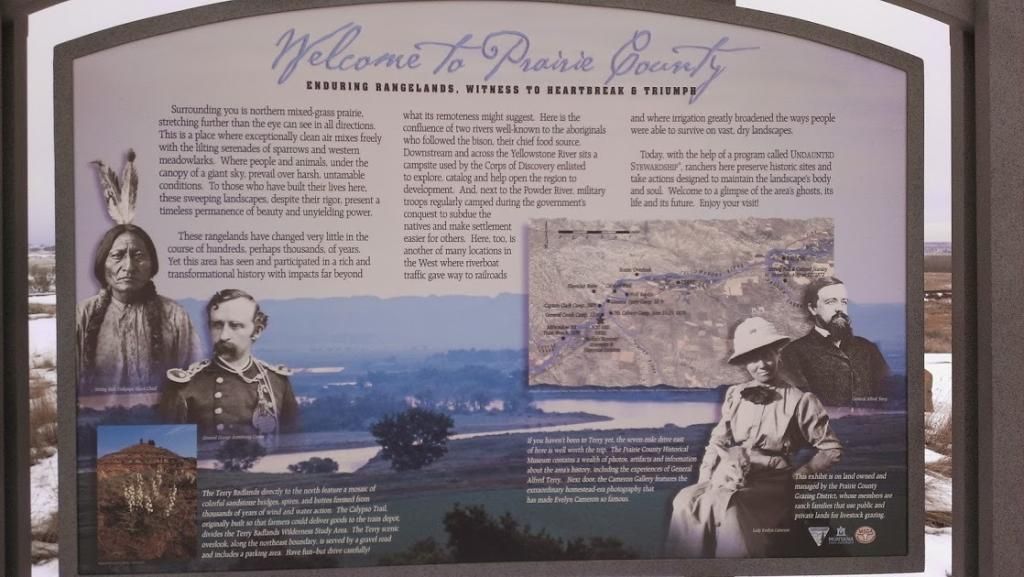 Next, driving further West in Montana, the foothills started – the Rockies were getting close. We stopped in Billings for dinner, hoping to stay in that town for the night as well. Driving around searching for a place to eat at, we've noticed that almost all restaurants were were as well casinos! Wow, that was pretty cool. If in Las Vegas every hotel is a casino, here it was the same for restaurants. Billings is the largest city in Montana, and as we soon found out all hotels were booked out and remaining rooms were overpriced, because they had football championship and two concerts. So we had to leave rainy Billings (btw, it was the first place where there was already no snow, but it was warm and humid) and continue driving for two extra hours to Bozeman where we stayed in a cozy Best Western.
Next day, in the morning light we finally saw that we were in the mountains!! I was trying to push for a "short trip to Yellowstone" (which is contradictory by definition), but did not succeed, and we continued our drive to the West. That day we aimed to go all the way to Seattle, so time was of essence. The nature around us was stunning – huge mountain peaks all around and everything is covered in snow, so it was really exciting. Describing the beauty of Rocky Mountains though makes no sense, so I'll just post some pictures.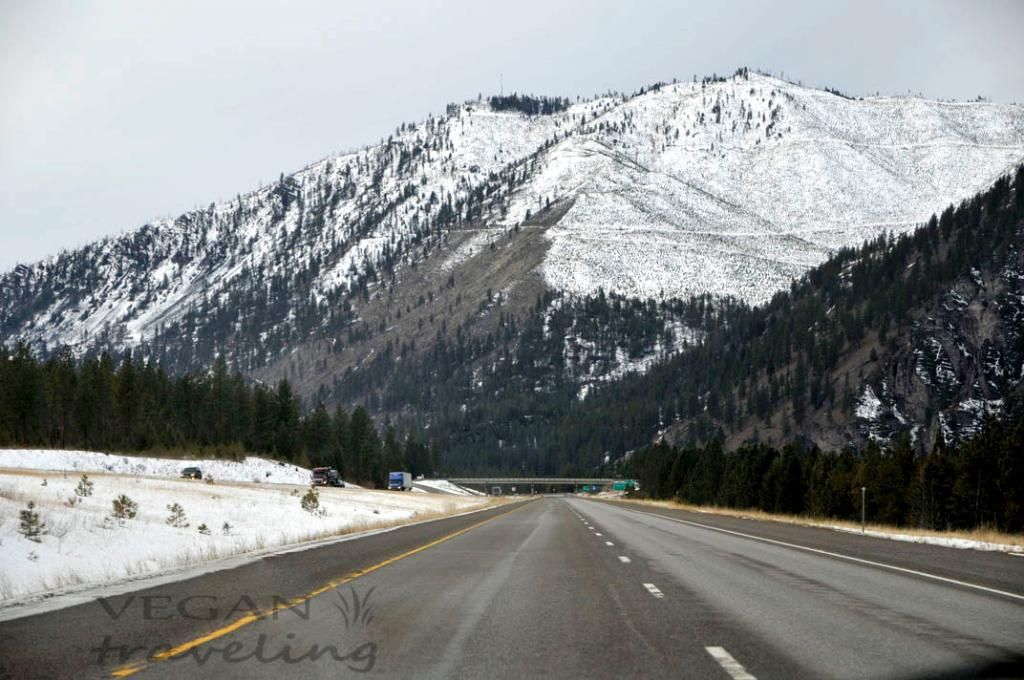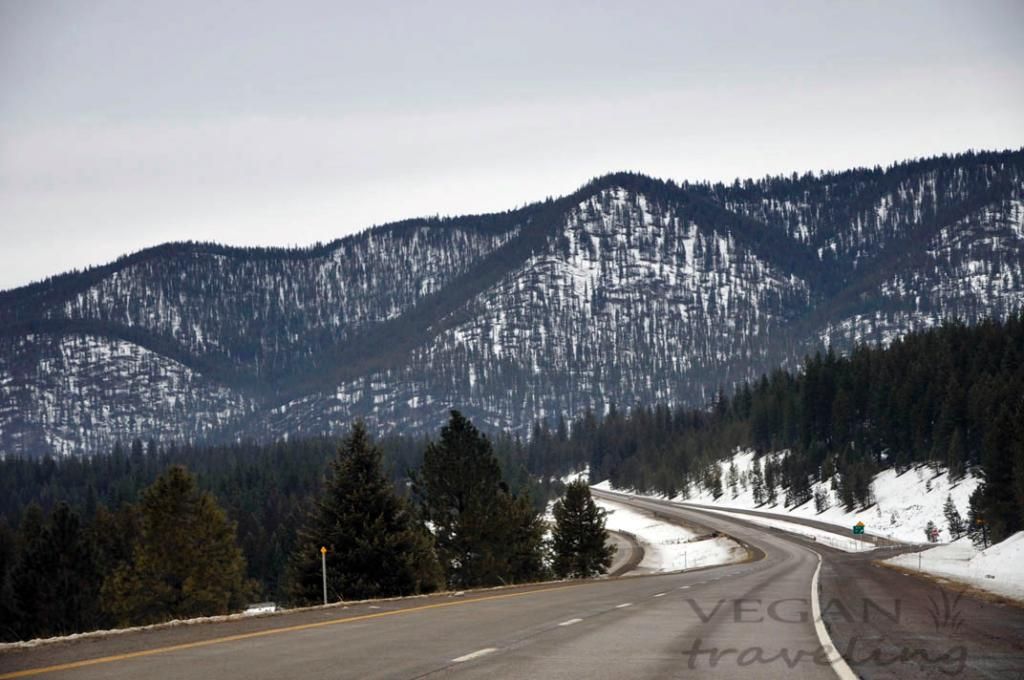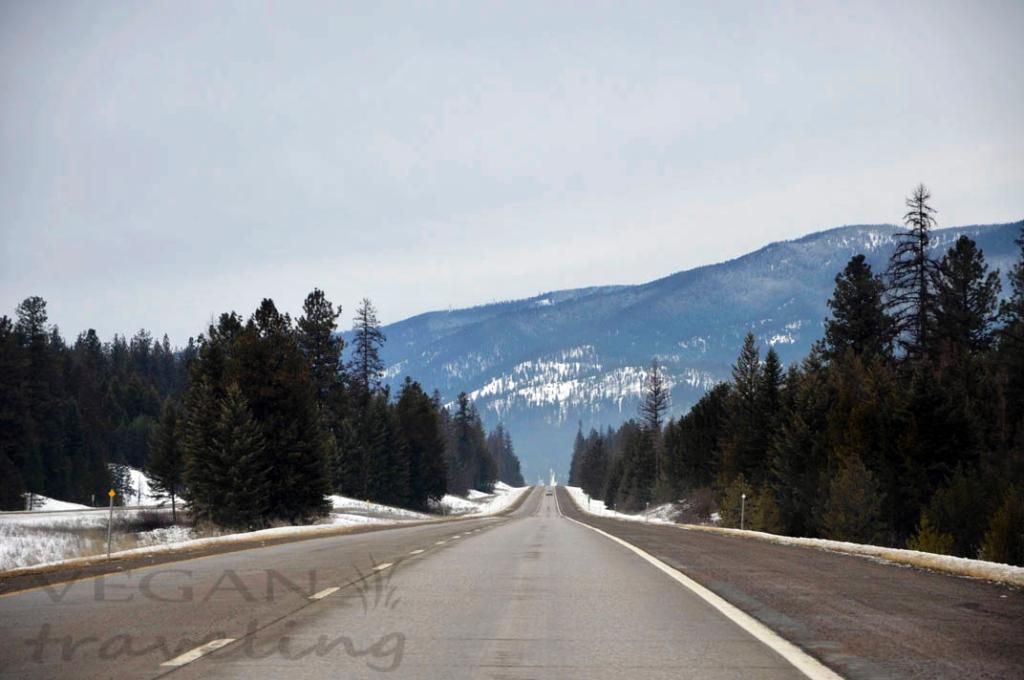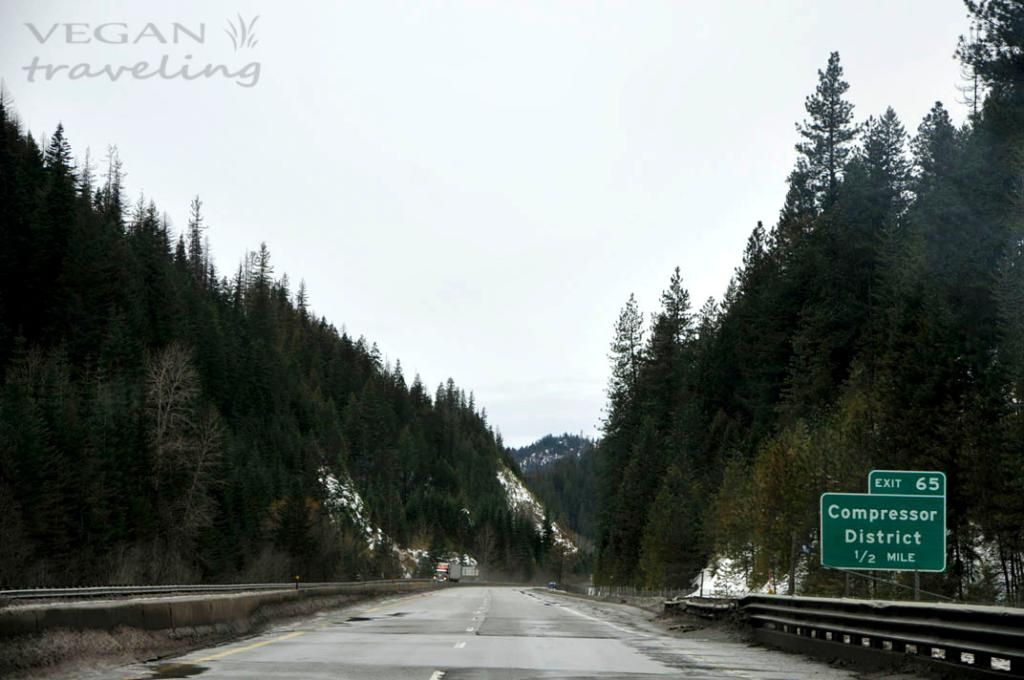 Near Lookout Pass we crossed the border of Montana and Idaho.
The road continued in the mountains all the way until crossing the Idaho-Washington border, then for quite some time we were driving in a valley.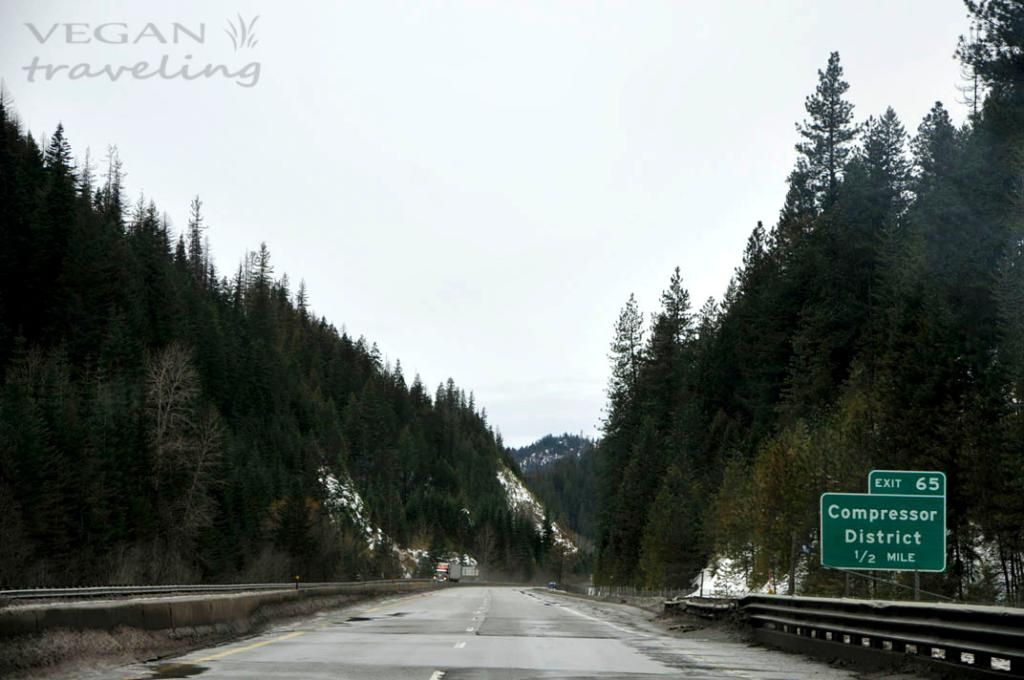 Starting from Ellensburg, the road again went up to the mountains, and this part of the trip was probably the most fascinating – driving in the dark, through Snoqualmie pass in a winter storm, which we've been hearing about for the previous hours on the radio.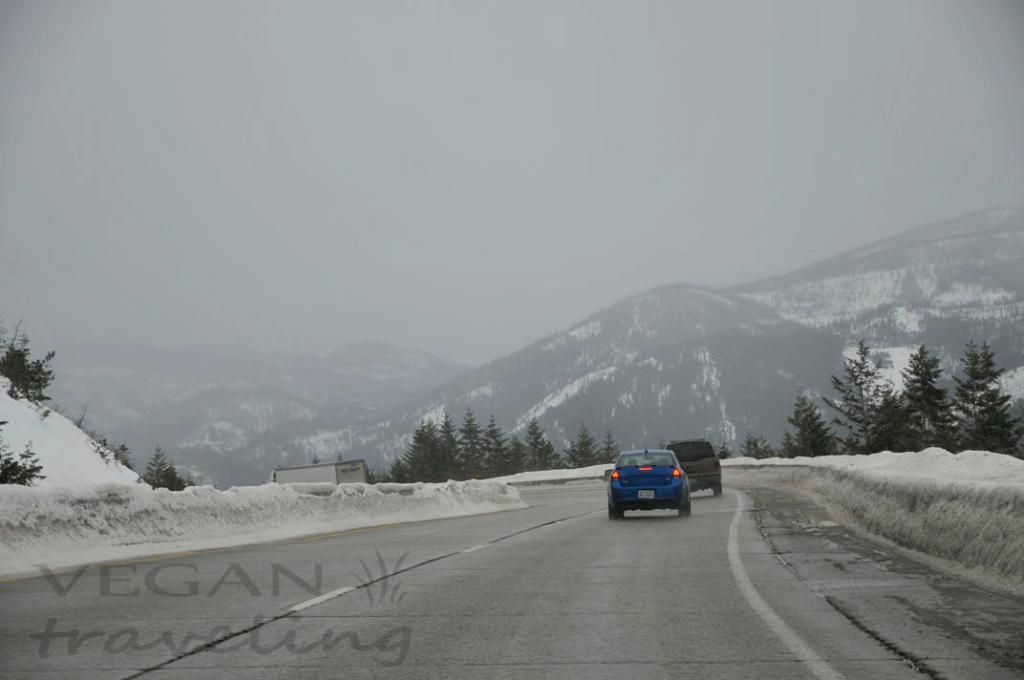 We witnessed several cars and two large trucks laying upside down in the separator ditch between the highways, so the drive was actually dangerous and all cars were moving super slowly. But after the pass, everyone sped up downhill and soon the snow got replaced with rain and we could totally feel that we are in rainy Washington state now. In another hour we reached Kirkland where it was warm and windy – we soon learnt that while we were going through through the crazy snow storm on Snoqualmie pass, in Seattle there was a wind storm that brought down trees and caused blackouts. We stayed at Marriott Hotel, where everyone else looked so polished and well dressed compared to us for four days driving like crazy and looking like two hobos. After one night in that cocky and pretentious place, we moved to more comfortable La Quinta, and from there – to fantastic furnished corporate Catalina Apartments. But about that – in the next posts.