I got greedy at the farmers market last Sunday and bought a whole huge bushel of amazing tomatoes. My oh my do I love those! But alas, being too ripen they need to be consumed fast. So, here's a great delicious solution to this "problem" – Spanish soup gazpacho! Been eating it almost every day for the past week, and can't praise it enough.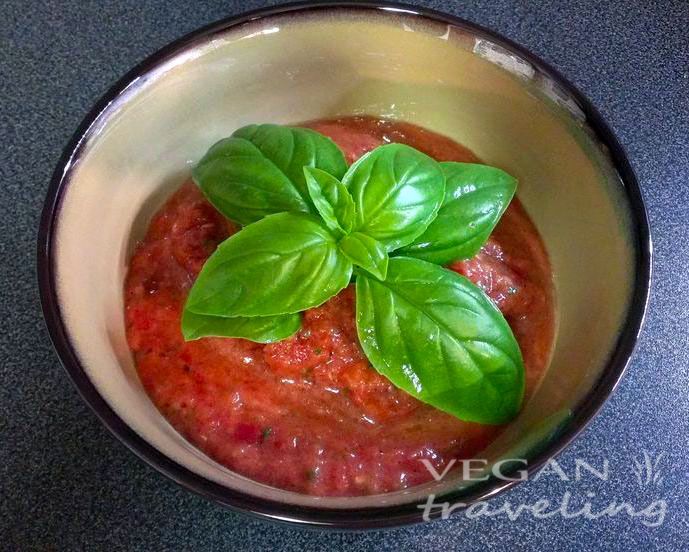 Ingredients:
5-7 small roma tomatoes
1/2 red bell pepper
1 small cucumber
1 very small garlic clove
about 2-3 tbsp chopped onion
salt to taste
black pepper to taste
3-5 tbsp olive oil
and add some fresh greens that you like/have, I added some fresh parsley and basil
Preparation:
For making gazpacho I prefer to use an S blade food processor rather than a powerful blender, because the blender creates a foamy mixture, while a more "gentle" food processor chops it all up just right. So place all your ingredients together in a food processor and mix very well until smooth. Pour into a bowl, and maybe garnish with some fresh chopped greens, but honestly it's marvellous just by itself.
Another tip – if you feel like eating something raw, but want it to be somewhat warm as well – just place the tomatoes, pepper and cucumber into a large bowl with hot tap water for about 15 minutes. Although originally it's meant to be a chilled soup.
Enjoy!