Of course it's not really "cream", the thickness is provided by red lentils, but the soup is rich and really yummy, just like the original version: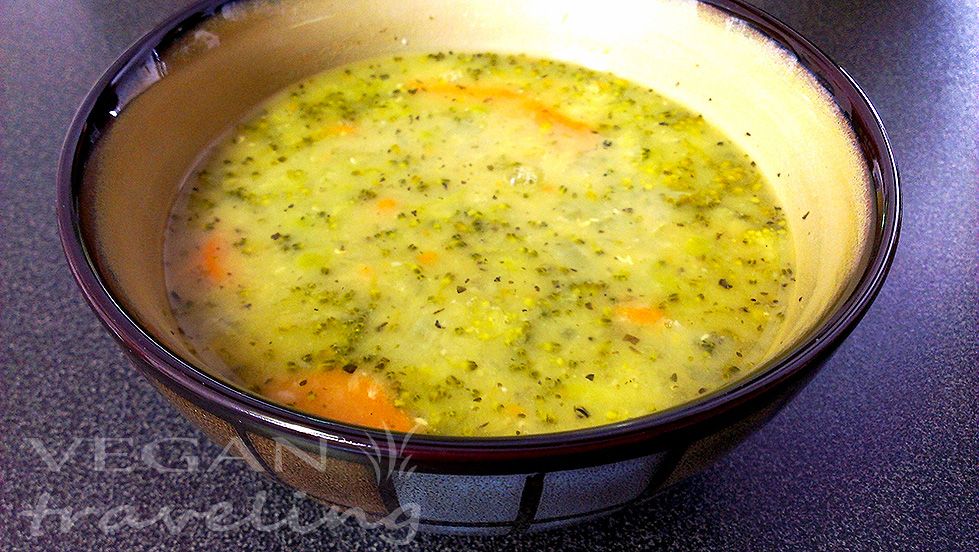 Ingredients (for 4-5 Liter pot):
– 3 L filtered water
– 1/2 yellow onion, chopped finely
– 2-3 cups red lentils
– salt to taste
– 1 average carrot, peeled and chopped roughly
– 3-4 tbsp cold pressed olive oil
– 2 average potatoes, cut into small cubes
– 1 cup frozen peas
– 1 average broccoli head, cut into small florets
– 1-2 garlic cloves, chopped finely
– cayenne pepper to taste
– 1 tbsp Italian seasoning
Preparation:
Add about 2.5 Liter water to pot, then add red lentils, put on high heat setting. While the lentils are cooking, start chopping and adding all other ingredients. Once all ingredients are in, add the rest of water, leaving about 5cm from the top of the pot. Cook on mid low setting for 15 minutes, then cover with lid and let stay. Hint: if you prefer broccoli to be a bit crunchy, mix it in right at the end of cooking, cover the pot with lid and let stay for 5-10 minutes.