Are you guys as cold in winter as I am, craving for something warm and comforting? If yes, this soup will help you through all this cold weather easily! Takes me about 20-25 min to make, including cooking time. It's a simplified version (hence 'basic':) – just throw all ingredients in boiling water, cook for 15 minutes, and voilà – your soup is ready! Maybe doesn't look super presentable, but trust me it is delicious 🙂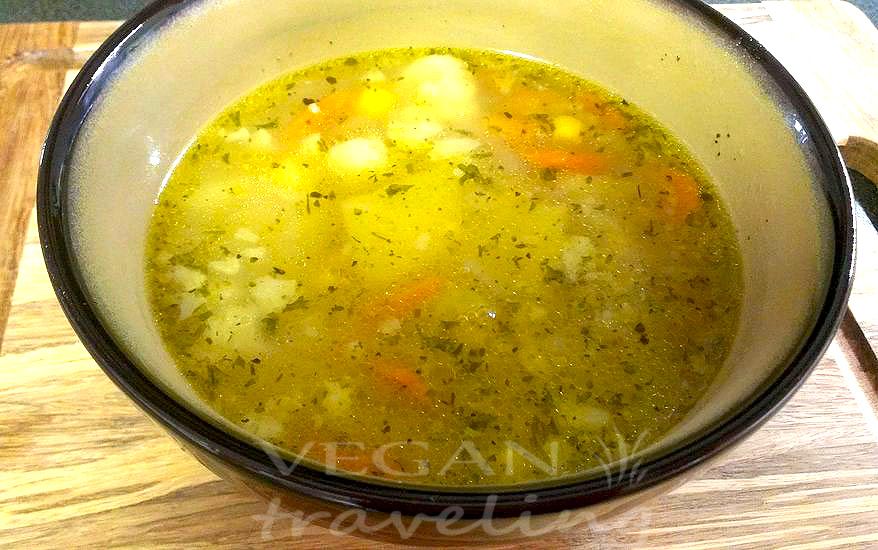 Ingredients – for 4-5 Litre pot:
3.5 L filtered water
2-3 average potatoes (I like Yukon Gold), cut into square pieces
1/2 average yellow onion, chopped finely
1 large carrot, chopped
2 cups red lentils
1 cup frozen corn (I used "peaches&cream")
2 tsp Italian seasoning
2 tsp parsley flakes
2-3 bay leaves
1/4 average cauliflower head, cut into florets
1/2 head broccoli, cut into florets
1/4 – 1/2 cup cold pressed olive oil
salt to taste
black pepper to taste
Preparation:
Pour water and red lentils into the pot, and leave it on high heat until boiling. In the meantime peel and chop onion, carrots, potatoes, and add them to the pot. Mix in Italian seasoning, parsley flakes and salt. Add all the remaining ingredients, bring to boil, then reduce to 3.5 setting, cover with lid and let cook for 15 minutes. Once ready, although the soup is totally edible, I really suggest to leave it for about 1/2 hour, then it gets even better.