The next couple days we spent driving around Vancouver Island, here's the map: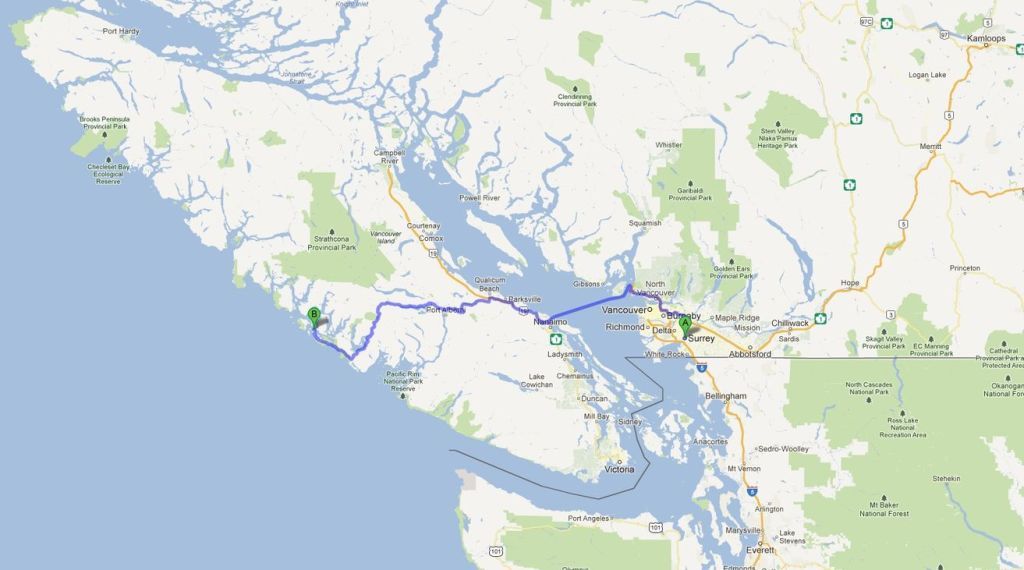 While on the ferry (in the afternoon), we've noticed that the Sun looks like a young Moon – that, as we later figured, was the annular solar eclipse (we took the ferry on May 20th, 2012, and the last such eclipse took place in 1994!).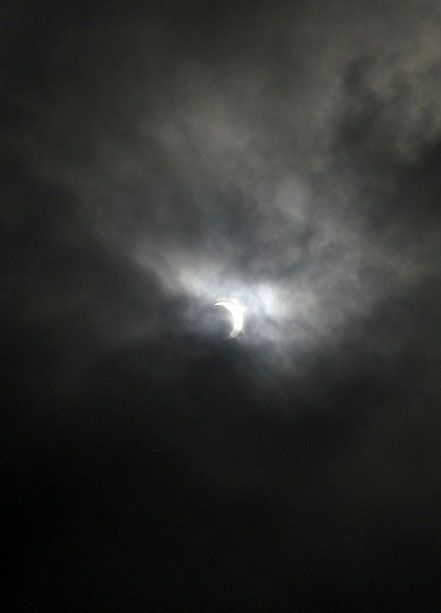 All day it was really cloudy, but at some point the couds thinned just for couple minutes, and that's why we got a chance to see the Sun exactly as the Moon was passing – that's another reason why it makes sense to stay outside on the deck during the whole ferry ride!! You may get lucky to see cool things like that 😉
Soon we could see mountainy Vancouver Island at the horizon, and in a bit – Nanaimo!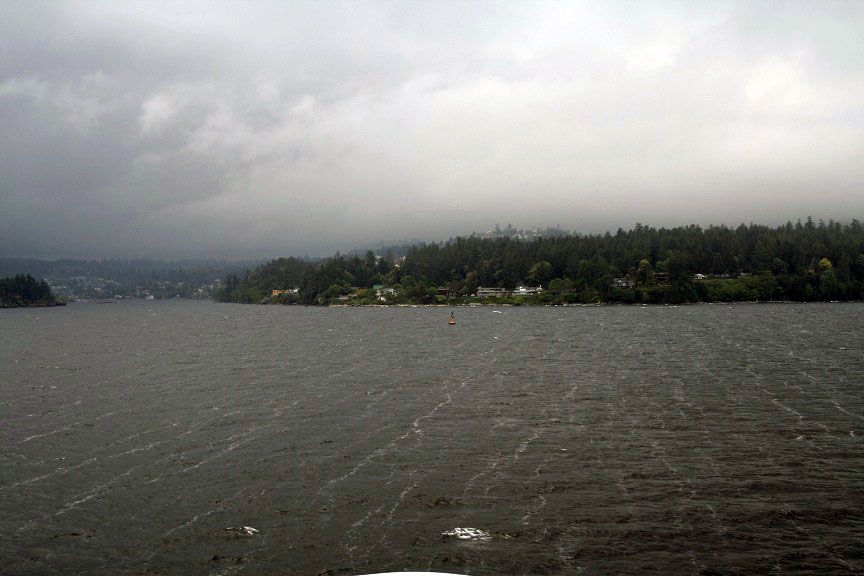 The town was much larger that I ever expected. Many small mountainy islands, covered in houses, rainy, cloudy and plenty of greenery.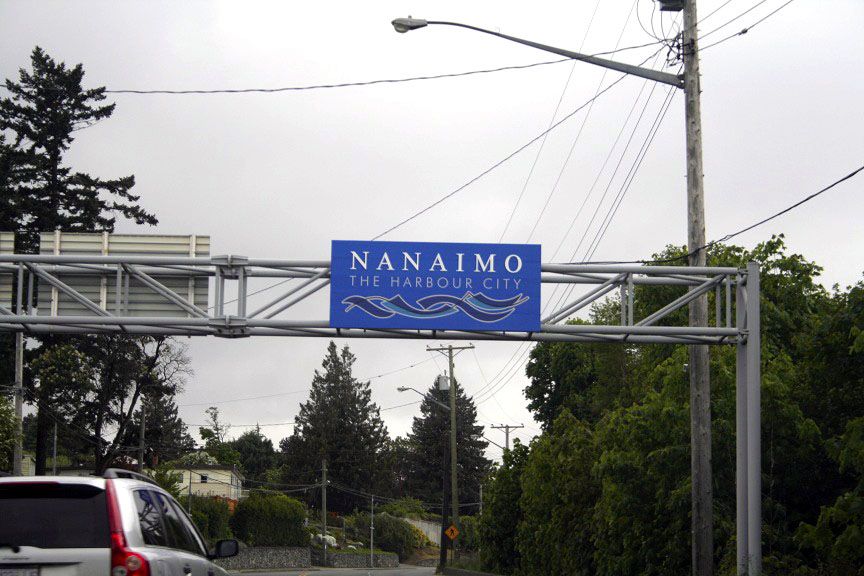 As soon as we got off the ferry, we went to see the motel everyone raved about on Travelzoo – The Buccaneer Inn. And it was an excellent little place! We got a room (smallest) for only $47! Tiny, but it had everything we needed, including a kitchenette. Amazing place to stay when in Nanaimo, located right on the bay, and just couple minutes drive from the ferry. Full review here – http://vegantravels.livejournal.com/4833.html.
One of the awesome murals in Nanaimo, this one is dedicated to Jacques Yves Cousteau.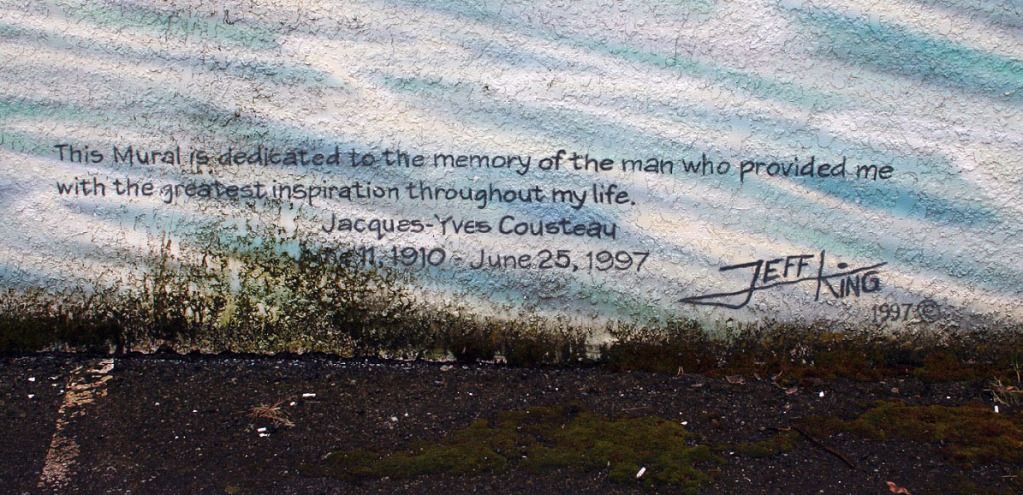 As I said, Nanaimo is quite large, it has all the possble stores you might need – from Canadian Tire and pharmacies to raw vegan restaurants in historic downtown.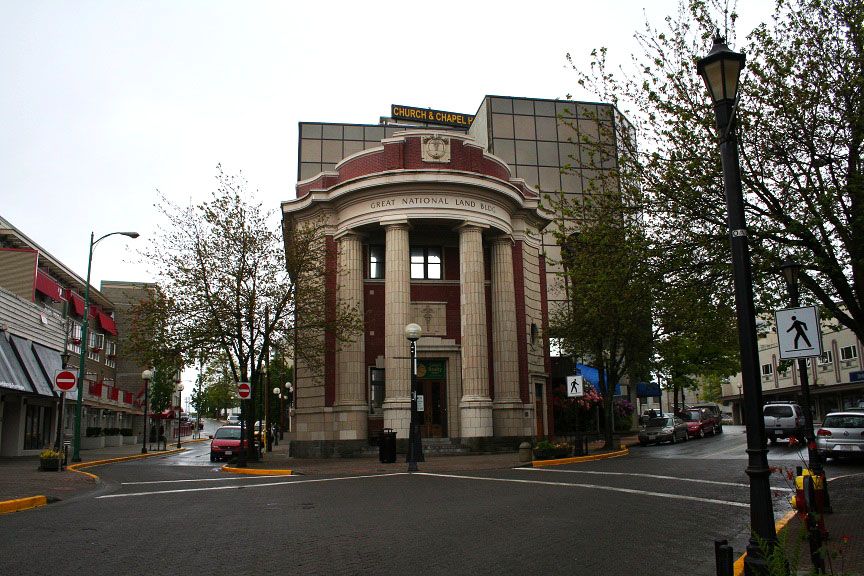 By the way, when going to coastal BC, don't forget to take either a raincoat or an umbrella – those would really be handy, as it rains all the time.
The next morning, we did what we were planning for a long time – went to get nanaimo bars in Nanaimo! Yess!! Luckily for me, there was an absolutely amazing raw café – Power House – that had raw nanaimo bars, so I could also participate in the nanaimo-bars-in-Nanaimo plan. And I have to say those raw bars were outstanding! Full review for Power House is here – http://vegantravels.livejournal.com/4833.html.
After the nanaimo bar feast and a stroll in old downtown, we headed towards Tofino. Being kind of tired of changing places everyday and driving non-stop, we decided to keep our cute cozy room at Bucceneer's for one more night, but since the drive to Tofino was only 4 hours, we decided why not go just quickly see it, check out its famous beaches and then come back. Oh well, mistake! Don't ever plan to "just go quickly see" Tofino. It's so much more that just a gorgeous long sandy beach.
The drive was absolutely beautiful.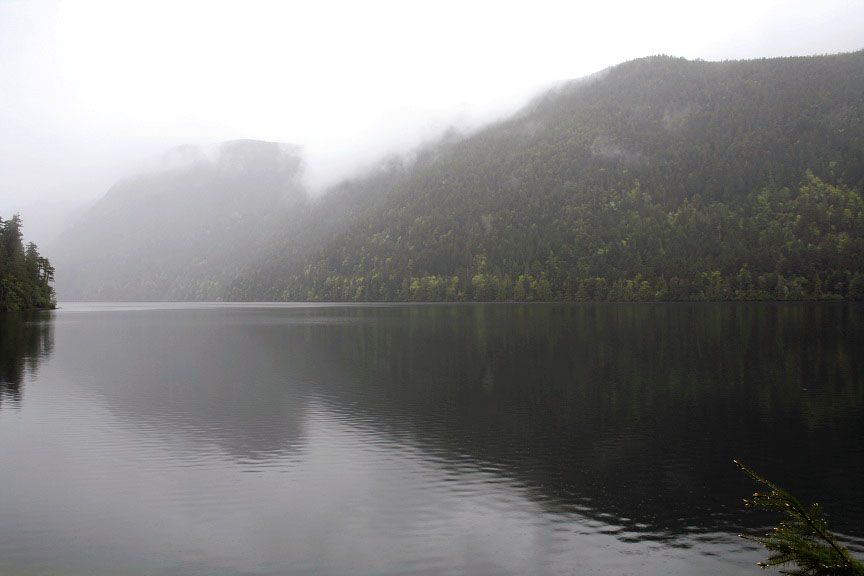 The road across the island is called Pacific Rim Highway, as it takes you to the Pacific Rim National Park that stretches along parts of the west coast. About half way between Nanaimo and Port Alberni there is MacMillan Provincial Park – a tiny patch of ancient Douglas fir and Western red cedar forest.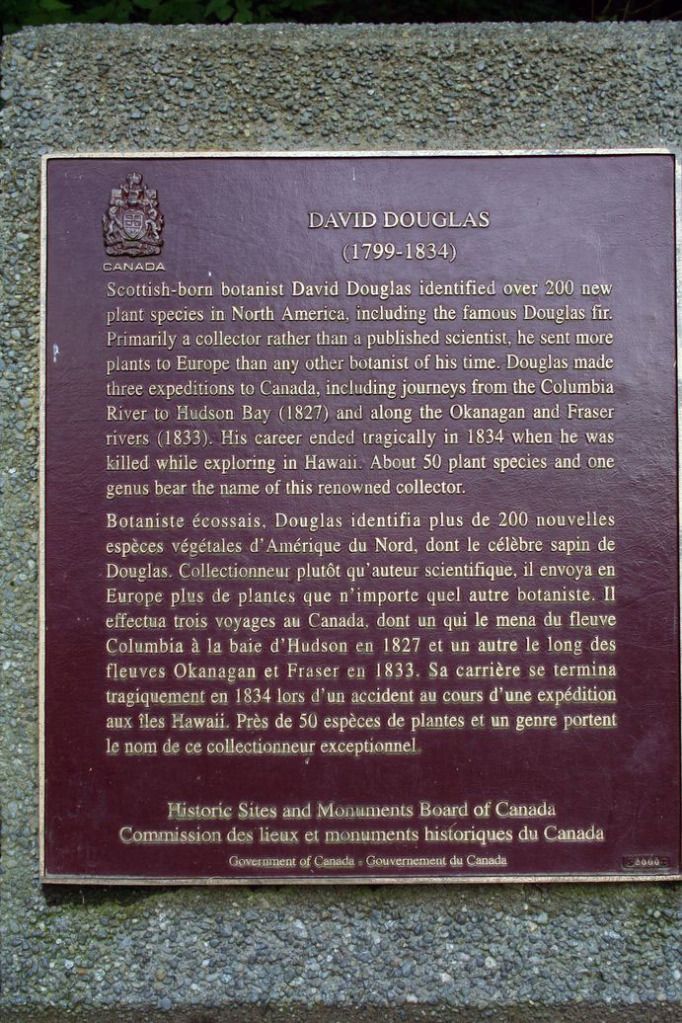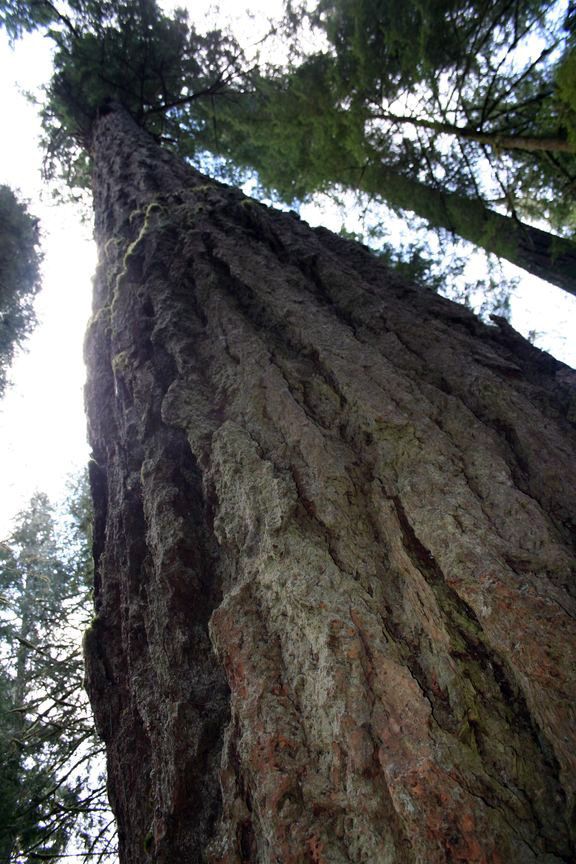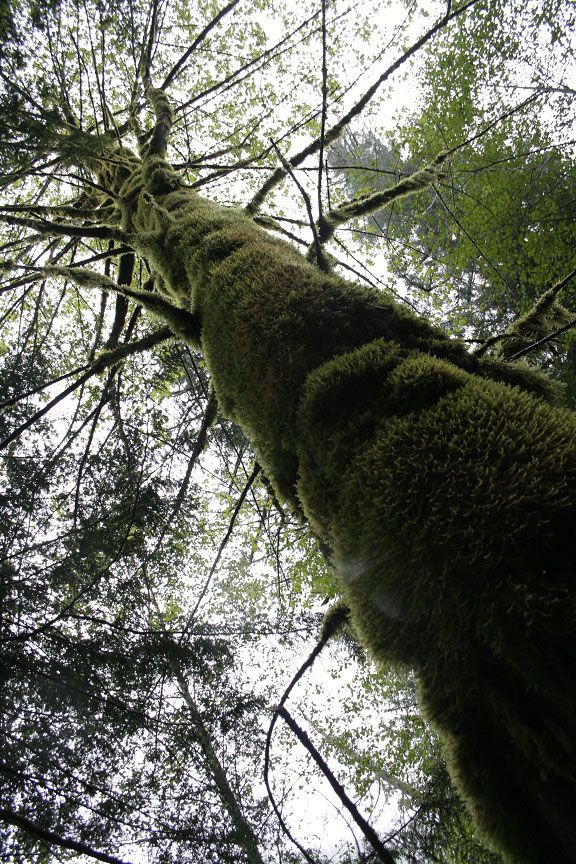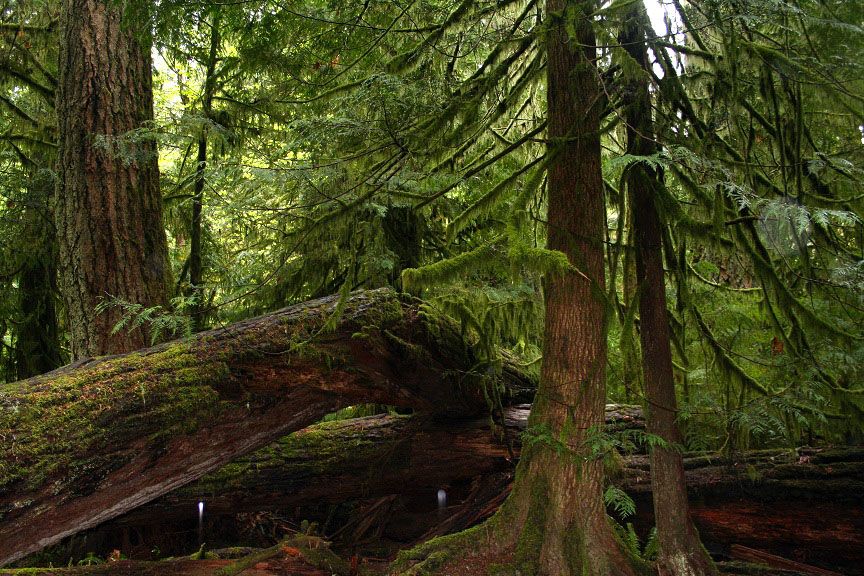 It is an absolute must see, and once you drive into the Cathedral Grove formed by these giant trees, and see all the stopped cars, you'll stop automatically as well J Here's an excerpt from the park's website (http://www.env.gov.bc.ca/bcparks/explore/parkpgs/macmillan/): The name "Cathedral Grove" appeared in correspondence to the provincial government in the 1920s. This colourful description of the stately trees is reputed to have originated from the Governor General Viscount Willingdon in April 1928. Cathedral Grove was a well-known tourist stop on the Alberni Road in the 1920s and 1930s when the timber was owned by the Victoria Lumbering and Manufacturing Company. For 15 years the public encouraged the provincial government to acquire the lands within Block 35, Cameron Lake area. The citizens' organizations, The Associated Boards of Trade of Vancouver Island, petitioned the government in 1929 to preserve forever, for the public benefit, the well-known stand of timber at Cameron Lake, known as Cathedral Grove. In 1944 H.R. MacMillan, a well-known forester donated the 136 hectares of land for the perpetual enjoyment of the public in recognition of the unique stand of trees. Three years later, the area was established as a Class A provincial park. So thanks to MacMillan, we can still enjoy walking among those secolar giants, although just a tiny patch of those, compared to how the whole Vancouver Island used to be covered by those trees only centuries ago. It's crazy to realize how beautiful was the untouched original nature of those places, and how brutally it was being depleted for hudreds of years by the europeans. Here's a really good website with pictures and history of logging around the Cathedral Grove – http://www.cathedralgrove.eu/text/01-Cathedral-Grove-3.htm
In about an hour drive from Cathedral Grove, the road starts going up and soon you can see snowy mountain tips.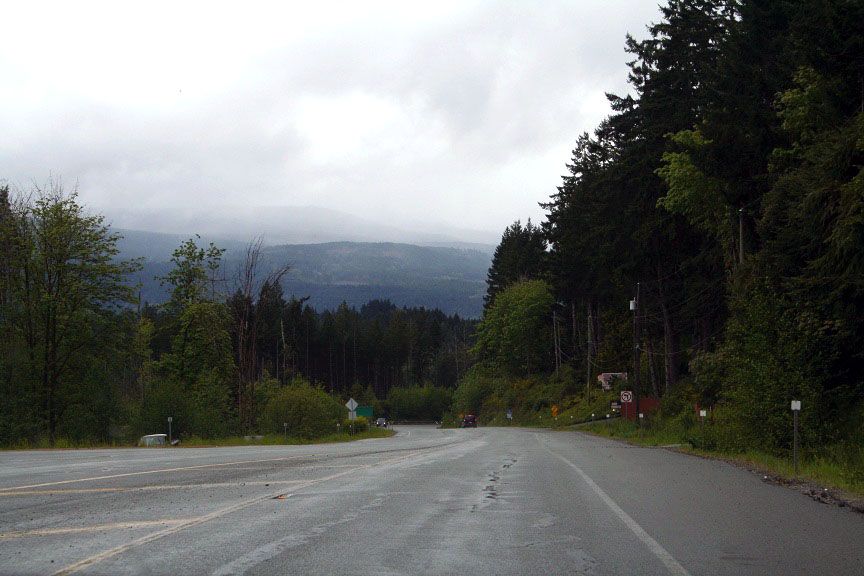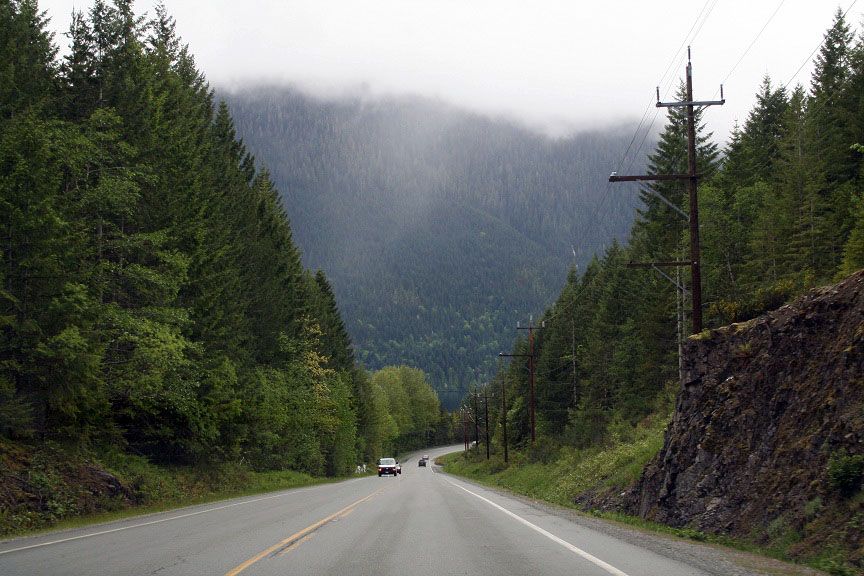 There are plenty of gorgeous lakes, creeks and waterfalls along the way, so the drive is extremely scenic and make sure to take into consideration many stops you will make, as the total Nanaimo to Tofino driving time is actually about 6hrs if not more.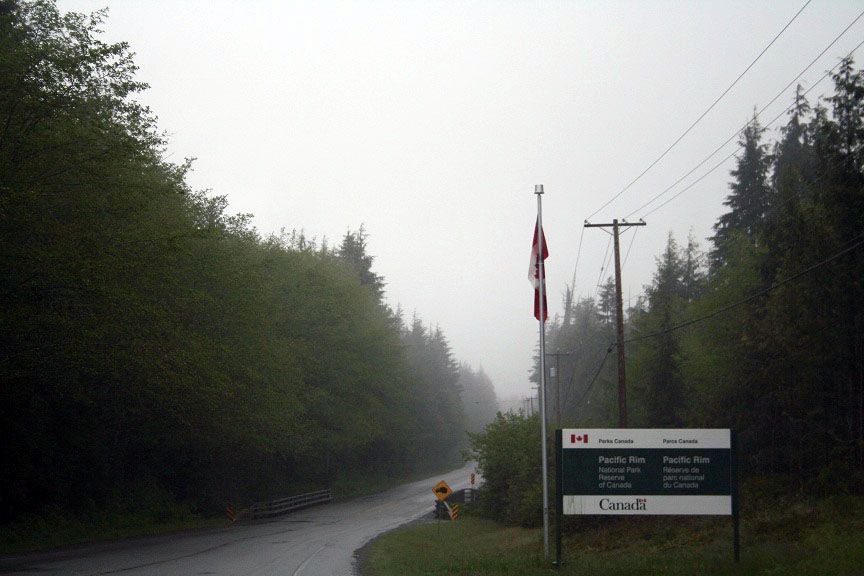 On the way to Tofino, the road goes through the Pacific Rim National Park, and that's where the fantastic long sandy beaches start.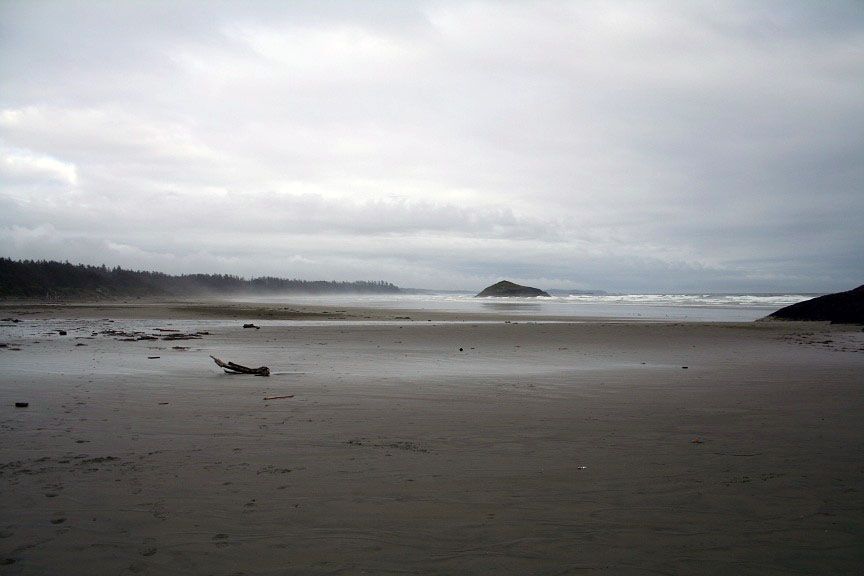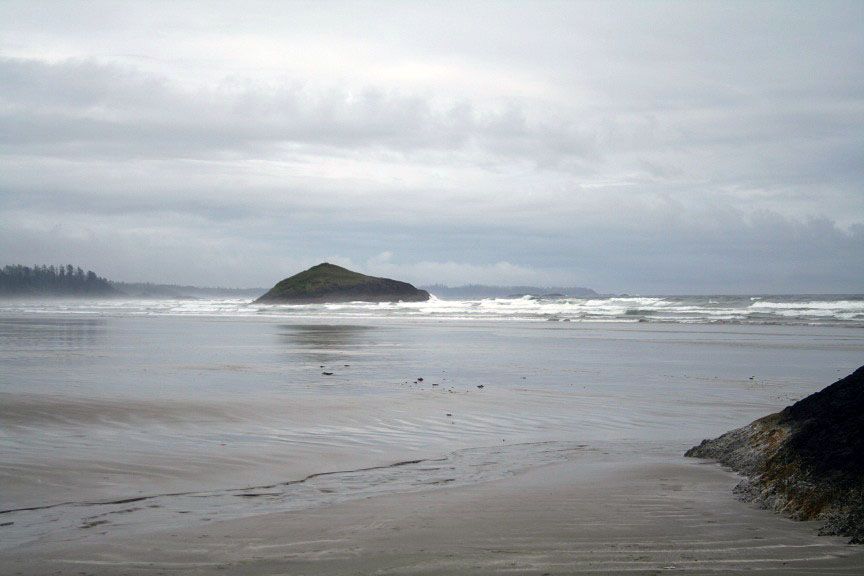 All along the beach trails there are warnings of pumas, bears and wolves. Before we went on that trip I've read that Vancouver Island has the world's highest density of pumas population, as well as the highest number of pumas attacks on humans. But despite of how supposedly ubiquitous they are we haven't seen any in that trip. Later I read that even though the population of pumas there is considered to be very high, their actual number is a mere 300.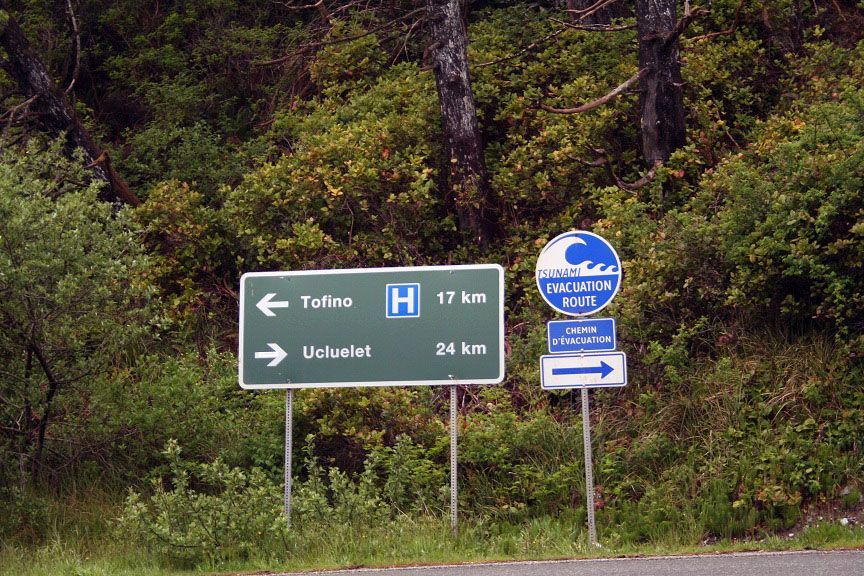 Tofino is a tiny fishing village located in one of the Western Vancouver Island inlets, and it is one of the most beautiful picturesque remote places I've probably ever seen.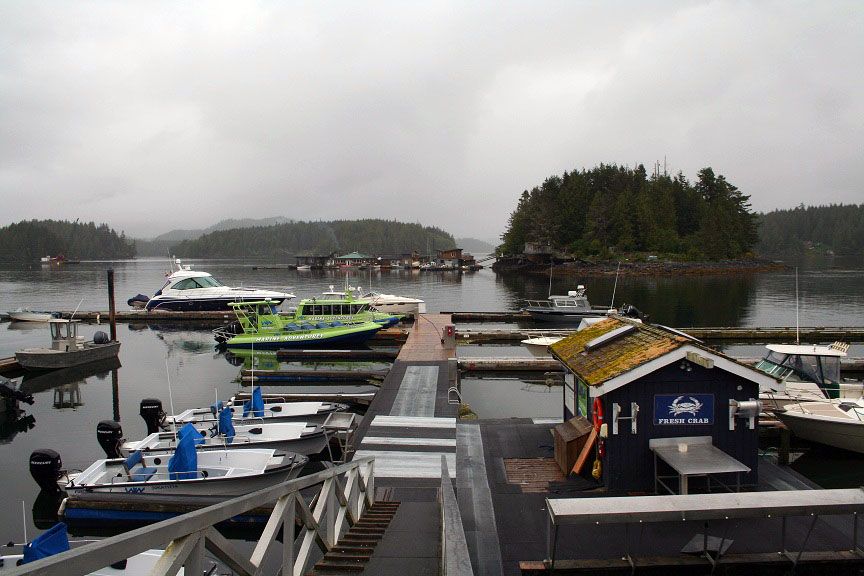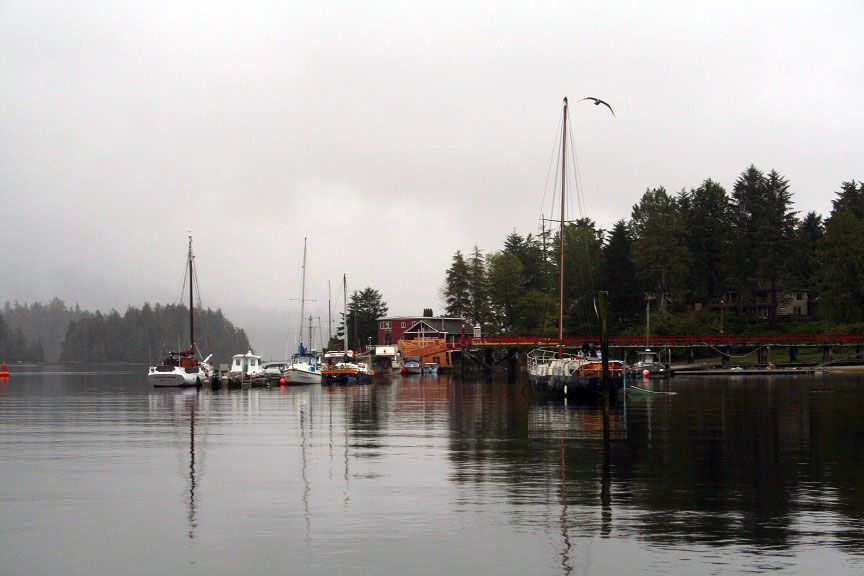 When we got there, it was pretty cold and hazy, and there was practically nobody on the docs, most people were hanging out in the bar up on the shore. We were taking pictures, and then we heard a strange sound – that was a large california sea lion fishing! I've only seen these guys in California and Oregon from afar, but never that close!
He was passing by the docks, diving under us, and we could see him as close as couple meters. After fishing for some time, he was laying in inlet waters for some time. That was simply amazing. On top of that, we also saw giant star fish of different colors, attached to the piles. As the tide was low, many of them were hanging down in the air waiting for the tide to rise.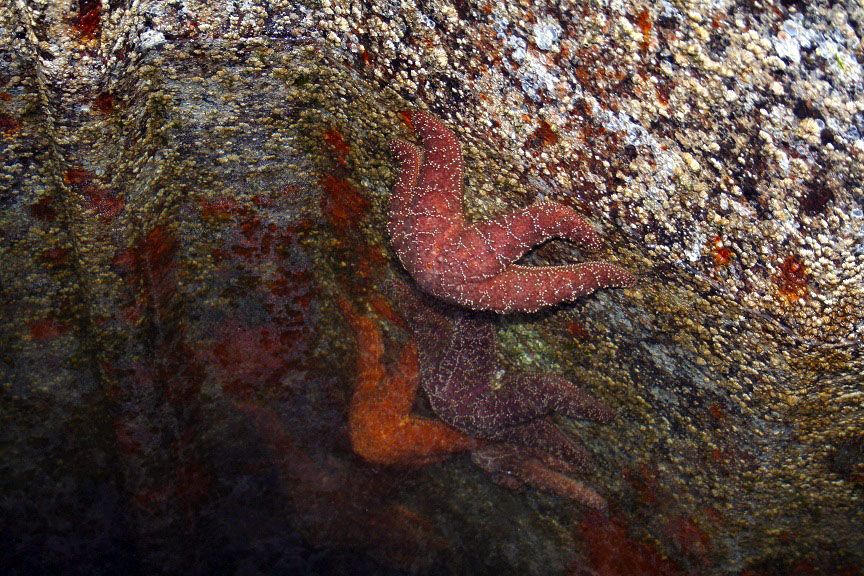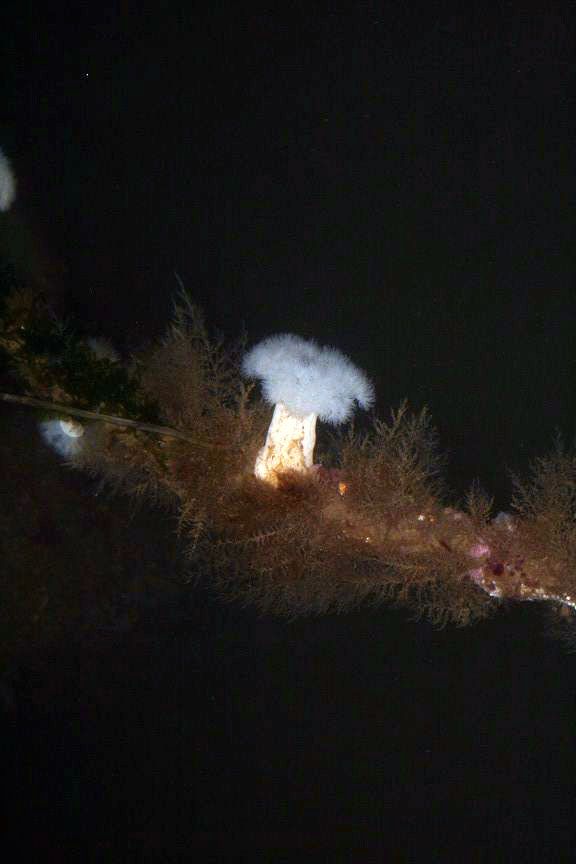 Too bad we had to go back to Nanaimo that night, that was a major strategic mistake to have kept that place for 2 nights. Ah well. We drove back practically all the way in the dark, but because of that we saw several bears. One of them was standing on the road shoulder, and when we passed him I saw this guy as some large shadow, very close to the car. As we turned around we saw it was a really big black bear who was not scared of us a tad – he slowly walked up the hill from the road, turned back to us and slowly started to break small trees nearby, obviously showing us his strength and superiority. That gave me shivers, and I realized that hiking for me in those places is very unlikely. I have to mention that because Vancouver Island's nature isolation from the mainland their black bears, for example, are very different from those in the rest of BC – they are larger and much more confident. In any case that occasion was quite impressive, and the bear was gorgeous of course.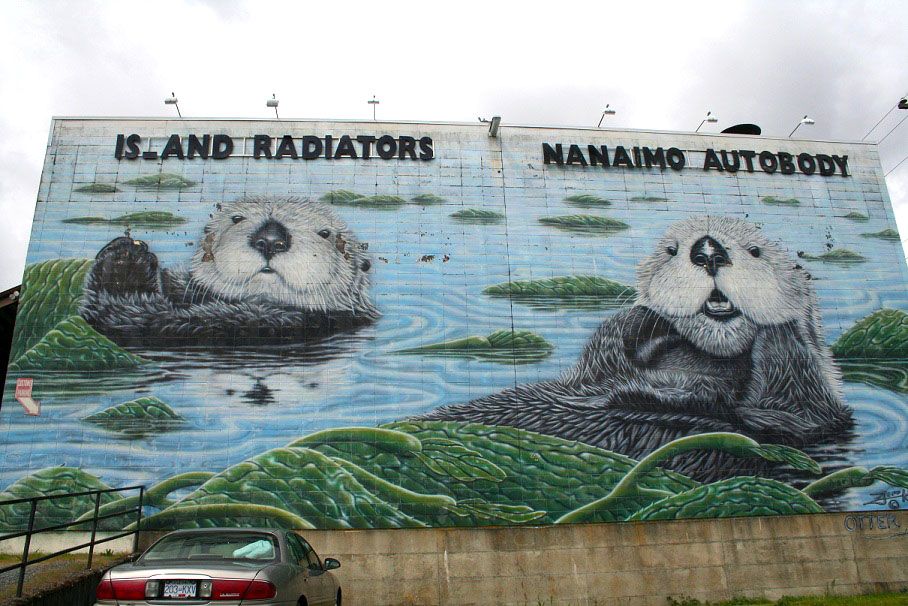 The next day in Nanaimo we decided to go see north of the island before going back to Tofino, that is go all the way up to Port Hardy and explore less touristic areas.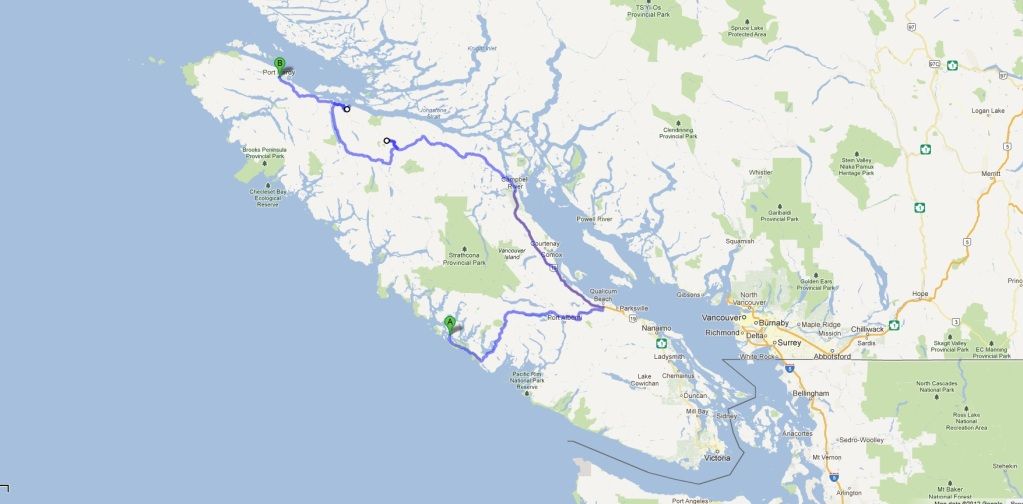 While driving up north we saw what's not advertised to tourists – all along the beatiful road among secular trees there were logging sites. That was one of the most dreadful things I've ever seen. Giant, gorgeous cedars and pines were brutally cut down, forming screaming void spaces in the forest. Some of these sites were visible from the road, but once we got off the road….oh my, there were dozens and dozens of those everywhere!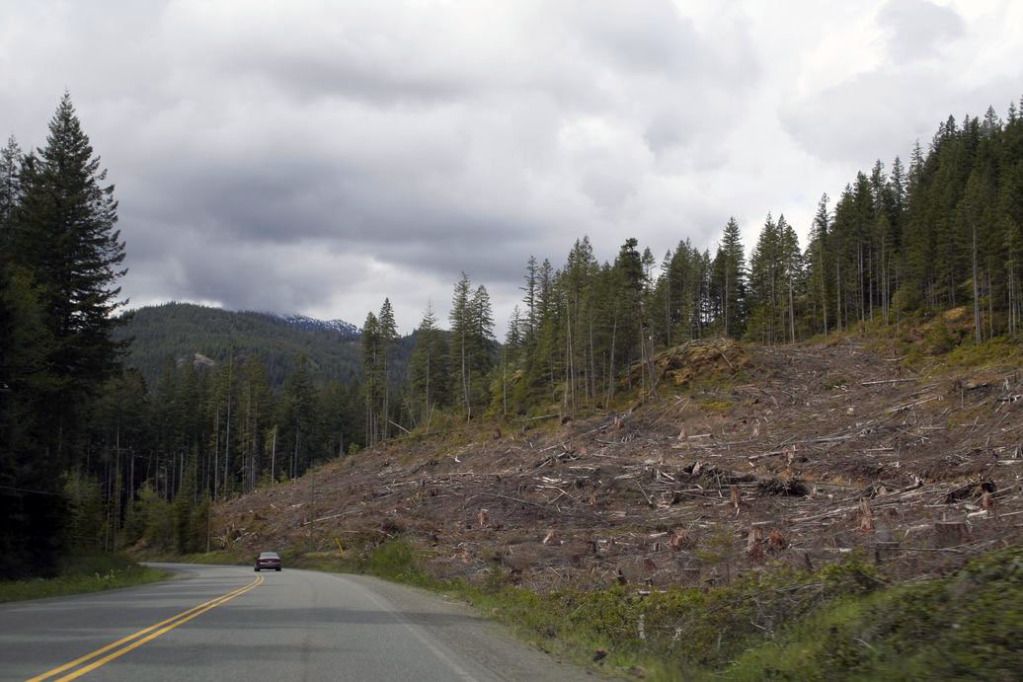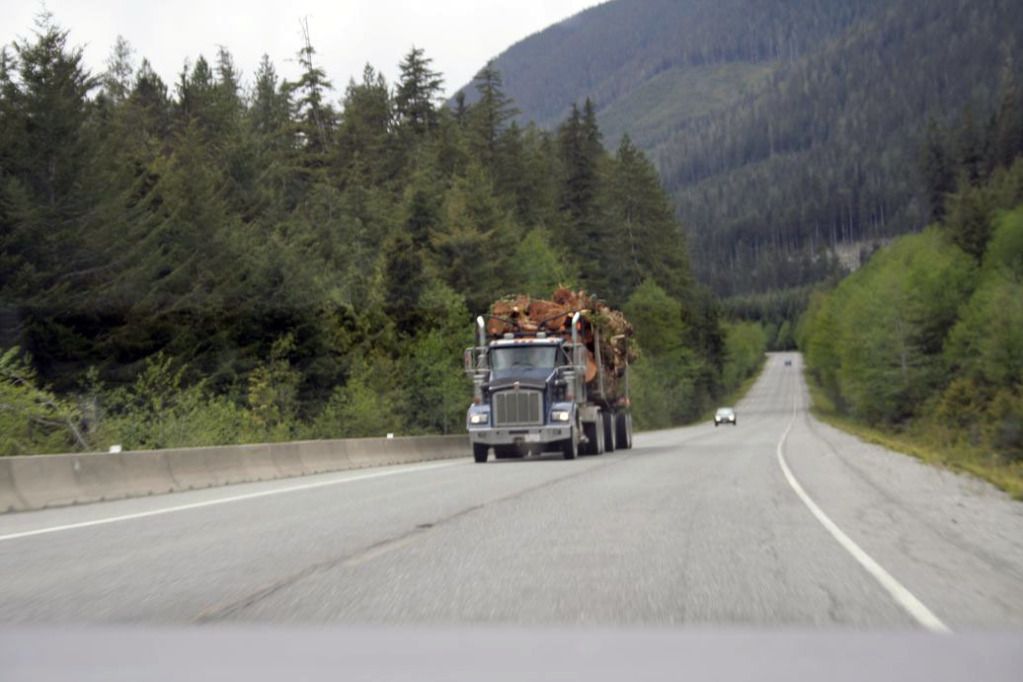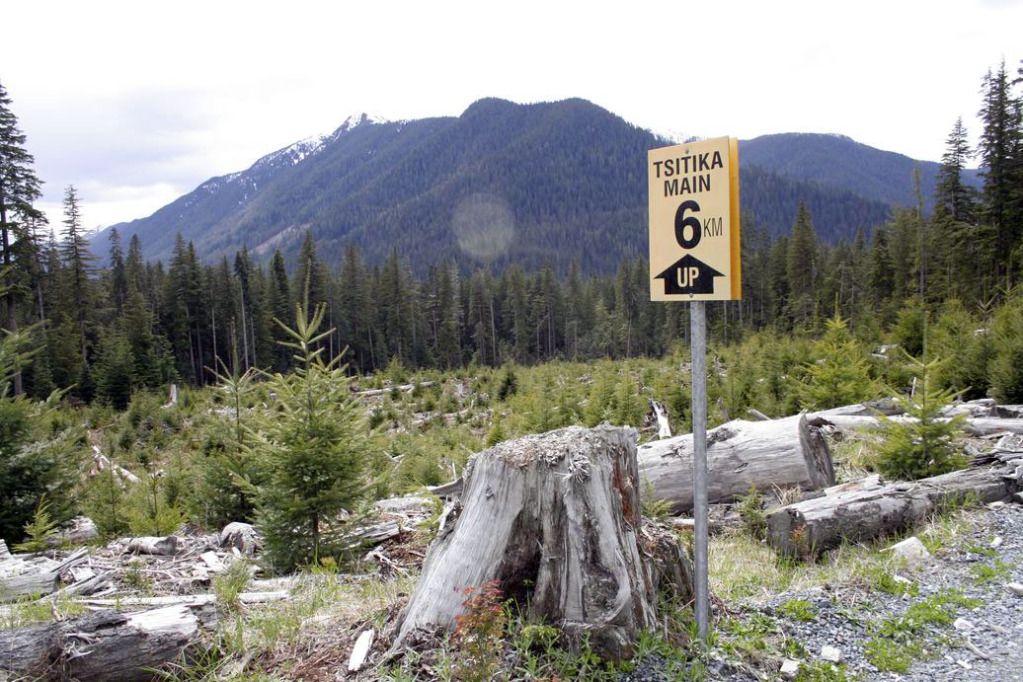 Everyone remembers protests for protection of the ancient cedars in the south of Vancouver Island in the 80s, when people where chaining themselves to the trees to prevent their logging – which eventually led to forming of Carmanah Walbran Provincial Park. And that probably creates a happy image for most people, making them think as if everything is taken care of in BC's ancient forests. Alas, our visit there showed us how wrong we were. The logging is happening every moment; they cut out patches of old trees permanently. Technically the whole north of Vancouver Island is industrial, there's not so many tourists, and you see logging trucks going south with their prey all the time. The view of this is really depressing…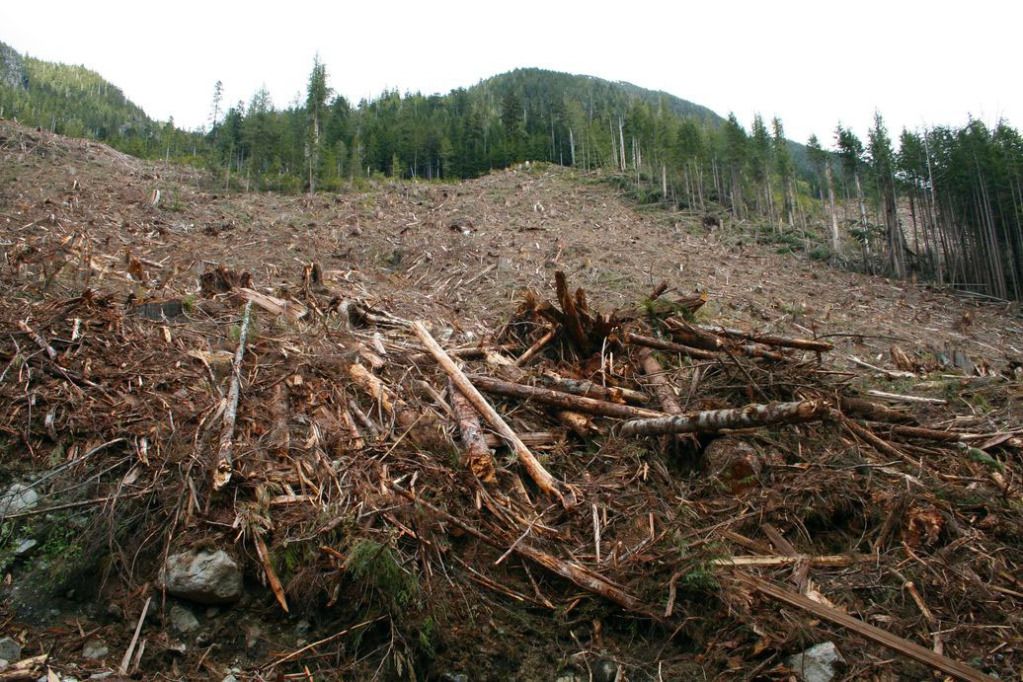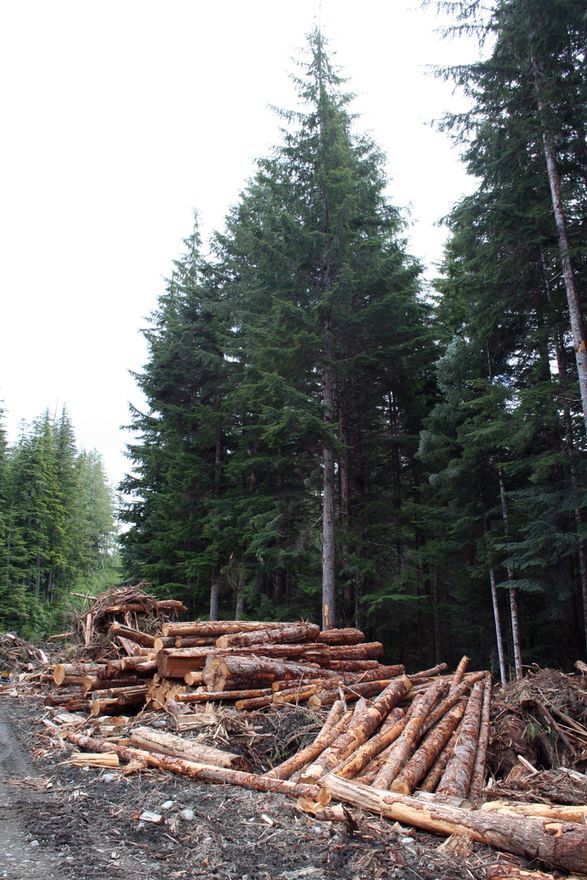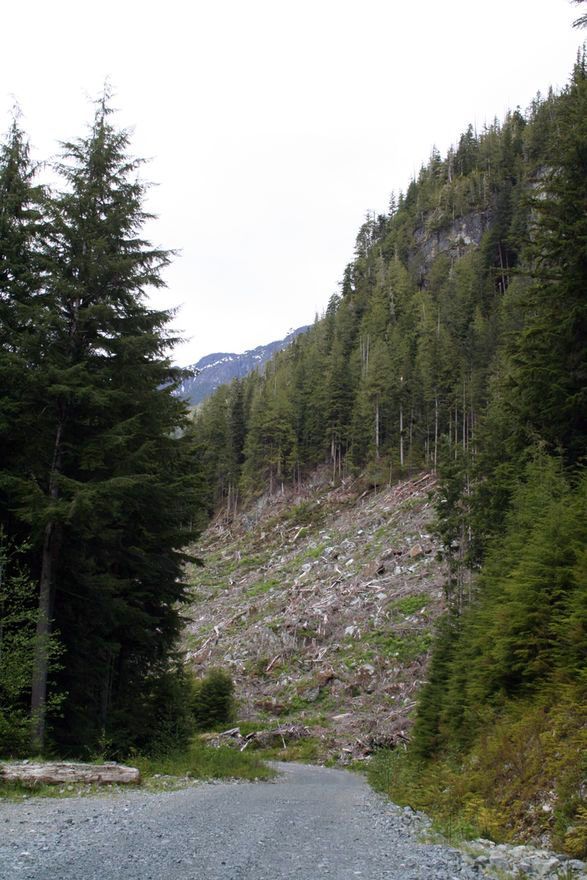 I have to say that compared to the USA that has huge national parks, in Canada our parks are tiny – just only look at the size of Pacific Rim National Park in BC vs Olympic National Park in WA on the map! Both of them protect the ancient rainforests, however while in BC it is only a couple tiny stretches and the rest of forest is unprotected, in WA it's almost a 1 million acres! The problem is that if the trees and animals are not within a national park area, that means that there is uncontrolled logging and hunting. The bottom line is there still are huge problems with Vancouver Island's ancient forests, and as soon as media's attention is off the spot as it is now, the monsters such as Imperial Metals will continue trying to do mining and logging in that area, harassing the nature and depleting the rarest forests on Earth. That whole day was a huge depressing eye-opening experience.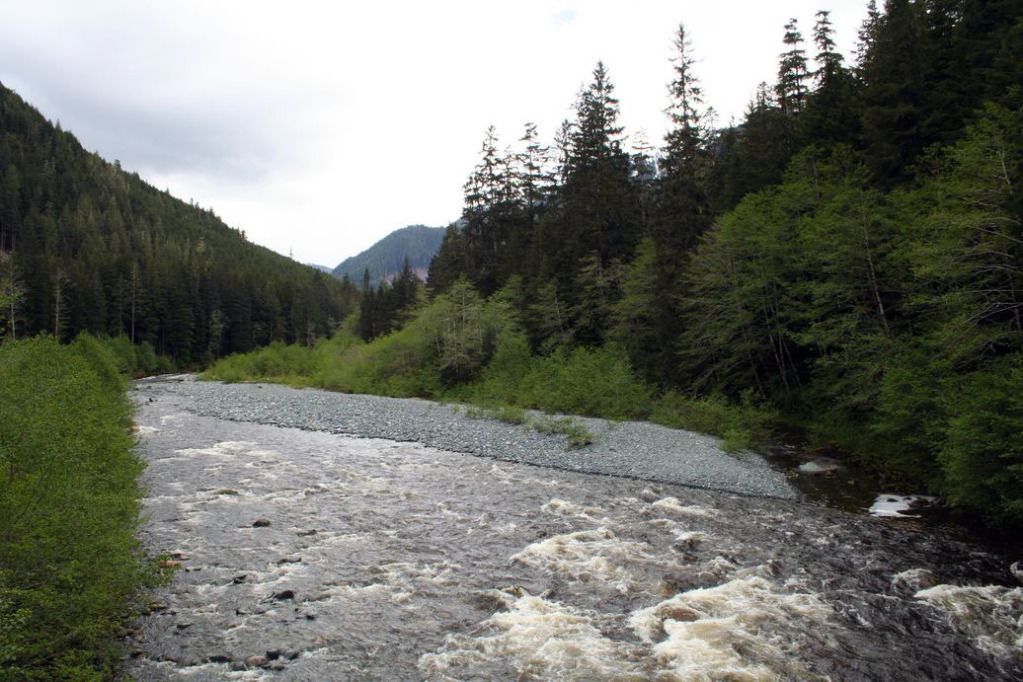 Driving further north there was a way to Telegraph Cove, so we decided to check it out. It is an amazing little historic resort-like community in one of the north-eastern inlets, offering many great eco-tours such as grizzly bear watching (the boats take you out to the mainland inlets across the strait and you can see grizzlies feeding on salmon) and killer whale tours. We got there way before the season starts, and so the tours were not available yet, but that particular place is considered to be the best for viewing orcas migration, as the strait is really narrow there and the magnificent creatures are forced to go very close the shores. Despite of the early season, after watching the strait waters for a long time we saw from afar a school of orcas, they were swimming for a long time and it was so quiet – we could even hear them breathing. J
We got to Port Hardy late at night; out of just a few hotels only one had spaces and was super expensive, even after the nice owner gave us all possible discounts (Glen Lyon Inns&Suites, full review here http://vegantravels.livejournal.com/4833.html). Impressions from Port Hardy – quite small, very industrial, not so touristic, and not so cozy as Tofino. But obviously the nature there is gorgeous, and we saw plenty of bold eagles! Until I came on this trip I never knew how many bold eagles there are in Canada, and always thought it's a strictly American bird and thus their symbol. Not really, we have plenty of them too J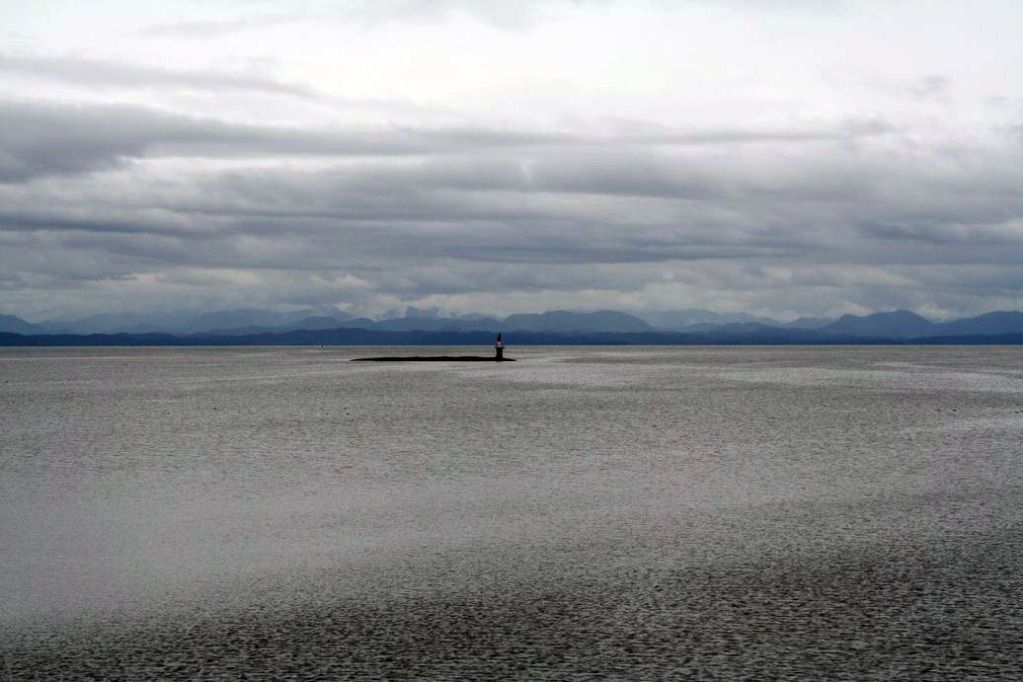 Amazing lab Dora at one of Port Hardy`s stores.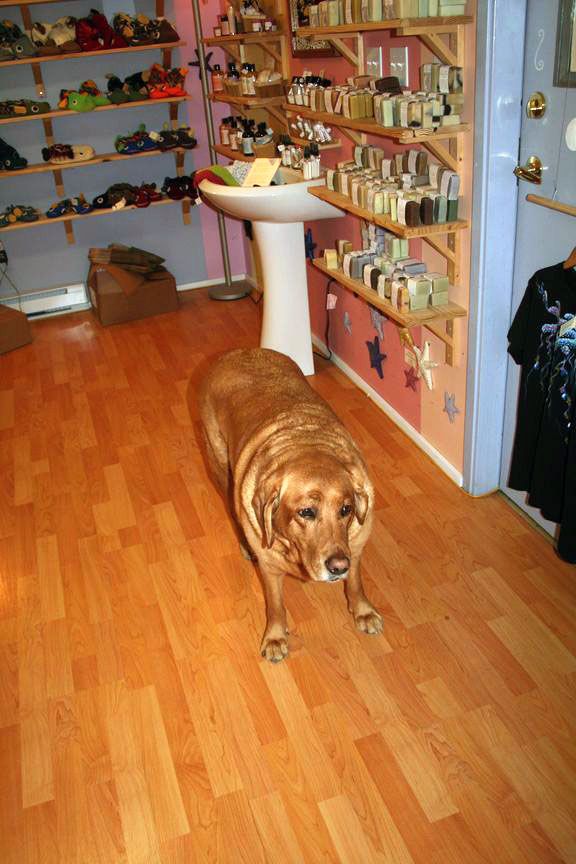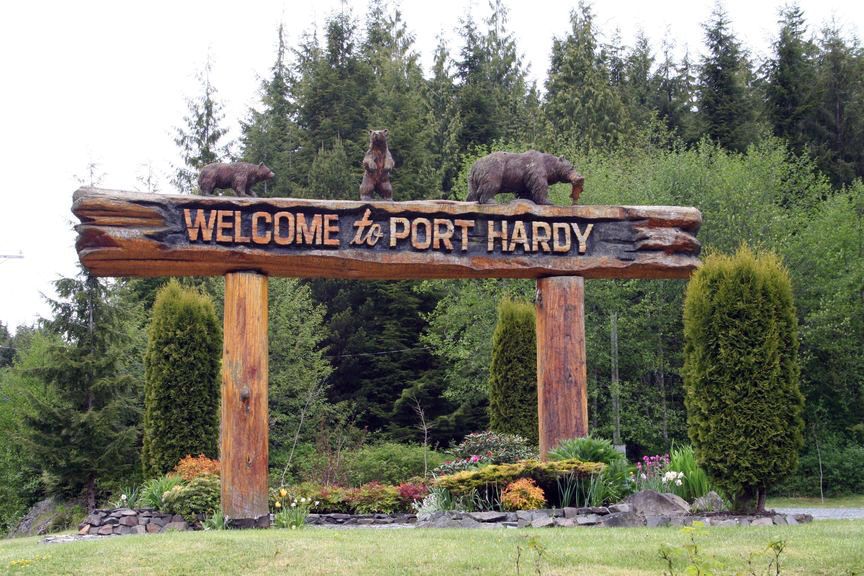 So there are plenty of things to do in Port Hardy – hiking in the parks, grizzly tours, orcas tours, diving. And all the gear can be rented right there. The next day the plan was to see the Cape Scott Provincial Park, but it required lots of hiking as no roads go through the park; so we had to skip that one and started our 8hr drive back to Tofino.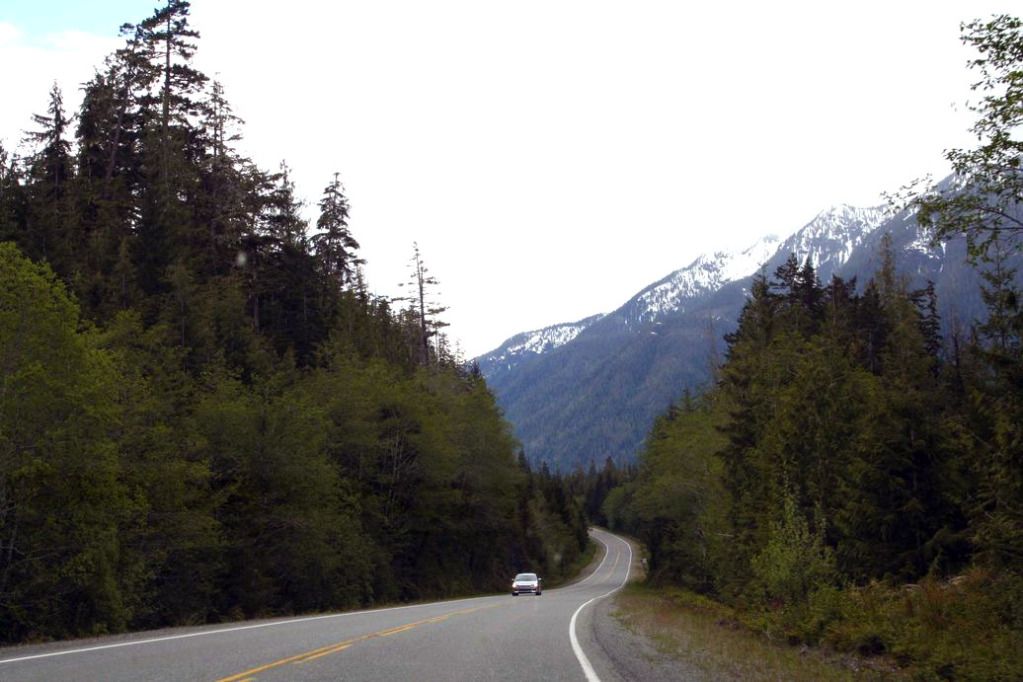 More to follow…
You can find other parts here:
Part 1 http://vegantravels.livejournal.com/1686.html
Part 2 http://vegantravels.livejournal.com/4254.html
Part 3 http://vegantravels.livejournal.com/5472.html
Part 4 http://vegantravels.livejournal.com/9022.html
Part 5 http://vegantravels.livejournal.com/10052.html
Part 6 http://vegantravels.livejournal.com/19373.html
Part 7 http://vegantravels.livejournal.com/22438.html
Part 8 http://vegantravels.livejournal.com/31352.html