Made this yesterday as I wanted to already start trying recipes with fresh sage from the garden. A pretty good and light snack, slightly resembles smoked salmon, you can reinforse the taste by adding more of the dried kelp and/or fresh sage leaves. This amount of ingredients would make enough mini tarts for 4 or 5 people.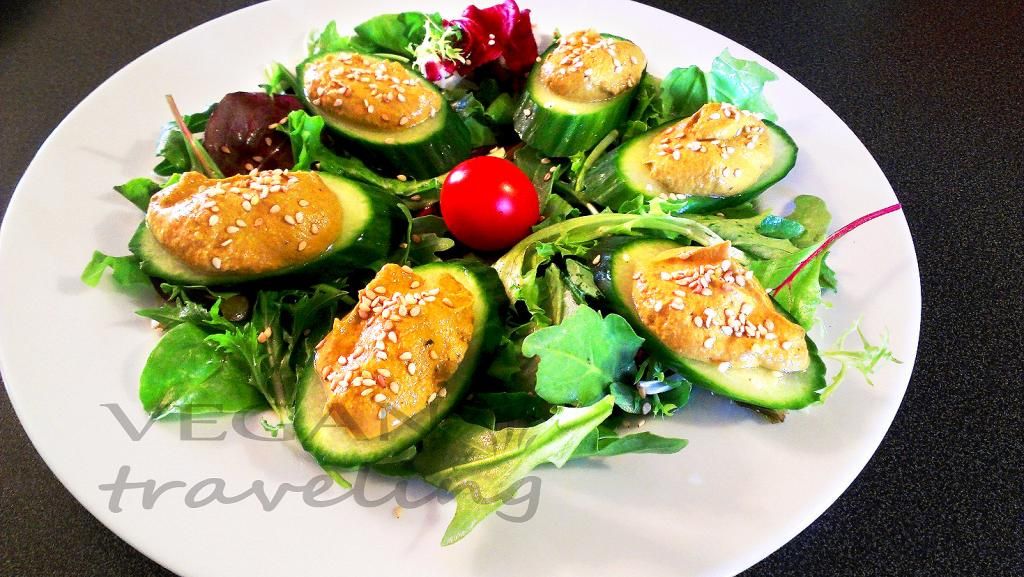 Raw Vegan Smoked Salmon Tarts recipe
Ingredients:
1 ½ cup walnuts or macadamia*
1 cup sunflower seeds
3 tbsp fresh cilantro
3 tbsp fresh dill
1 ½ medium tomato
2 tbsp sundried tomatoes
½ tsp turmeric
Salt and black peppers to taste
2-3 large leaves fresh sage
1 tbsp ground dried kelp.
* Walnuts taste is very strong in this mix, so if you would prefer other tastes to stand out more better use macadamia or cashews.
Preparation:
Mix all ingredients in a powerful blender, I use VitaMix. Add water as needed to create a thick paste. Serve on cucumber slices, letucce leaves or your favourite crackers, sprinkle with some sesame seeds, and I also like adding some kalamata olives. Really good as a quick snack!