The next day we started our exciting drive out west. Here's our itinerary for those 2 days: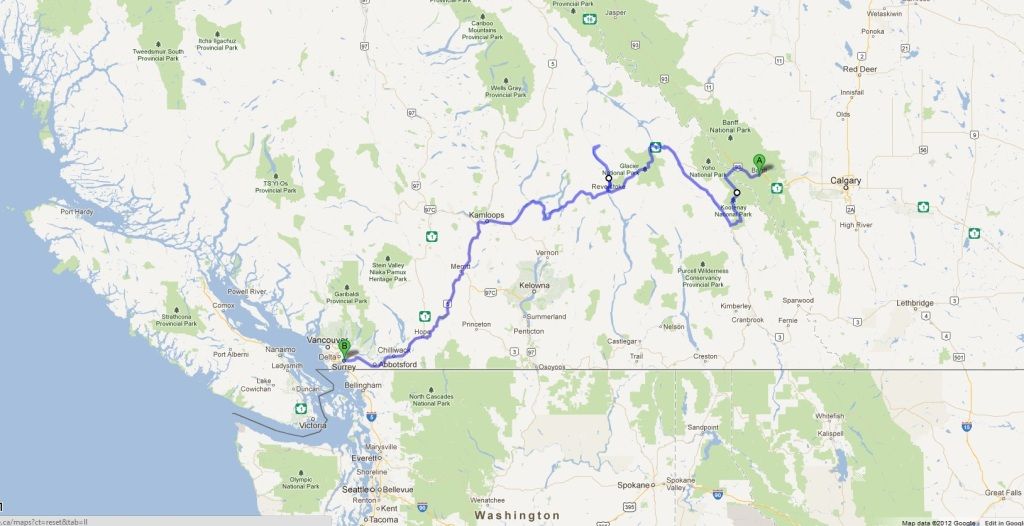 Instead of going on Transcanada Highway when leaving from Banff, we deviated a bit to the south (highway 93) to see Kootenay National Park,
also hoping to have fewer cars on that smaller road and therefore to see more animals. Alas, our expectations failed – not only there were plenty of cars, as this road was going to Radium Hot Springs, but also the mountains were all covered in what was left from a huge fire, almost all the way through the park. I understand that officials always say that fires are actually good for the forests as the burnt tree material supply plenty of nutrients for the new growing trees, but thinking about all the animals that suffered in this fire was really depressing.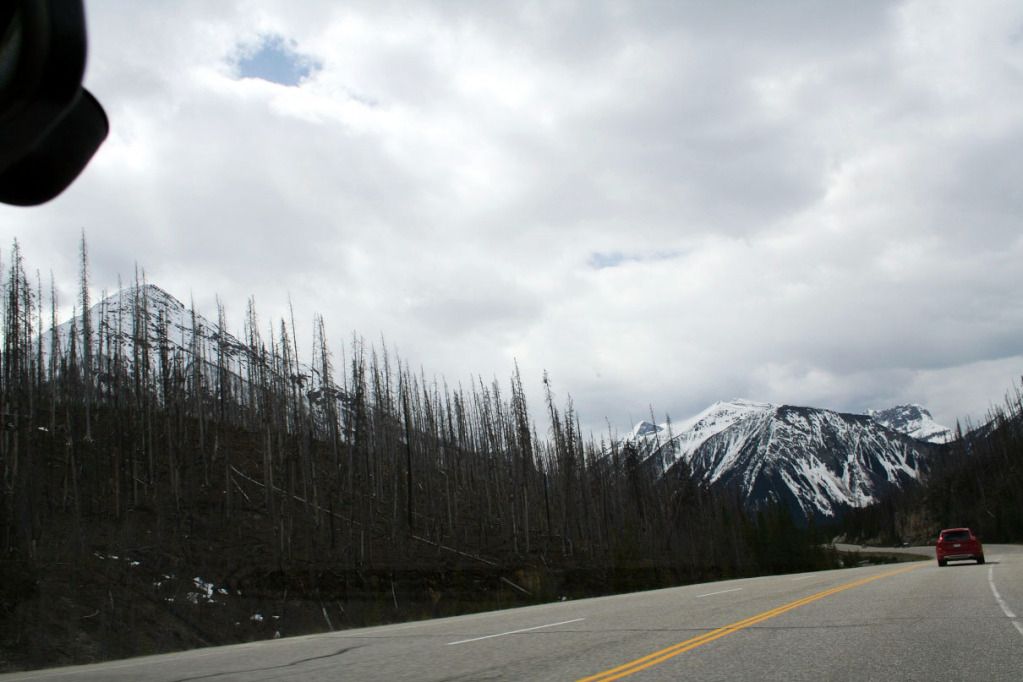 The mountains were still beautiful though. At Radium Hot Springs the road started going among huge vertical cliffs.
Here we turned north on highway 95 to get to Golden where we wanted to see a wolf sanctuary. We were lucky to get there by closing time at 5pm, and it was great – we learnt a ton at that place. That sanctuary is not actually a sanctuary per se, as it has several wolves and wolf-dogs, and it would not accept more animals because it is a relatively small private property. The owners treat them really well, just as pets – although most of the day they spend in a fenced area, quite often their alphas (the 2 owners) take them out for a walk in the fields with no leash, and the wolves obey! To understand why, you gotta see Shelley, one the of the alphas, and how she deals with her wolves – that woman has such a strong personality, that even we immediately felt like betas near her lol.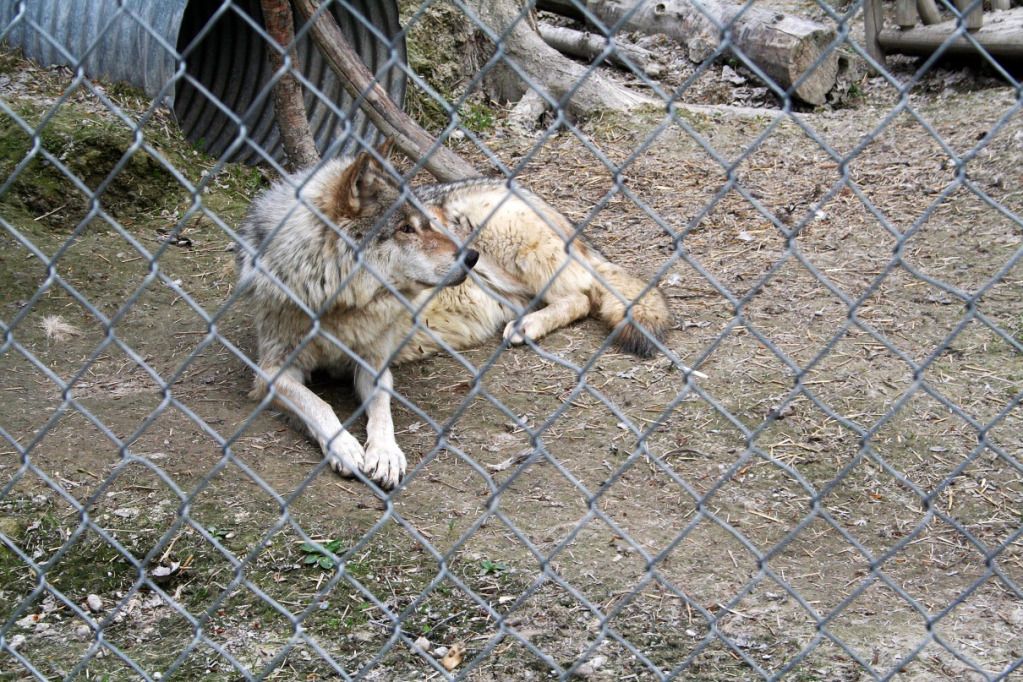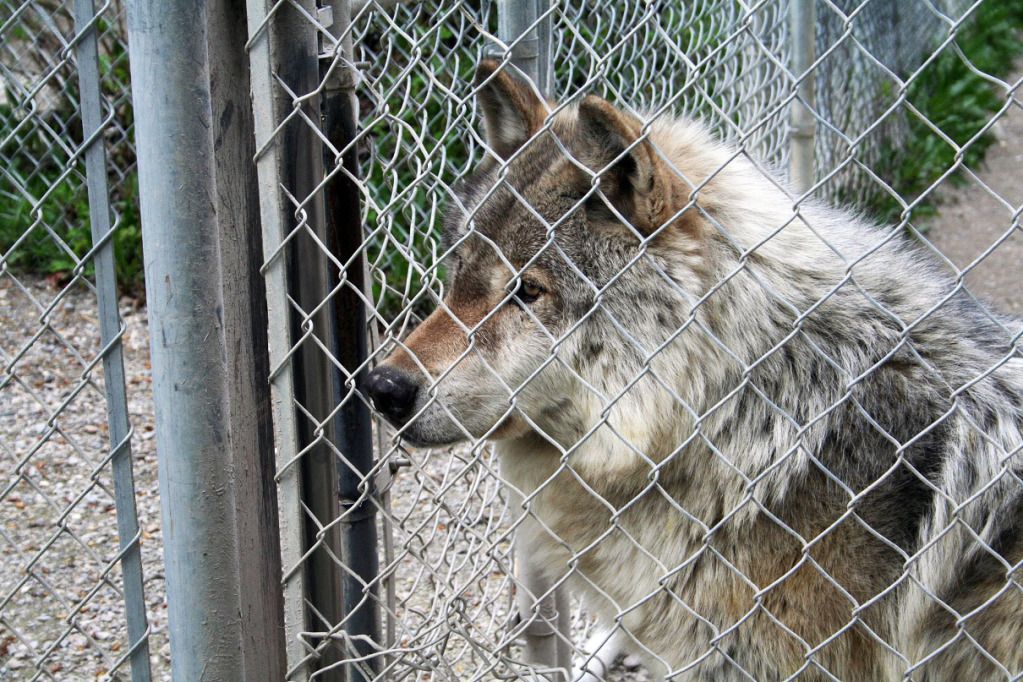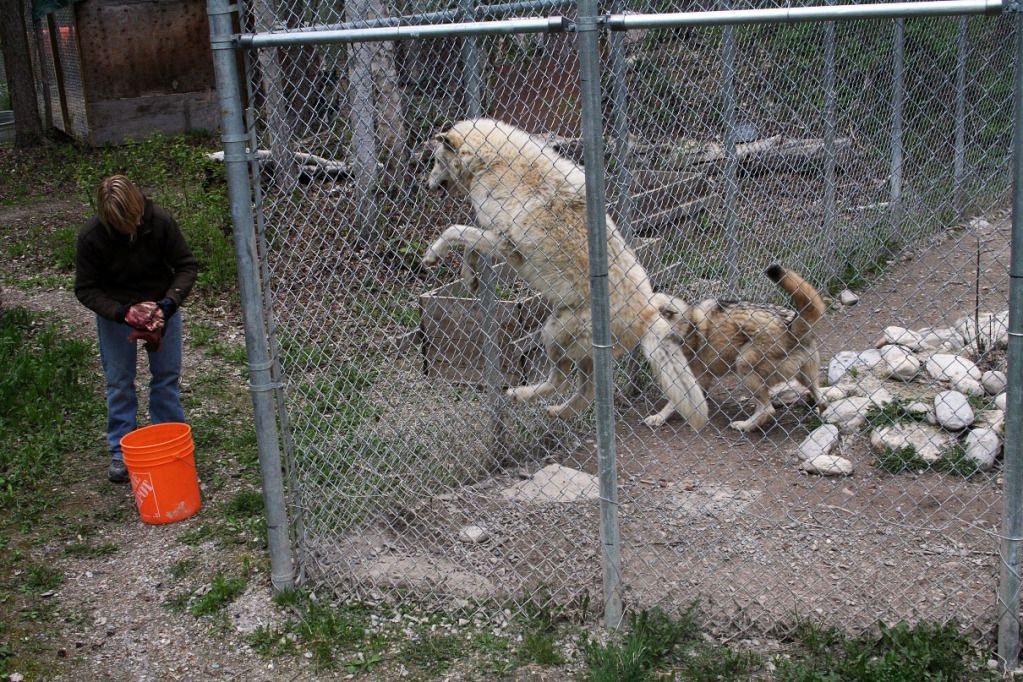 We've learnt that wolf family structure very much resembles that of the human society, and that wolf pups have blue eyes when they're born. The staff was also telling a lot about wolves never actually attacking people without being provoked, and that they never steal animals from farms. I could probably argue about only-provoked-wolfe-attacks part because of many stories from Siberia in Russia about dangerous hungry wolf pack; but knowing that the sanctuary is aiming at educating people to respect wolves rather than fear them, I absolutely support their efforts even if wolves' harmlessness could be slightly exagerated. They were telling about the unlimited hunting on wolves and other wildlife in AB and BC, hunting from helicopters etc etc….About poisoning wolves and other wildlife in the process of clearing lands for tar sands development. And generally about the way people see wolves as agressive predators, while these animals are actually very smart and gracious. We also found out there that the cameras on wildlife bridges do not show any bears or wolves crossing, but only deers and occasionally even tourists. It was a very eye-opening experience, here's their website where you can find information on wolves and some petitions to stop killing wolves – http://www.northernlightswildlife.com/ Here are the two main petitions, Please please sign those!
(Action Alert Big Lakes Alberta) http://www.northernlightswildlife.com/BIG_LAKES_ACTION_ALERT.pdf ;
(Stop killing wolves at East Kootenay) http://www.thepetitionsite.com/169/stop-killing-canadas-wolves/
They also have a couple of Karelian Bear Dogs – Russian bred dogs that are known for deterring bears with their barking. A great way indeed to keep bears away without having to kill or tranquillize any!!
After the sanctuary we kept going on Transcanada Highway further west through Glacier National Park.
Here we saw a crazy amount of old avalanches, which make their way through the forest effortlessly, breaking everything on their way, pulling the trees out and bringing all the dirt and forest mixed together as debris to the road. Absolutely astonishing view, making you realize how much power there is in those avalanches.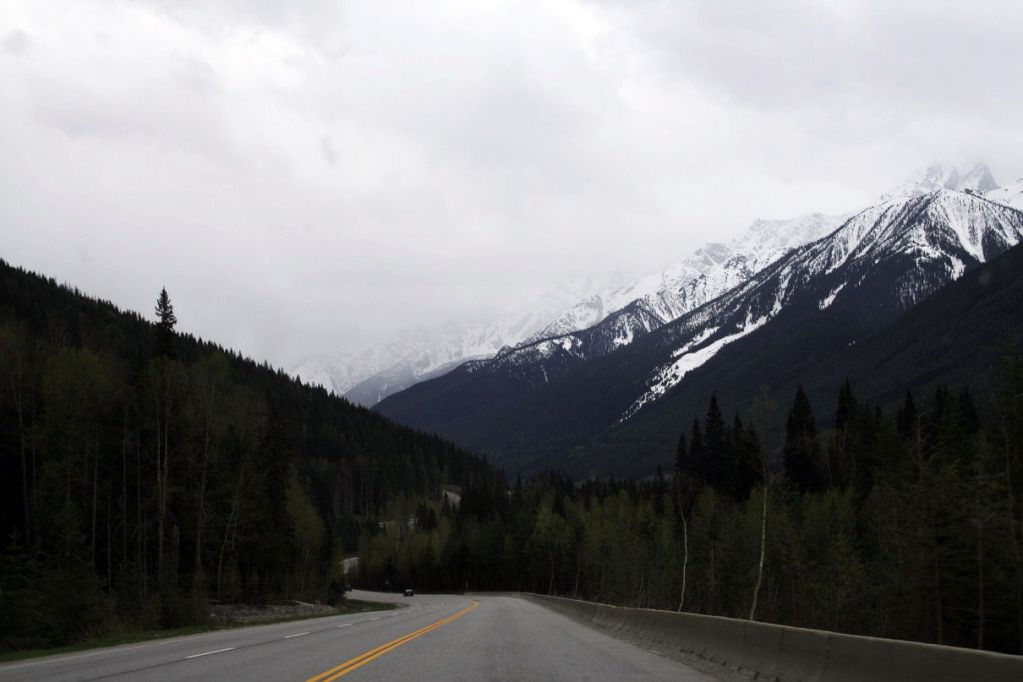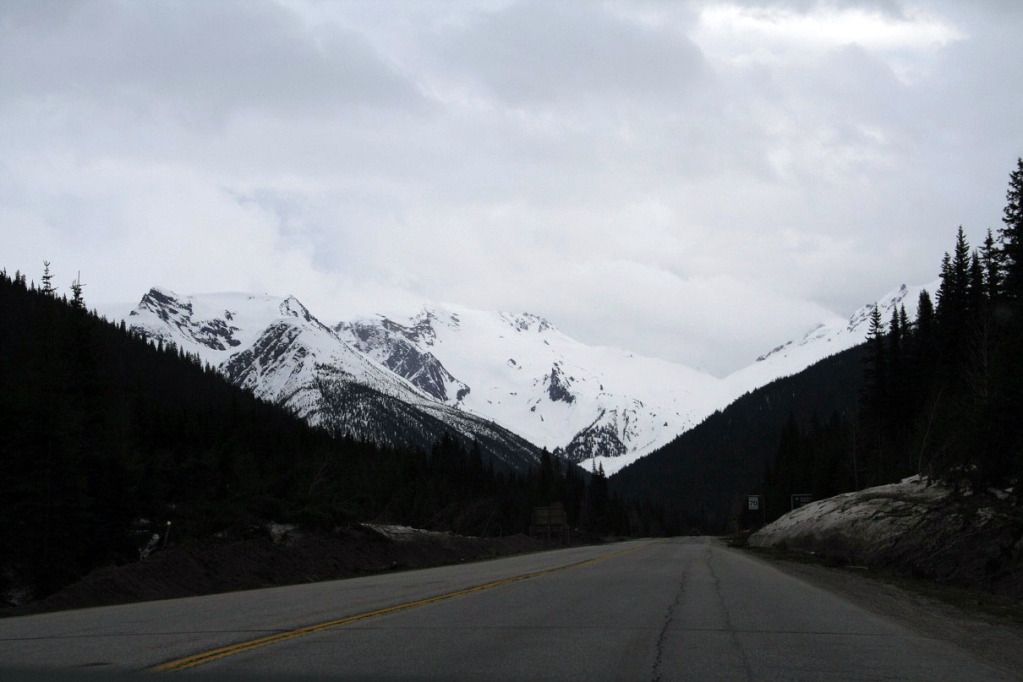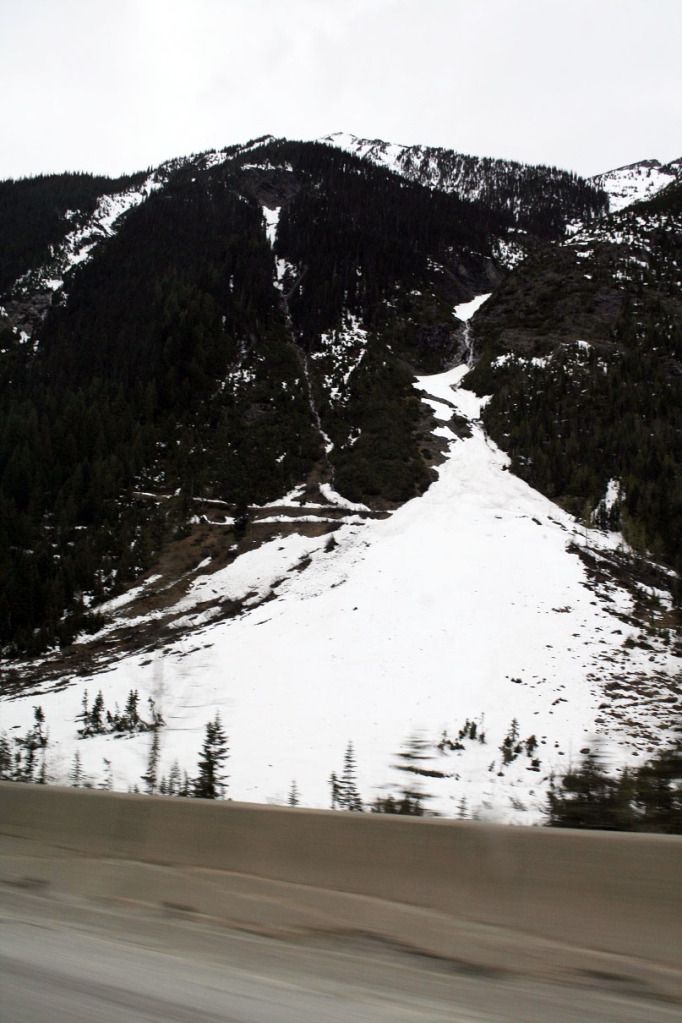 The plan was to stay in Kamloops, however at the entrance to Revelstoke we saw a road on the map, going north along a streched lake (Revelstoke Lake, Big Bend highway / highway 23). We obviously decided to detour to see where it goes and also in hope to see some wildlife, as we didn't see a single bear that day. At one of the stops we saw an old road going underwater which made us realize the lake was actually a man-made reservoir.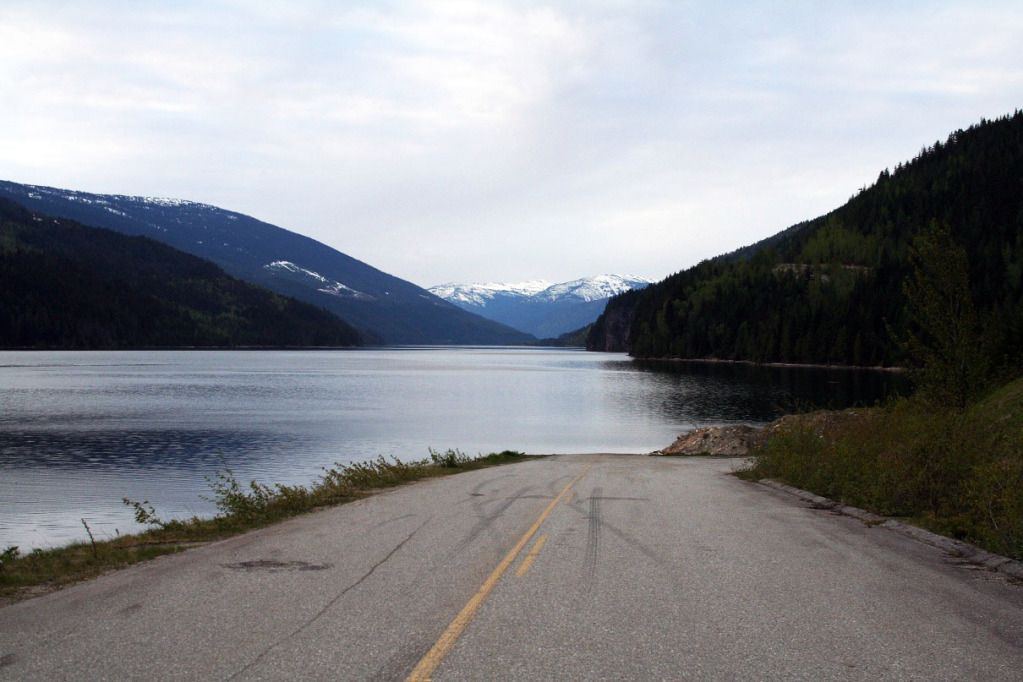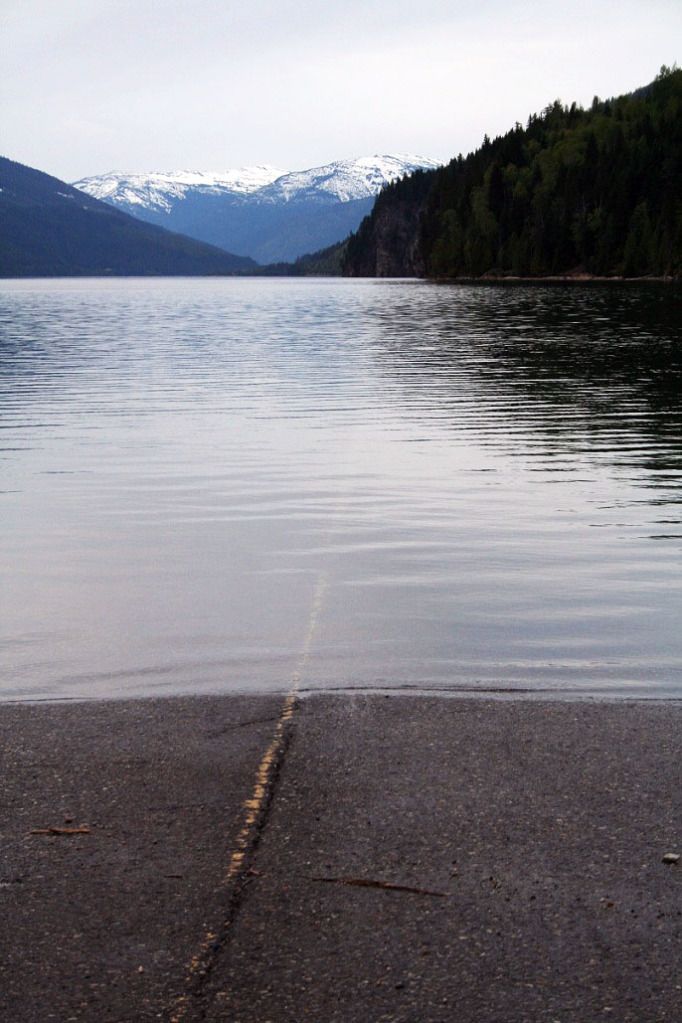 As much as I dislike all fake lakes, I have to admit that spot with the undewater road would be a great photosession place. We kept going up north, it started to get dark and we weren't even half way to the end, so eventually fighting with sleepiness we turned back, but on the way back we saw 2 bears and a ferret crossing the road! As a result, that day was a success 🙂 We stayed in Swiss Chalet Motel in Revelstoke (review here – http://vegantravels.livejournal.com/4833.html). Now we had to figure out where to stay in Vancouver, our next stop. Everything was either full or overpriced, so after some time looking on Travelzoo and calling we decided to just go with the flow and check upon arrival. As we figured later, it wasn't the best idea because of a Stampede happening in Vancouver that weekend.
In the morning, driving out of our motel, we figured we are right in downtown of Revelstoke, and on the main street there was a weekend farmers market. Yay! I love those, and we immediately joined the strolling crowd of locals, hippies, kids and dogs.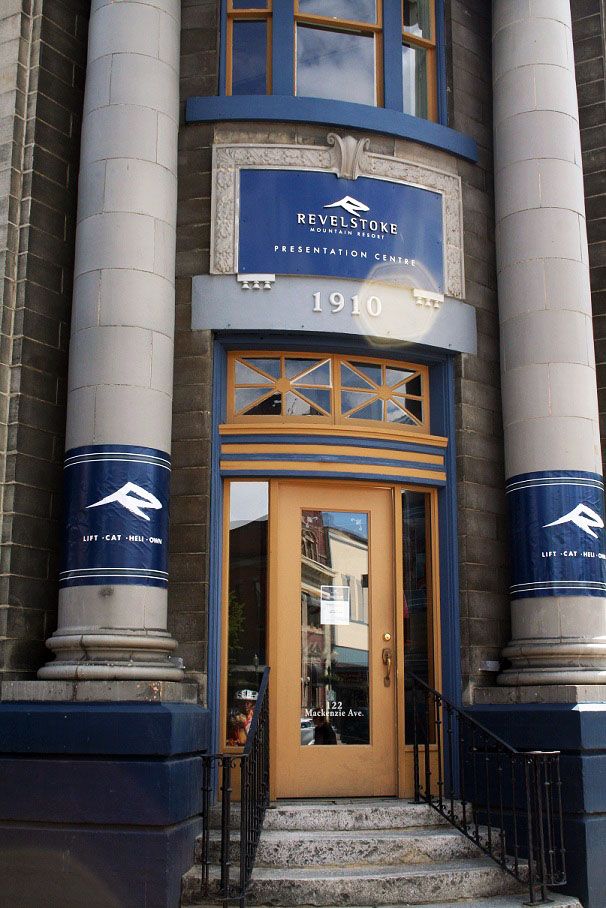 There were plenty of great things from local artists and producers – hand made jewelry, raw honey, hand made soaps and creams, plenty of paintings and knit things of all sorts.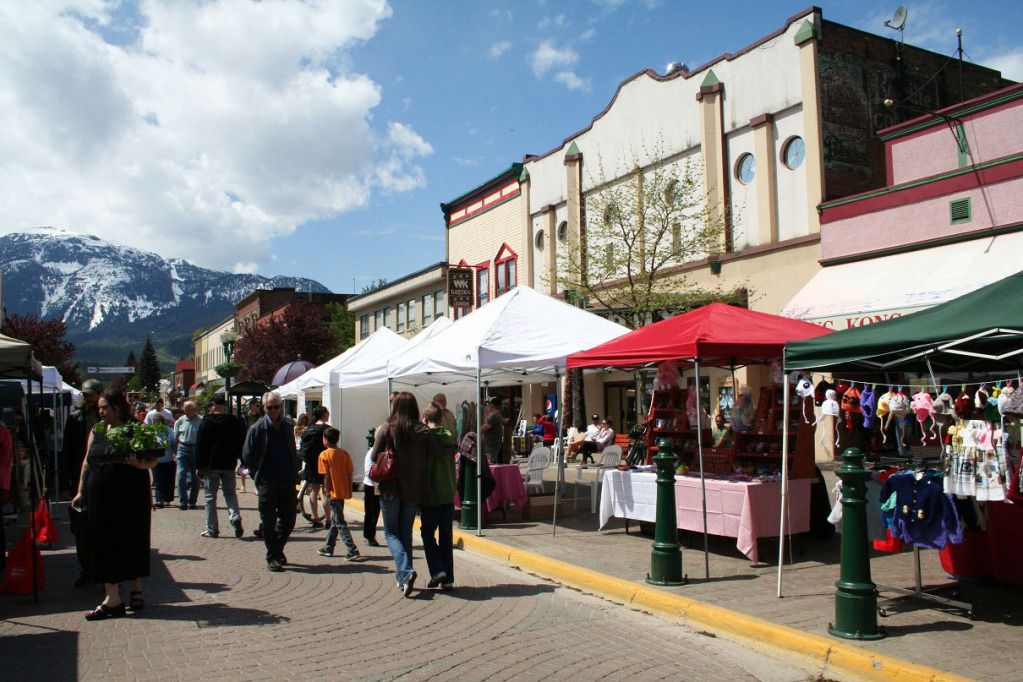 It was irresistable, so I ended up getting some soaps, and then we had the best samosa ever – it was the only vegan food booth there, and the line was huge, but it was totally worth it. The beginning of the day was superb!
Now with a great mood we continued driving. Revelstoke, founded in 1880, stands on huge beautiful Columbia River (fed by Columbia Icefield!) which we had to cross to get to Transcanada Highway.
The mountains were getting lower here, and no more snowy tops could be seen. Nevertheless the green mountains covered in forest were also beautiful, and there were plenty of lakes and waterfalls everywhere.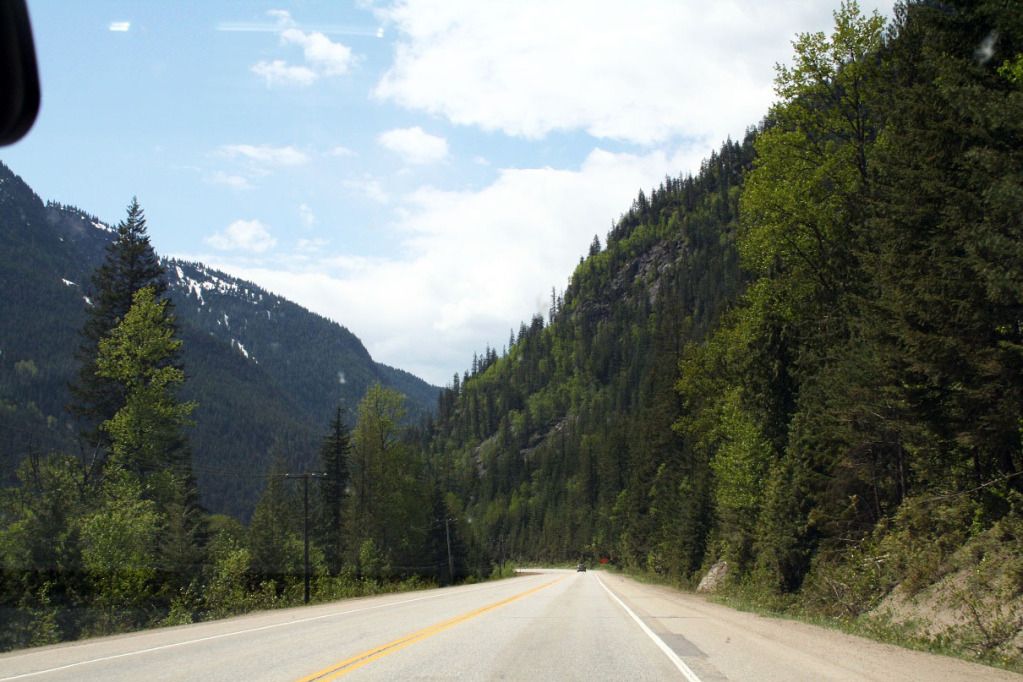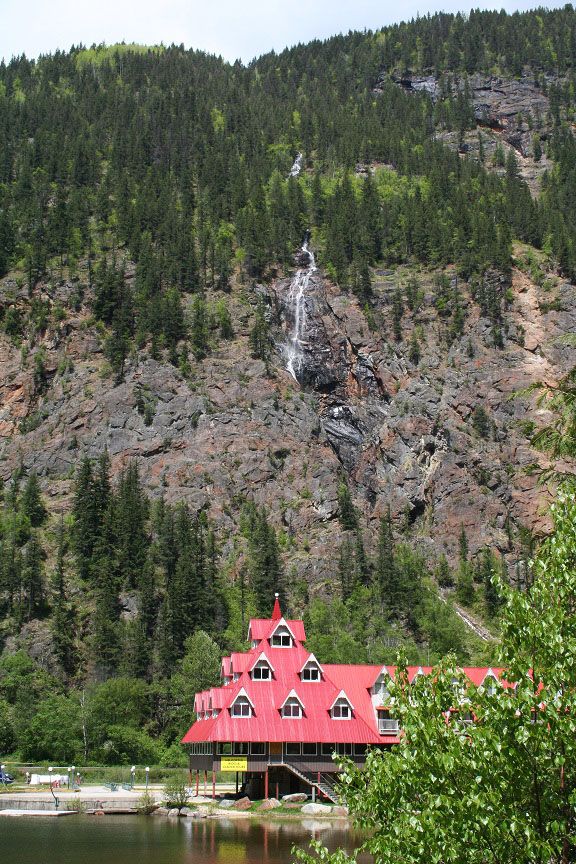 While getting closer to 'civilization' several times we saw black bears feeding on the garbage on the side of the highway – such a sad view! People in Canada are constantly reminded to never leave garbage outside as it attracts animals, and then those animals have to be killed as they get too comfortable getting close to people…But despite of all awareness, there's always enough dumb asses that don't care and throw out their garbage out of the window, and that continues all the problems..
We stopped in Kamloops in hope of checking out their vegan restaurants; however everything was closed except for Boston Pizza where we ended up sitting on the open patio. Unfortunately for me BP does not serve any good vegan food except for salad with corn that tastes like bacon, so I got that salad with no corn and was also nibbling on some fries.
Speaking of food, when we travel we always take a mini cooler with us, salt and pepper, some cutlery, and visit local groceries for vegan food as soon as we start our trip. We figured the best combination for us is precut prewashed vegetables, precut letucce, pita pockets, hummus and guacamole. I'm also a big tea junkie, so I get green tea sachets. This way we always have something to nibble on when driving or late at night when only traditional restaurants are open. Other great things to buy are cherry tomatoes, grapes, and instant oats. But sometimes even with all this great stuff in your cooler you might just wanna sit in a restaurant and eat at a table, even when there are no vegan places around. That's when my saviours kick in – Mexican restaurants in America, and Indian restaurants here in Canada. Those would always have amazing and inexpensive vegan food, so my great thanks to those nations! :))
Kamloops, an industrial town among the mountains, had a very pretty downtown which was a nice surprise. So Kamloops works as a good sleeping/eating stopover.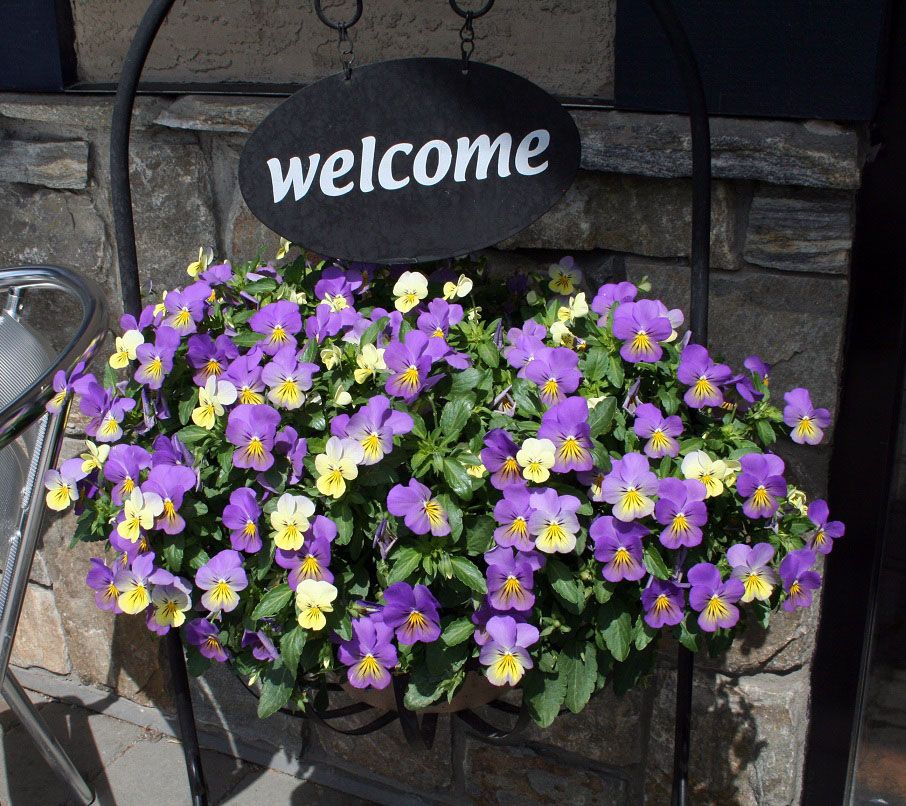 Further driving was actually not so good, as we were going through industrial parts of BC, and especially after dwelling into such amazing true nature in Jasper and Banff, it was really depressing seeing the earth all dug up, bold mountains with no trees, metal and concrete everywhere, plentiful logging, huge highways, garbage…. Everything around was so dreadful that we almost got to the point of turning back to Alberta, cancelling our Vancouver plans. Nevertheless, we still decided to try it out, worst case scenario we could always go back the next day using some alternative road. So we made it to Vancouver that night, and every motel/hotel was of course booked out. Finally we found a place with good reviews, but its last free room was not good at all. Ah well, days that start out so good do not necessarily have to be great all the way. But whatever about the hotels and such! Once we got there I could already feel the smell of the ocean, my most favourite smell of all times! And it made me happy despite of any small problems that day.
The next morning it was pouring like crazy, all hotels were still completely booked out, so after some thinking we decided to leave Vancouver for later and go to Vancouver Island until Vancouver's weather settles to something more tourist friendly. Said and done. We still had some time until leaving at 1pm to Nanaimo, so we drove to Kitsilano (where there was absolutely no parking!) where we discovered a great restaurant "Sophie's Cosmic Café". Although traditional, it had many great vegan options (detailed review here – http://vegantravels.livejournal.com/4833.html). We got falafel which came with tasty pita, wicked home made spicy sauce and huge amount of hummus – and life all of a sudden became great again! After that we drove through rainy city to Horseshow Bay Terminal in North Vancouver. We were supposed to be there at least an hour prior to departure, and we understood why when we got there. The line was huge, but luckily there still was space on the ferry for us.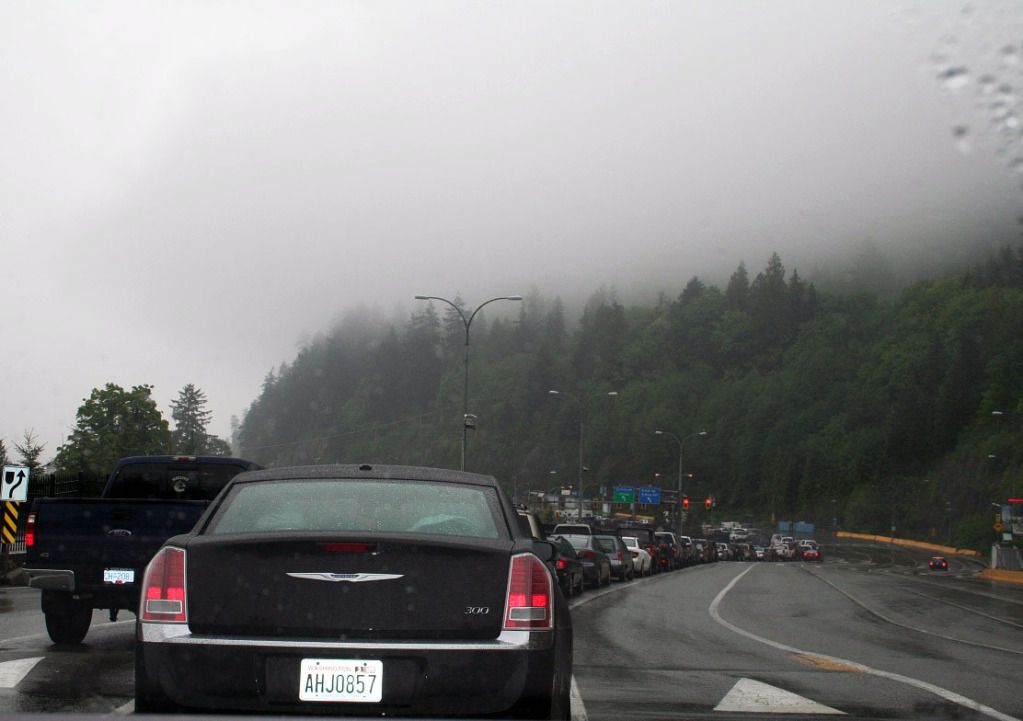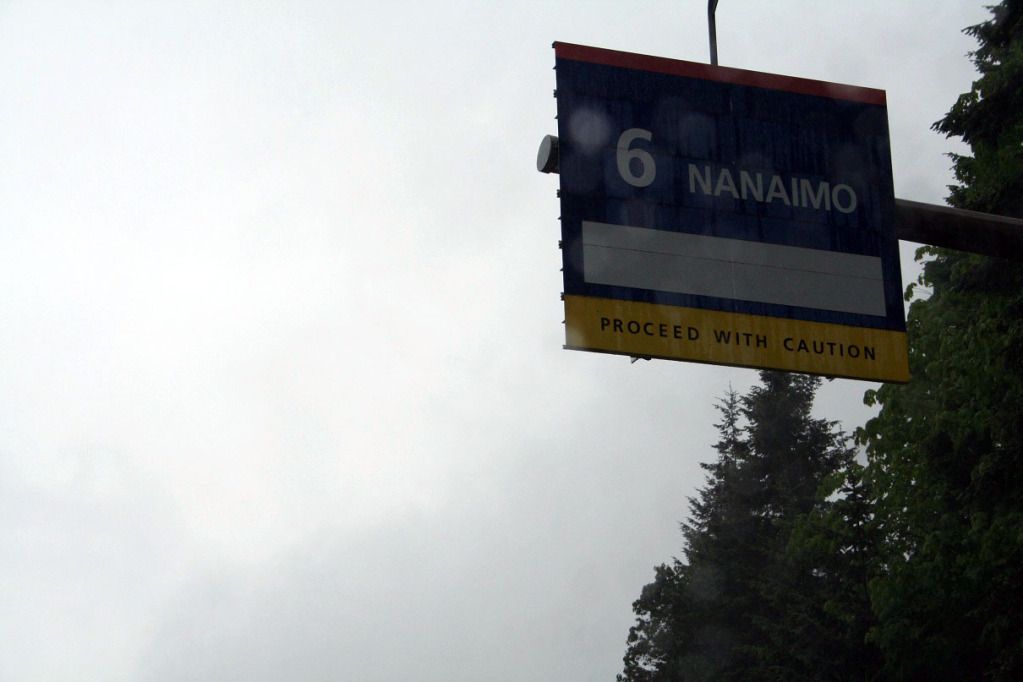 After lining their cars people could walk to a mini-mall with shops and restaurants. Finally the wait was over, and the line started to move – it was my first time on a ferry so large, and it was really cool how we all, dozens and dozens of cars, were getting into the boat's belly.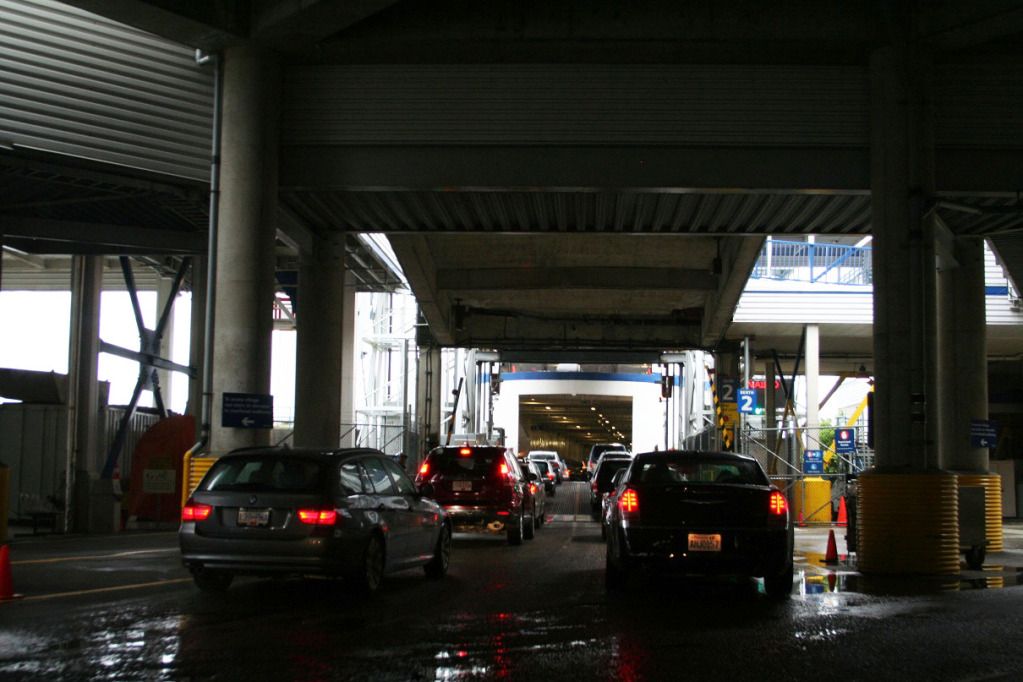 The ferry left the misty shores of Horseshoe Bay quicker than we expected, so we ran up to the main deck like crazy to take some pictures. It was rainy, windy and really cold, about 10 degrees Celsius, but the views were absolutely stunning! Huge snowy mountain tops all around wrapped in clouds, haze all around us, grey sky and the Ocean waters, and in all that haze huge cruise boats, yahts and ferry boats, misty islands covered in trees….wow! It was so foggy that we couldn't even see Vancouver shore. The ride across Georgia Strait was 1 hour long, and despite all the cold and wind I stayed up on the deck all that time – how could I not if that was my first ferry ride through Pacific Ocean waters! And it was totally worth it 🙂
To be continued…
You can find previous parts here:
Part 1 http://vegantravels.livejournal.com/1686.html
Part 2 http://vegantravels.livejournal.com/4254.html
Part 3 http://vegantravels.livejournal.com/5472.html
Part 4 http://vegantravels.livejournal.com/9022.html
Part 5 http://vegantravels.livejournal.com/10052.html
Part 6 http://vegantravels.livejournal.com/19373.html
Part 7 http://vegantravels.livejournal.com/22438.html
Part 8 http://vegantravels.livejournal.com/31352.html