While summer is still here I wanted to make something relevant, and what could it be if not a vegan vegetable bbq?
So, just playing it by ear, I tried two versions – one simply bbq'd vegetables sprinkled with some oil and spices, and another one with marinade. Vegetables in marinade totally win, but the first version was quite good too and probably healthier, so will be a good one for when I'm too lazy to deal with marinades.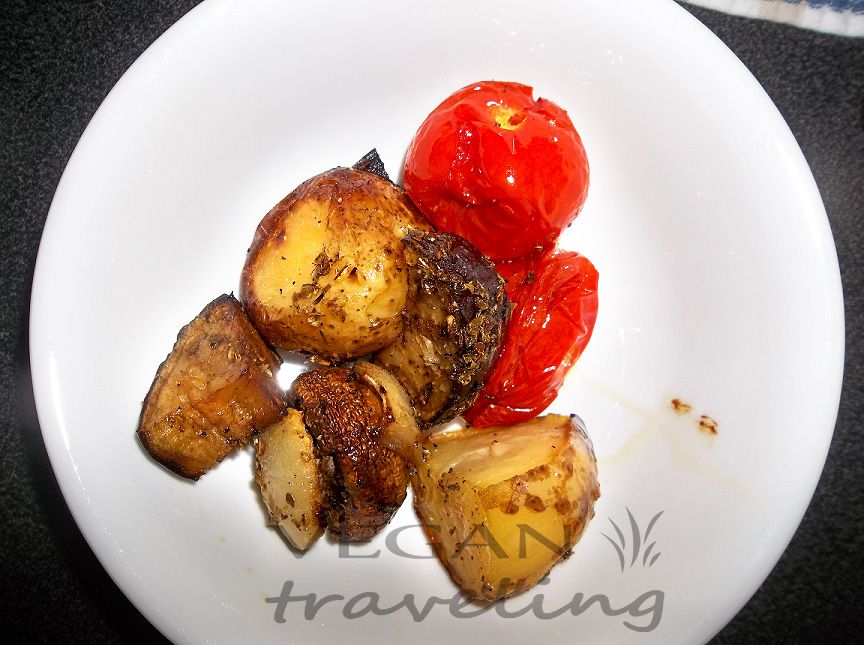 Here's the details. Pick any bbq'able vegetables that make you happy, I selected these:
several potatoes, boiled for 5-7 minutes
yellow onion cut in quarters
zucchini cut coarsely
eggplant cut coarsely
button mushrooms, whole
tomatoes (small, on the vine)
Red bell pepper cut into large pieces
falafels if you already have some, pre-cooked
Marinade:
1 cup olive oil
1 cup balsamic vinegar (or white/apple vinegar)
1 tsp Italian seasoning
1 tsp oregano
1 tsp salt

1 tsp black pepper
Preparation:
Prepare the marinade by mixing all ingredients together. Then marinate cut onion, mushrooms, eggplant, red bell pepper, potatoes for at least 4 hours or better overnight. If you're baking them, preheat the oven to 250 degrees Celcius, thread all vegetables and falafels if you have those, and place them on a baking sheet (which should be sprayed with oil), sprinkle with some more salt and pepper. Bake in the oven for about 30min turning the skewers about every 10min. The longer you cook them, the better they are. Just watch the onions as they tend to start burning first. Or else bbq them the same way, make sure to turn the skewers.