The drive through Alberta Rockies could not be compared to anything we've seen before. We've experienced the beautiful green Cordelier mountains of the West coast, and hostile gorgeous Rocky Mountains in Colorado, but what we saw in Alberta was so much higher, so vast and so mesmerizing, it alsmost seemed like we somehow got to another world 🙂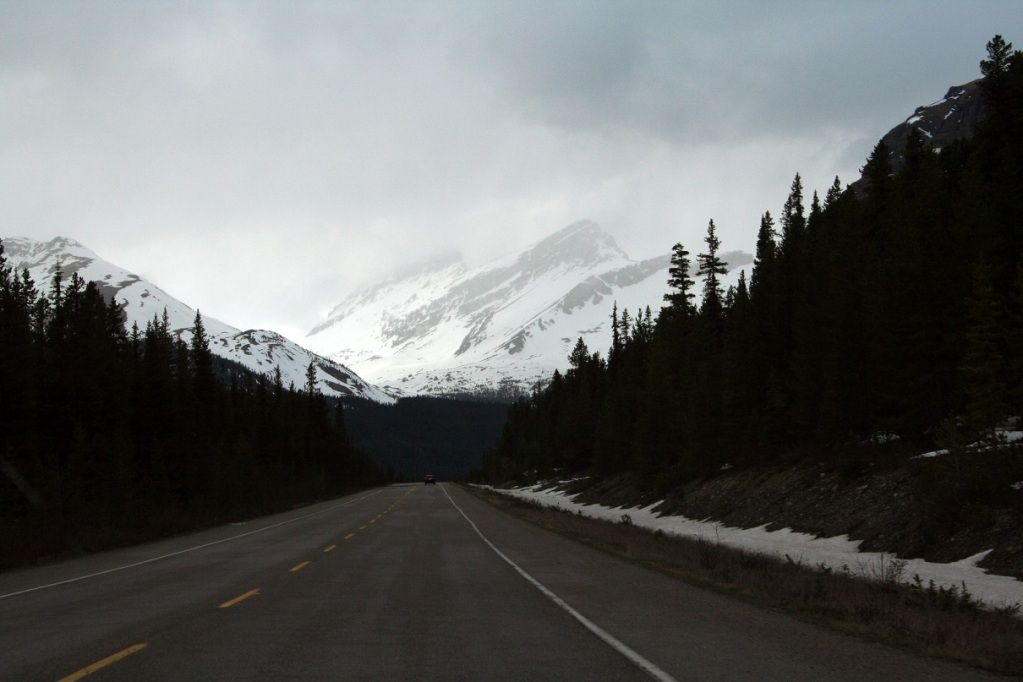 Especially driving at night and seeing no cars and only mountains and animals reinforsed that feeling. Everywhere in the Rockies you all the time see the signs "Avalanche area, no stopping". I was freaking out about them for sometime, until we figured that they mostly apply in the wintertime.
There was still plenty of snow on the mountains, but some of it was already melting at the base. So with common sense, in May it's already not so scary, but in winter it must be really cool, and we saw plenty of old avalanches that happened in earlier months.
About half way from Banff, after crazy amount of most beautiful views, we started to drive down to some valley covered completely with huge clouds.
This was the Columbia icefield with its glaciers. Icefield, very simply speaking, is actually a huge snow cap laying in a "valley" between several mountains, covered permanently with clouds that always feed the icefield. Huge tongues of ice are moving down from the icefields, forming the glaciers, which in turn form major rivers. Columbia icefield, just like each of them, is extermely important – it creates major rivers such as Bow and Mackenzie, and eventually feeds 3 oceans.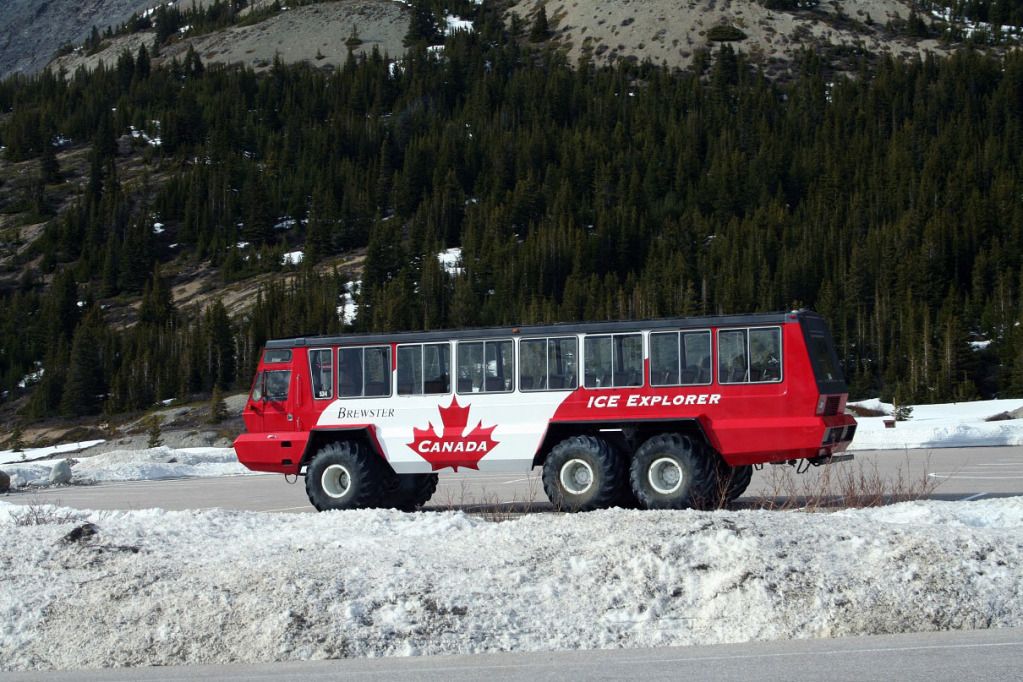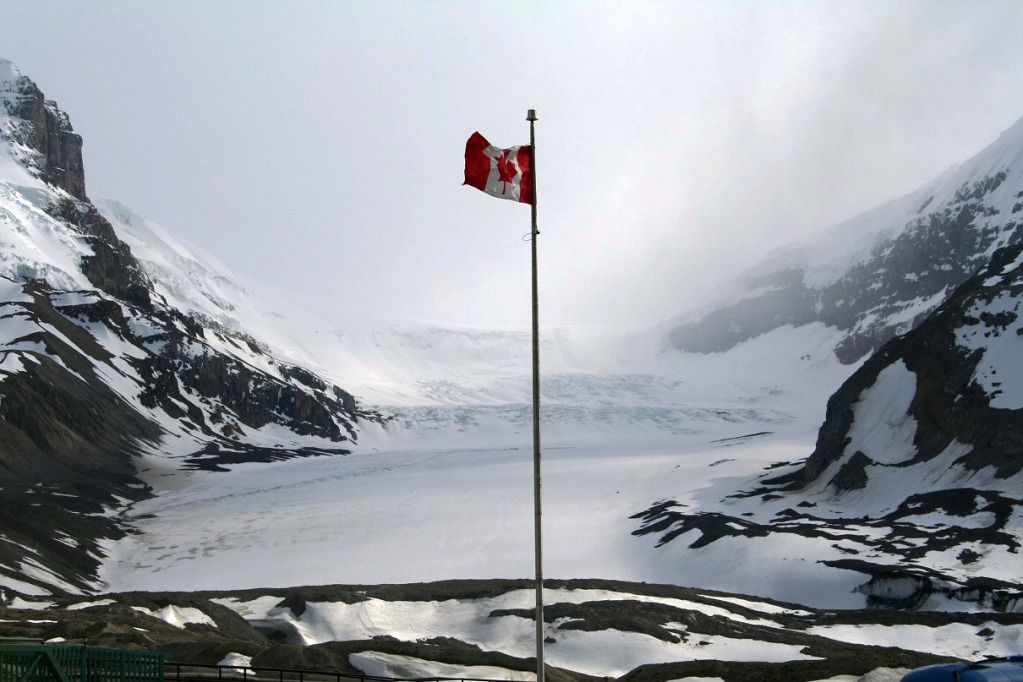 Being there and percieving it all, makes you understand how alive the Earth actually is – with its rivers, permanently being fed by glaciers, with its tides that occur every day, with its mountains some of which are still forming, volcanoes, forests that create oxygen….How alive it is, and how harmonious and unflawed the whole system is.
Right at the Athabasca glacier there is a hotel, and information centre in the same building (there were also plenty of washrooms there, which raises a question – where does the sewage actually go, and even if it's a good quality septic system, still doesn't it affect the clean glacier environment there??). There in the centre you can also buy an icefield tour, where on buses with huge weels you'll be taken to a glacier to explore it and walk on ice. Don't miss the great display with all the information about the Columbia icefield in the basement! There they also explain that such glacier tours are actually quite dangerous, as the glacier is covered in cracks, called "crevasses", which range from 46-300 meters deep, and if a person falls through they freeze almost momentarily because of hypothermia, not mentioning the height of fall and damages. That display is great, but not obviously located. Maybe because after all this informaton most would reconsider taking a tour. 🙂 In May there was not much activity, but everything was open, therefore I think May is probably the best time to visit Rockies for a drive – not too cold and snowy anymore, and not too busy yet.
We kept going towards Jasper. On the way we saw some more deers and elks. Then we saw a car parked on the road – always a sign that they're watching something cool! And they were – right near the road's shoulder there was a pretty large grizzly digging something. That was definitely a grizzly bear – round small ears and a hump on his neck. We could drive closer to him, so eventually we stopped the car in about 7 meters from him!
I've always read about grizzlies, how dangerous they are, how much they damage poor tourists that hike the mountains, and I was always terrified with them. But when I saw one of them in real life, so huge and powerful and gorgeous, so belonging to these mountains, most of my fear got replaced with admiration and respect to these wonderful giants. Some fear was still there though, as compared to the previous black bear and all the other bear species we saw, this one was not running away at all – you could clearly see that grizzly species are not scared of anyone, as nobody attacks them in nature, and they're very confident. There were eventually 3 cars standing there and he wouldn't move at all, ignoring us and continuing his fascinating digging. I would never even think of bothering him, it would of course be very dangerous, and I know now that if we do not bother them and respect their habitat and understand that mountains are their home, not ours, then that would make everything better both for them and the people. The only thing is that the minimum recommended distance from bears is at least 100m for them to feel comfortable, as we learnt later, so now I know we shouldn't have approached him so close.
Driving further, we've noticed that although it was 9:30pm, there was still plenty of light – I guess it was the echos of polar night, as we were getting further and further north. The feeling was really cool – not quite light, but not dark either.
It lasted almost all the way to Jasper, where it eventually got darker. Jasper greeted us with caribous grazing around the "welcome to Jasper" sign. 🙂 We quickly found our Tonquin Inn, and happily fell asleep after such an awesome 2nd day of our trip.
The next day we figured, since we were not going to hike at all, and we decided that we already saw the best part – views, grizzlies and other wildlife (that's what we thought back then), then after going to Jasper Sky Tram we could start going back south towards BC. We were kind of regretting of not doing Gandola in Banff, so we decided to embark onto the Jasper Sky Tram as soon as we learnt about it. And it was totally worth it! Prices were the same as for Gandola, but there was so less 'civilization' and population here! So much better 🙂 Jasper Sky Tram was build in 1964 in Western Germany, and then all parts were shipped to Jasper to assemble it.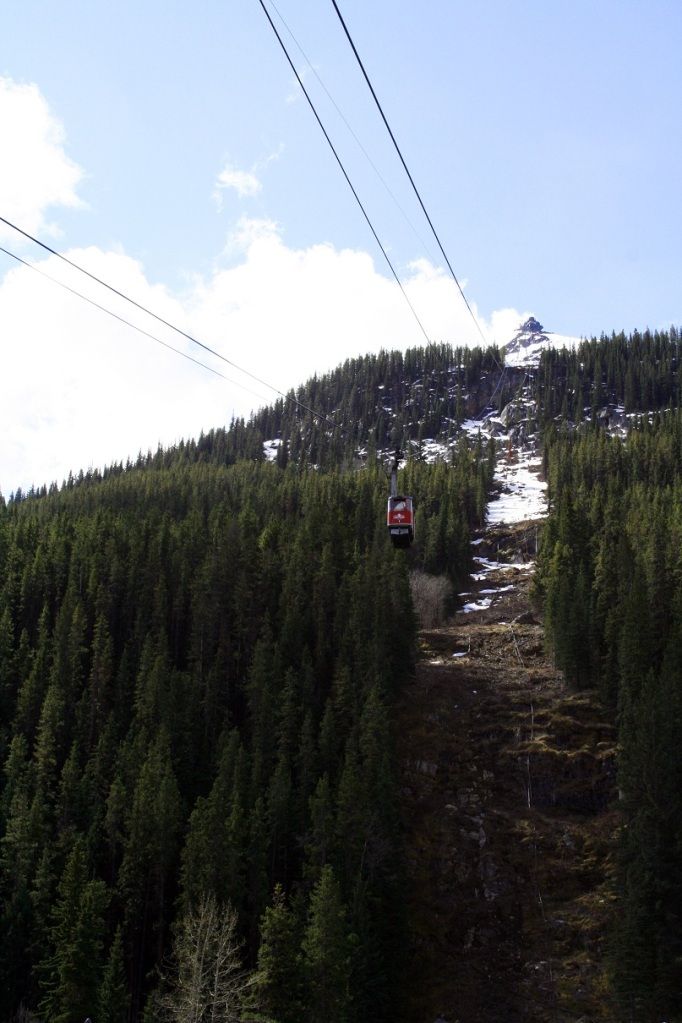 In about 10min ride you are elevated 3,193 ft up to Mt. Whistler's top, and on the way you pass 3 altitudinal zones – montane, subalpine and alpine. The tour is guided and they really quickly pour tons of interesting information on you, such as in montane zone (tall trees) most of wildlife are, in subalpine zone trees are getting shorter, and at the treeline is where the bears burrow for the winter. In alpine zone there are only bare rocks and snow, trees are practically non-existant, with exception of tiny little pines less than 30cm tall that take up to 50 years to reach that size. In alpine zone there are mostly rodents such as marmots, pikas, ground squirrels, we didn't see any though, but saw many tracks on the snow.
The station on top of the mountain is pretty big, has all possible amenities such as restaurant, store etc. We immediately got outside, and literally almost got blown away with the strong freezing wind, it was really cold, about -10 (down at the parking lot it was +15). Well, we don't give up that easily! Behind the building was the way further to mountain top, so we went. The walk is actually pretty long, and on the picture I circled the people walking up, just for comparison to estimate the distances.
Wow it was freezing!! I was really regretting I didn't bring my mittens to this trip. The climb was also really steep in some places and the gravel was very slippery, so make sure to get good hiking boots with you. In about ½ hr we were up on the top…not really, from this top we saw another top, and many other ones, all beautiful snowy mountains, but I think we were too frozen by then to even think of going further.
But we were finally at the same level as mountain tops, so the mission was kind of achieved 🙂 The views there were crazy. After taking some pictures and freezing to the maximum, we literally slid down the hill back to the station, and omg I don't think I ever was happier to sit in a super hot restaurant room and drinking super hot tea! The menu there was actually really good – plenty of vegan/vegetarian options. I got myself a vegan chili which I was dreaming about on top of Whistler Mt ½ hr ago 🙂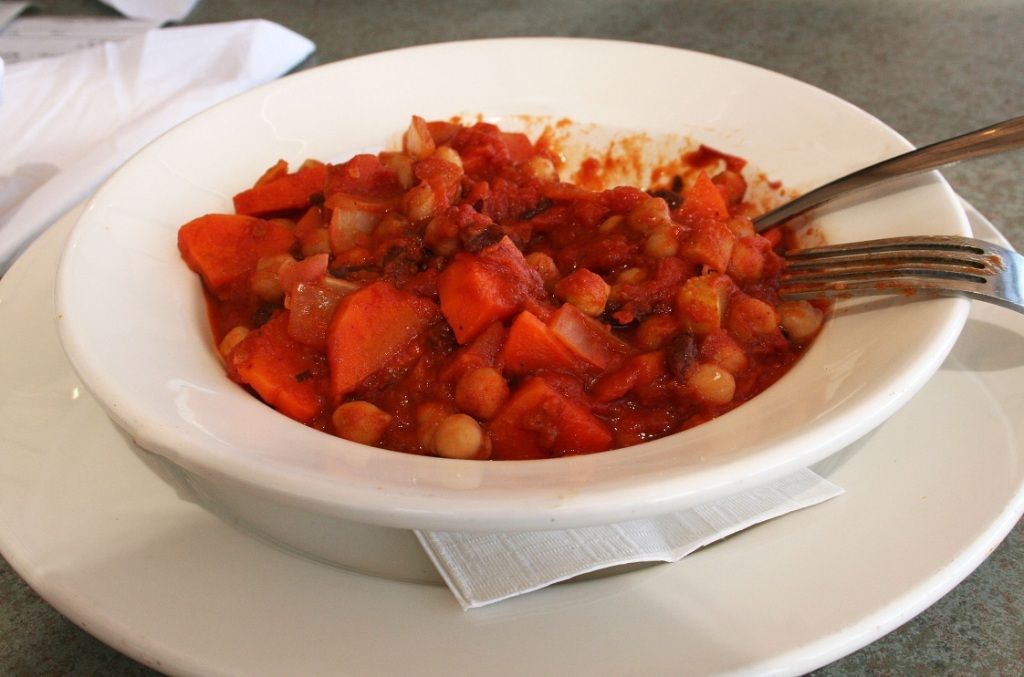 So everything worked out to the best. While waiting for the tram to go down, we were checking the store and found an amazing book about Rockies wildlife – the author is John E. Marriott, and here's his website http://www.wildernessprints.com/products/books.html The book that I was reading is not on the website for some reason, but it had plenty of great pictures of animals from the Rockies, and many many wolf and bear stories, showing how they decide on who gets the prey by staring at each other and not getting into a fight, etc. Really interesting stories, but unfortunately he keeps saying that those animals he meets and photographs all the time get either under a train or in car accidents, and they do not last for more than several years. He even had pictures of bear standing on train tracks with the train approaching him….Extremely sad. The problem is that animals cannot really adapt to the trains and cars – all of those who die in those accidents cannot anymore pass on their genes and knowledge to future generations, therefore each new one still doesn't know that trains/cars are dangerous. This book really opened my eyes, I really recommend reading it, he puts lots of heart in each of them, and the photographs are beautiful.
After the Tram, we immediately started driving back south, planning to get to Revelstoke, but eventually ended up staying in Banff as it was quite late and we were tired and full of fresh impressions, and needed a break. The icefields drive during the day was not as fun as late at night, there were many more cars, and we didn't see a single bear, but we saw many deers, moose and caribous.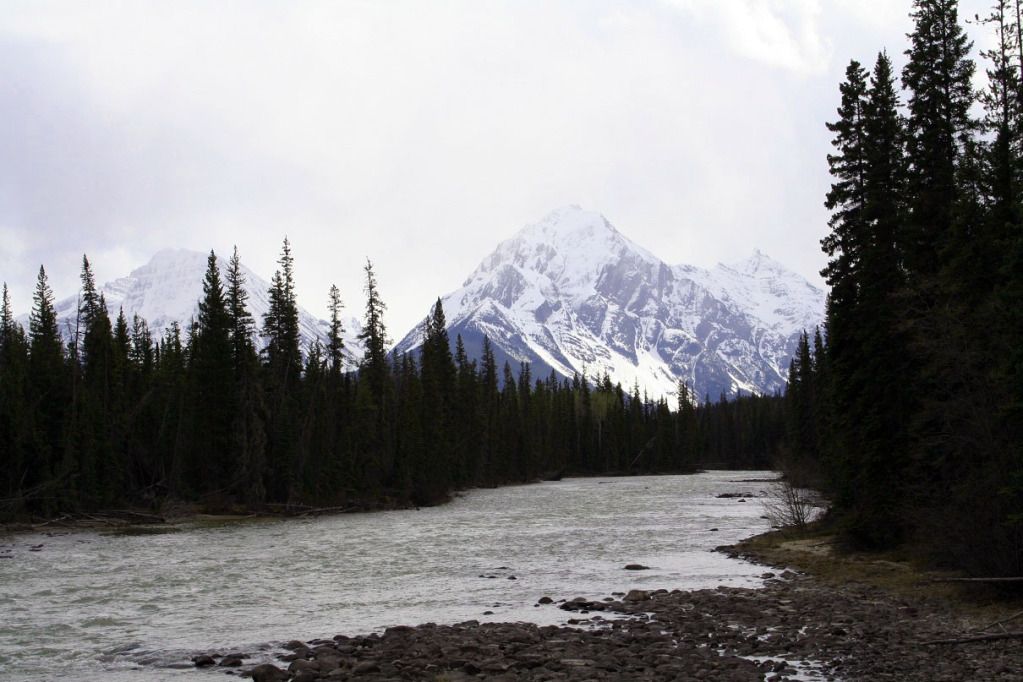 We took a slightly alternate route for part of the road – route 93A to the west of 93, and stopped to see Athabasca falls at the end of it. So it still was great, and because of daylight this time we got some more good pictures.
The great thing about driving in the other direction is that the road looks completely different, so it kind of feels like a new trip. On the way back we stopped at Lake Louise hoping to see the famous turquoise lake surrounded by mountains, but alas everything was frozen. But on the way there we saw a pretty big porcupine! He made our day 🙂
Part 1 http://vegantravels.livejournal.com/1686.html
Part 2 http://vegantravels.livejournal.com/4254.html
Part 3 http://vegantravels.livejournal.com/5472.html
Part 4 http://vegantravels.livejournal.com/9022.html
Part 5 http://vegantravels.livejournal.com/10052.html
Part 6 http://vegantravels.livejournal.com/19373.html
Part 7 http://vegantravels.livejournal.com/22438.html
Part 8 http://vegantravels.livejournal.com/31352.html
More to follow…