With the recent realization that herring/calamari/etc can be replaced with sauteed oyster mushrooms and makes even Shuba practically identical to the original recipe, I figured technically any non-veg*n recipe can be made with vegan ingredients no problem at all (duh). That said, I turned my attention to one of the most decadent favourite bar food snack – potato skins! I haven't had those in ages and during the times of moral weakness I would nostalgically remember them regretting that oh I'd never be able to have those anymore. Well, not true! Yesterday I decided to recreate those guys in a completely happy vegan way and guess what – the result is superb! Especially if you have enough patience to not finish them all up until they're completely cooled – that's the moment to enjoy! 🙂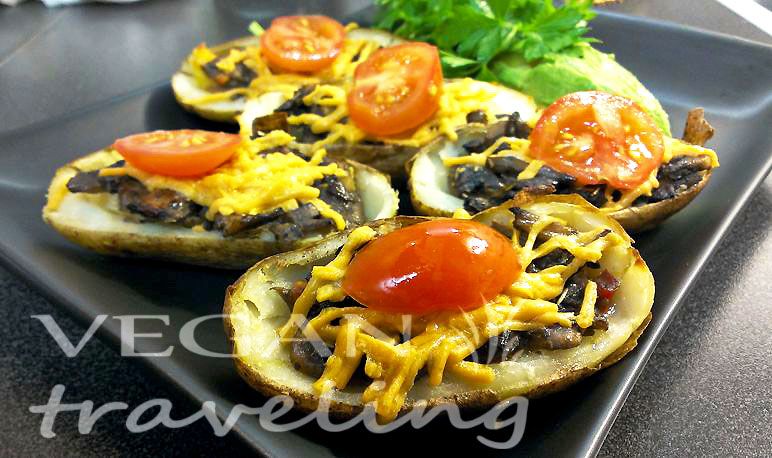 Okay, back to business. The ingredients I used:
5 large baking potatoes
1 package button mushrooms (or any other mushroom you desire)
1/4 large yellow onion
1 large garlic clove
1/2 tsp italian seasoning
salt & black pepper to taste
some sweet red pepper (optional)
2 tsp nutritional yeast
cold pressed olive oil
daiya cheese (I used shredded Cheddar, imho the best out of all daiya cheeses)
parsley, avocado, tomatoes to garnish
These would be easily enough for 4 people.
Instructions:
Preheat the oven to 210 Celsius (about 400 Fahrenheit). Wash and scrub the potatoes, dry them, pierce with a fork couple times each one, then place potatoes right on the top rack in the oven, bake for about 30-40 minutes, depends on the potatoes you have.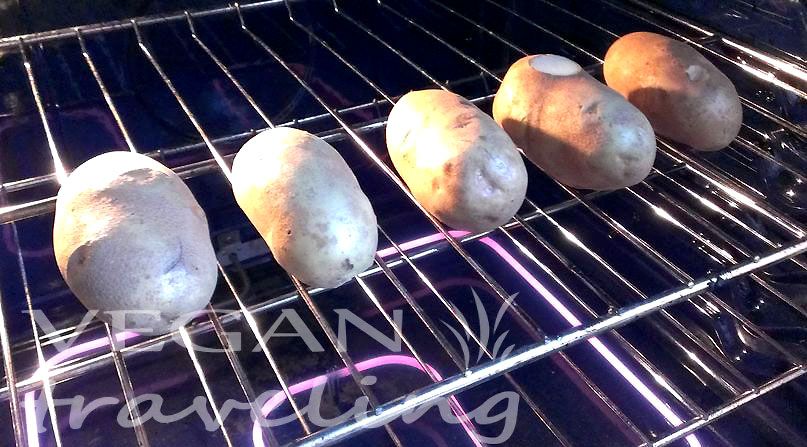 In the meantime slice up your onion, garlic, mushrooms, sweet red peppers, salt&pepper&italian seasoning and sautee on low setting.
Once potatoes are ready, take them out of the oven, slice in halves, scoop out the insides – mash this pulp and add the "cheesy" nutritional yeast.
Coat each potato skin with some oil and sprinkle with some salt & black pepper.
Now, start filling up your potato skins – add some "cheesy" mashed potatoes, then sauteed mushrooms and the on top sprinkle daiya cheese.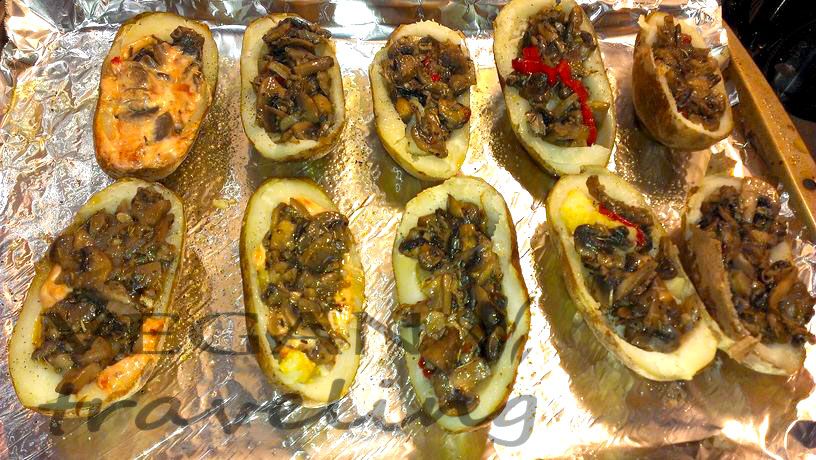 Spray cooking tray with some olive oil organize potato skins on it. Cook at same temperature (210 Celsius) again for about 10 minutes or until cheese melts. Take out, garnish with small pieces of tomato, some parsley, avocado, or anything else your heart desires!