I tried making this filling Georgian bean dish, got a version looking probably quite different from the original recipe, but on the other hand who knows, I believe people say in Georgia everyone makes their own somewhat different version. But the taste was quite close to the real lobio I've tried before, all due to the right spices of course. The recipe is quite simple.
Vegan White Beans Lobio recipe
Ingredients:
1 cup white beans (soaked overnight, that's a must)
1.5 cup water
1 large yellow onion, chopped
2-3 large garlic cloves, finely chopped
2 tbsp khmeli suneli spice mix (recipe below)*
1/2 bunch of both parsley and coriander, chopped
bay leaf
salt
olive oil
Instructions:
In a large skillet sauté onion and garlic in olive oil until golden, then add spices, salt, bay leaf. Mix well, then blend in white beans and add water. Cook for about 30 min or until beans are ready (the older the beans are the longer it might take). During cooking add finely chopped parsley and coriander.
When beans are ready, mash them, the idea is not to mash every single bean but to get a somewhat pasty texture with whole beans here and there. Sprinkle with some fresh chopped parsley&coriander, that it! I of course served them with my all time favourites tomatoes, but lobio sure is good just by itself or with any other veggies.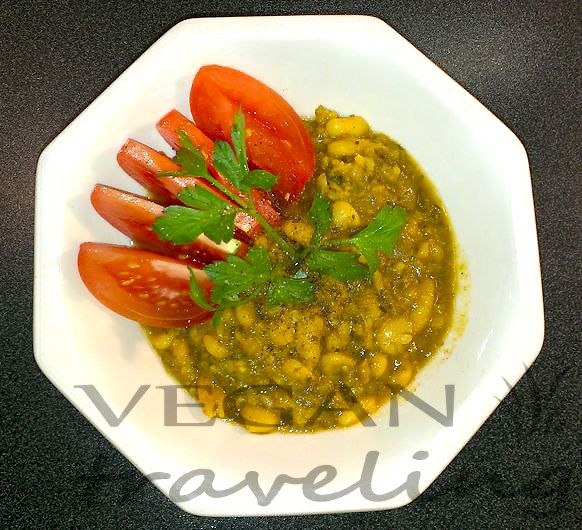 * And I used this recipe to prepare khmeli suneli mix:
2 tablespoons dried marjoram
2 tablespoons dried dill
2 tablespoons dried summer savory
2 tablespoons dried mint
2 tablespoons dried parsley
2 tablespoons coriander seed
1 tablespoons dried fenugreek leaves
2 teaspoons dried ground marigold petals
1 teaspoon black peppercorns
1 teaspoon fenugreek seeds
2 crushed bay leaves
Blend all ingredients in a dry grinder or coffee grinder.
(found on wiki! http://en.wikipedia.org/wiki/Khmeli_suneli)